Have you ever broken glass on-the-go or sat on a stashed away jay? Ever been somewhere awesome and watched a friend drop or lose the only bud you brought?

While a few "portable" methods are becoming more mainstream, dependable, durable devices are still few and far between.

Constantly worrying about breaking glass pieces and struggling with the inconveniences of bulky bongs are among the reasons that inspired inventor Ross Rhoades to create The Rook–his solution to his own on-the-go, party problems.

The Rook is a 4-in-1 pipe device that features a shareable bowl with a screw-on lid, a bottle opener, beer shotgunner and a universal gravity bong cap that snaps or punches into most plastic bottles. At just a hair over 3 inches, it stands at nearly the exact same height as a BIC lighter and retails for $29.99.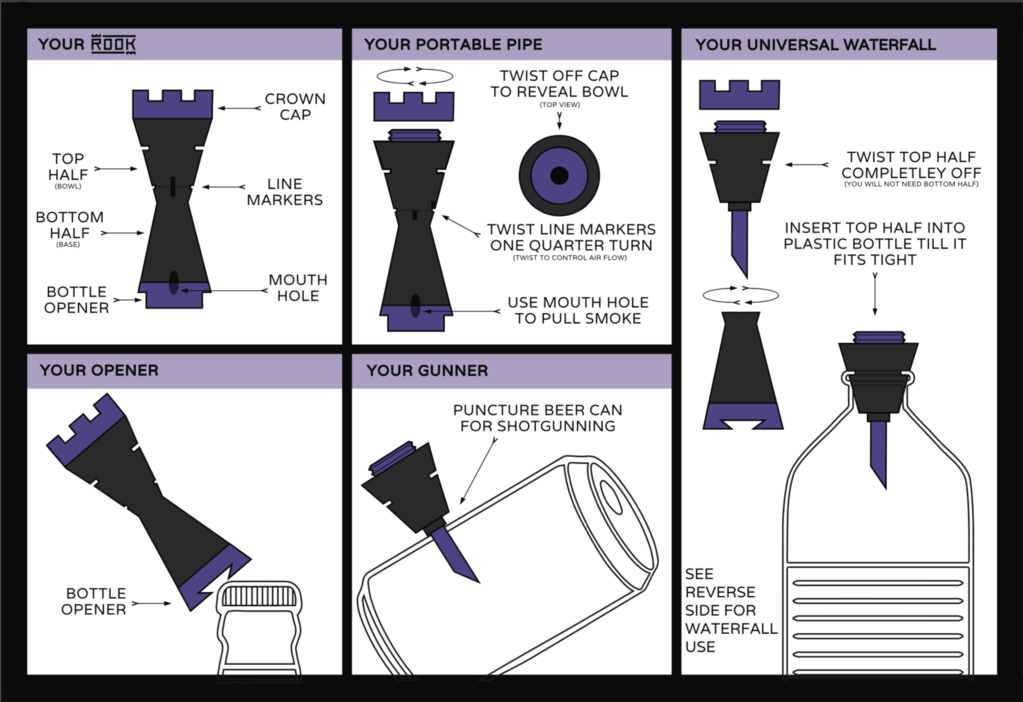 Not only is The Rook waterproof, spill-proof and odor resistant, its rugged exterior is designed to withstand any weekend, making it the most versatile piece in the market.

Simply stated, The Rook is built to party.

Often traveling to tailgates, festivals and to see friends on weekends, Rhoades, then a poor postgrad, was without a great solution for bringing bud when visiting his buds.

"I had a choice between showing up empty handed and getting creative," which Rhoades musingly added, "typically involved Saran wrap around a packed glass bowl."

After another avoidable accident left his hungover homies weeping silently over a pile of broken glass, enough was finally enough. When extensive research revealed nothing on the market existed that properly addressed his needs, Ross got to work.

From napkin to CAD to 3D printing, the small team set out to create something completely unique to the industry centered around three key words: portable, durable, concealable.

"In order to make a pipe "portable," it had to have a sealable lid. Obviously "concealable" has to fit easily in your pocket and, if it was riding in a pocket, it might as well be a keychain."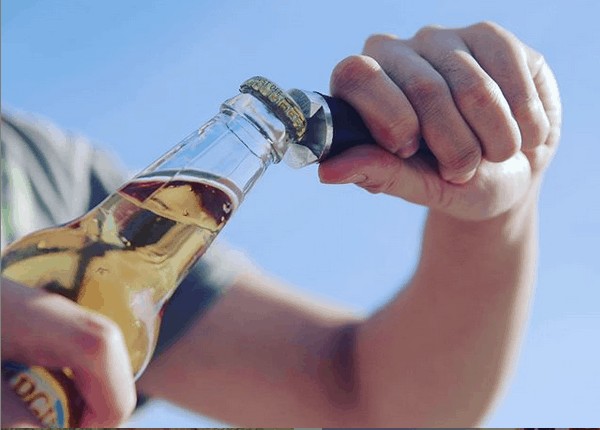 And lastly, continues Ross, "If it's going on my keys, it had better open my beer."

After nearly five years of R&D and cutting through red tape, Rhoades and his team landed on their final designs in April of this year and prepared to enter the market.

But, as fate would have it, opportunity would abruptly arise in the form of a public investment.

Barstool Sports, a monster media company targeting the college demographic, held a pitch competition called the "Big Brain" series that ultimately resulted in a partnership.

"Pretty f*cking sweet" surmised [Barstool founder] El Pres following the pitch.

"Barstool was a big opportunity for us because it gave us an enormous platform to broadcast our unproven product," Rhoades explained. "Having their full support is incredible."

Now, backed by Barstool, The Rook team turns toward trade shows, festivals and college campuses across the country as they look to expand both their consumer base and product line.