If California-based cannabis-infused beverage producer House of Saka has proven one thing, it's that it is not afraid to zig when everyone else is zagging. The female-led company carved out a sizable niche in the cannabis industry's fastest growing sector with Saka PINK and Saka WHITE, two luxurious, alcohol-removed, cannabis-infused wines from Napa Valley. The first and only infused beverages to stake a claim in California's most renowned wine-growing region, award-winning Saka PINK is made from Rosé of Pinot Noir grapes while Saka WHITE is made from Chardonnay grapes, all locally sourced from Napa Valley vineyards.
Determined to own luxury positioning among its competitors in the infused beverage arena, Saka's management team believes the company's high-quality, wine-like products represent a perfect entry point for the emerging female consumer and the perfect vehicle for experiencing the effects of THC and CBD in a familiar, safe, and predictable format.
So, when it came time to launch Saka's first single-serve, the company remained ruthlessly focused on luxury positioning and the target female consumer to create an utterly unique, delicious, and elegant offering.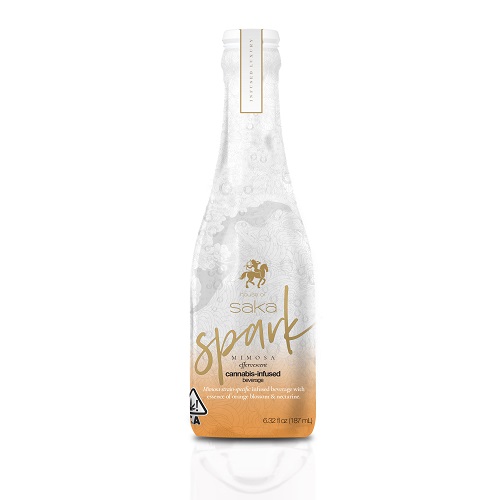 House of Saka Spark "Mimosa" is the first and only alcohol-removed, cannabis-infused sparkling wine to bolster its organic cannabis emulsion with Mimosa-strain-specific live resin. In the sea of infused seltzers flooding the legal cannabis market, Saka's distinct product and packaging were designed to stand out. Available in single-serve,187ml champagne bottles with a micro-dose of 5mg THC per bottle, Saka Spark "Mimosa" delivers all the flavor and celebration of a traditional mimosa without alcohol's negative health effects and excessive calories.
But the innovative female leadership at House of Saka did not stop with just a beautiful product and package. In addition, the company plans to launch an integrated consumer education campaign, developed and managed by San Francisco's SLAY Agency, to support the release of its new single-serve and the emerging consumers House of Saka seeks to attract. Learn more at HouseOfSaka.com