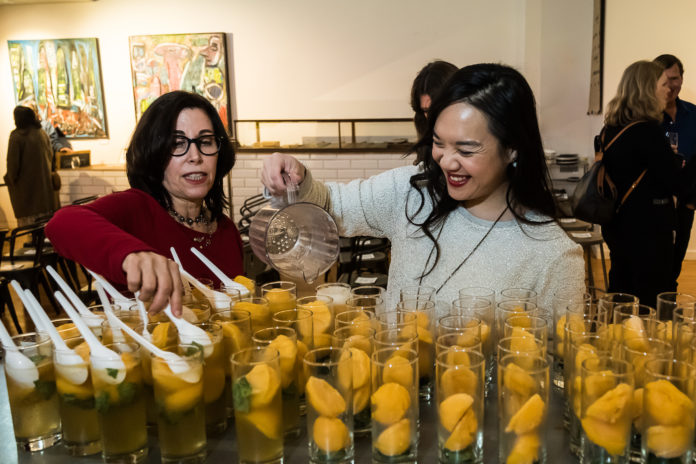 A Crop-to-Kitchen education-focused panel discussion in Oakland, California, earlier this month attracted a standing-room-only crowd. Based on the event's food pics alone (below), we can't say we're surprised. The panel focused on the future of fresh, made-to-order cannabis cuisine in the California restaurant milieu and featured the authors of 'Edibles: Small Bites for the Modern Cannabis Kitchen' and key business professionals in the Bay Area cannabis space.
Panelists included Coreen Carroll, founder of Cannaisseur Series and 'Edibles' co-author; Peichen Chang, co-founder of tCheck; Maya Elisabeth, founder of OmEdibles and Whoopi & Maya; Stephany Gocobachi, founder of Flour Child; and Stephanie Hua, founder of Mellows and 'Edibles' co-author.
The panel was moderated by Merril Gilbert of TraceTrust, A True Dose. An opening statement inviting attendees to join Crop-to-Kitchen's (C2K) movement to build pathways toward legalizing cannabis cuisine was delivered by C2K founder, Kimberly Belle, followed by inspiring closing remarks from co-founder Terrance Alan.
The goal of the event was to inspire more cannabis-friendly consumers and industry professionals to get involved with changing the laws around responsible adult cannabis consumption in public settings including hotels, restaurants, café's, bars and event spaces in California.
Said Belle, "We have quite a ways to go in terms of changing laws and norms in California, but after the enthusiastic response we received at this last C2K event, and the incredibly motivated team of professionals we have assembled to lead the charge, we feel confident that we can activate change to bring canna cuisine out from behind the shadows in the near future."
For more information, visit and join the Crop-to-Kitchen Facebook Community Page.
See all of the pics by Mike Rosati (@RosatiPhotos).