James Beard Award winner Mindy Segal's chocolate brittle bars and baked goods are pure decadence. For the bars—available in Milk Chocolate Peanut Brittle, Dark Chocolate Almond Toffee, White Chocolate Raspberry Cream, and Marshmallow Graham—she surrounds a gooey center with a proprietary chocolate blend topped with crunchy bits. Each is infused with 50mg or 100mg THC from clear distillate and is scored into 12.5mg sections for personal dosing.
Mindy's cookies, in packs of one or four, are based on recipes from her best-selling cookbook, Cookie Love. Each cookie is infused with 25mg THC from clear distillate and baked to order. Available in three flavors: Chocolate Chip, Chocolate Fudge Brownie, and Snickerdoodle.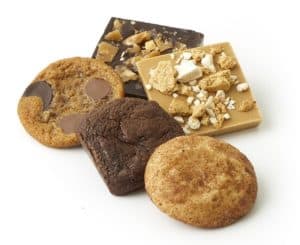 Additional edibles from the brand include gummies, fruit chews, and hard candies, all in a variety of potentcies and flavors.