Forty-five minutes by boat from Naples and 129 miles from Rome, the island of Capri resembles a skyscraper of limestone cliffs rising from the Tyrrhenian Sea. Over the years, its crags, sapphire grottos, and pristine beaches have made the island a posh retreat for Italian barons and princes, jet-setting tourists, and celebrities including Clark Gable, Sofia Loren, and Jackie Onassis. It was here, too, in the 1920s, that one of Italy's enduring delectable treats was born. The torta caprese came to gastronomical fame as a slightly crisp, sugar-dusted chocolate cake that, bit by bit, gives way to a moist nucleus of finely ground almonds.
According to legend, the dessert resulted when either a local chef forgot to add flour to a traditional recipe or a vacationing Austrian princess missed her own country's chocolate cake so much she asked her Italian chef to emulate it. Nevertheless, the classic Italian goody has endured for almost a century. Now, the delicacy has been reinvented by two Italian foodies.
Based in Los Angeles, Mammamia Italian Edibles's signature product is Capri, a torta-caprese-like cake consisting of raw cacao, whole almonds, and 40mg THC/20mg CBD. The delicacy is presented inside a cobalt blue tin with tangerine splashes.
Co-founder Simone D'Antonio is a successful chef. After graduating from ALMA, Italy's elite cooking academy, he followed in his father's footsteps and opened a restaurant in Bali. He sold the restaurant and worked at a few Michelin star establishments before returning to Italy and attending Gualtiero Marchesi's cooking school in Parma.
Three years ago, D'Antonio moved to Los Angeles and "accidentally" put a new twist on the 100-year-old chocolate treat he grew up eating. One night,  while  hosting a dinner party in the Hollywood Hills with Mammamia co-founder Luca Vincenzini, D'Antonio casually whipped up the first Capri cake "pretty much on memory." To the rest of the ingredients, he added some good herb.
"We shared it with our friends, and the response was great," said D'Antonio. "In fact, one of our friends tasted it and shouted, 'Mamma mia, that's good!' Right then, we decided to call our brand Mammamia."
Vincenzini comes from a television food show production background. He believes three things set Mammamia's Capri apart:  quality ingredients, technique, and, well, D'Antonio's culinary prowess.
"Simone is a great chef," Vincenzini said. "He can take something very simple and make it special."
The duo get their main ingredients—cacao and whole almonds—straight from an old-school distributor in Italy. While D'Antonio agrees with his partner about history, technique, and knowledge, he said the most important thing is…love. "You have to love it," he said, gesturing to the sky. "You have to respect the food, and I do. So we decided to recreate Torta Caprese but with a cannabis twist. It's been hard work."
Ironically, the co-founders have had very different experiences with cannabis. Even though Italy had strict cannabis laws when he was growing up, Vincenzini, 38, would sneak off to the Colosseum at midnight to smoke joints with his friends, gaze up at the stars, and dream. "It was beautiful," he remarked. D'Antonio, on the other hand, had zero interest in cannabis. Lately, though, he's developed a taste for it. "I'm so happy I did!" he said.
When it came to packaging and branding, they agreed Capri should invoke the gauzy, glamorous Italy of the 1960s: bellissimo, sunshine, sipping wine on the Amalfi Coast, and idle swims in the tepid sea.
"We used the colors and vibes of that magical era in Italy to guide us the whole way," they said.
Hashing It Out
Luca Andrea Collins spent his childhood traveling from one war-torn country to another. His father worked in international human rights for non-governmental organizations and the United Nations. The family flitted from Palestine to Israel to Lebanon to Serbia to Bangladesh, where Collins first tasted cannabis. Weed was hard to find, but prices were dirt-cheap. Kief came in large plastic bags, tribes of seeds, trim, and stems all mixed together and mangled like a miniature toy jungle. He immediately became enamored with the tangy, sweet-smelling plumes. When later traveling in Cambodia, he tasted local "happy pizzas" and became an edibles believer; in Nepal, he learned local hash production and exotic pairings. He might not have known it then, but the two experiences would shape his professional life.
The vague idea to create an Italian cannabis brand hit Collins during his second year in university. He returned to Lebanon to visit friends, and on the trip back through the magical Bekaa Valley he daydreamed of a bespoke Italian hash brand.
Collins moved to Oakland in August 2016 and attended Oaksterdam University. His time at the school was unlike anything he'd ever dreamed, even in Bekaa. Every day he was in a class learning about all things cannabis. "I was ecstatic," he said with a big smile. "I got to travel to the farms in the Emerald Triangle, expos in Santa Rosa, and secret events in Oakland. This gave me a deep inside knowledge of the roots of the industry."
After deciding to stay in Oakland, Collins launched Biscotti Brands with the mission of blending the Emerald Triangle's cannabis quality with the precision of  Italian design. He works eighteen-hour days, making sure every part of the company is compliant, classy, and clean."We aim to demonstrate that Biscotti is the perfect mix of quality and design," he said.
Collins is the first to admit his introduction to "perfect hash" was at the hands of Frenchy Cannoli, who was kind enough to put Collins in touch with the company that produced Cannoli's handmade stainless steel washing machines. The company, Delta Separations, was surprised to hear Collins wanted to purchase two 25-gallon agitator machines. "We are now able to run the two machines with little to no effort and get top-notch quality," Collins said. "Our process is unique, as our lab is likely to be the most high-tech hash lab in the world. We have purchased very expensive machinery that allows our water-cooling process to be simplified, our filtration is simplified, and our sieving has been optimized to reduce manual labor. We have put a lot of money and effort into making sure that every minute detail is of food-grade quality. Moreover, we obsess over cleanliness."
Collins knew packaging and design were extremely important to convey his crystal-clear brand message. First, he simplified the process by naming the boxes with Roman numerals rather than common titles. He had always admired the packaging used by the perfume industry, so he took a road trip through Europe, scouting the continent's perfumeries, taking photos and notes.
"After a few weeks, I began molding my ideas and forming the designs: all black with foiling and gloss."
From Competition, Friendship
Due to Italy's old, creaky, and murky history with cannabis, the founders of Biscotti Brands and Mammamia fretted over what their friends and family in Italia would think. Italian cannabis laws have been strict for quite some time, and although there is constant buzz about change, very little has happened. The country's beta medicinal program is very limited and extremely expensive. THC is sold in vials at prices surpassing U.S. $500. Yet, new cannabis-themed stores open all the time.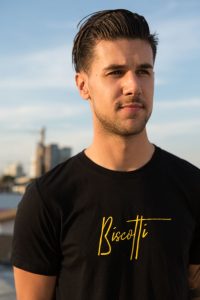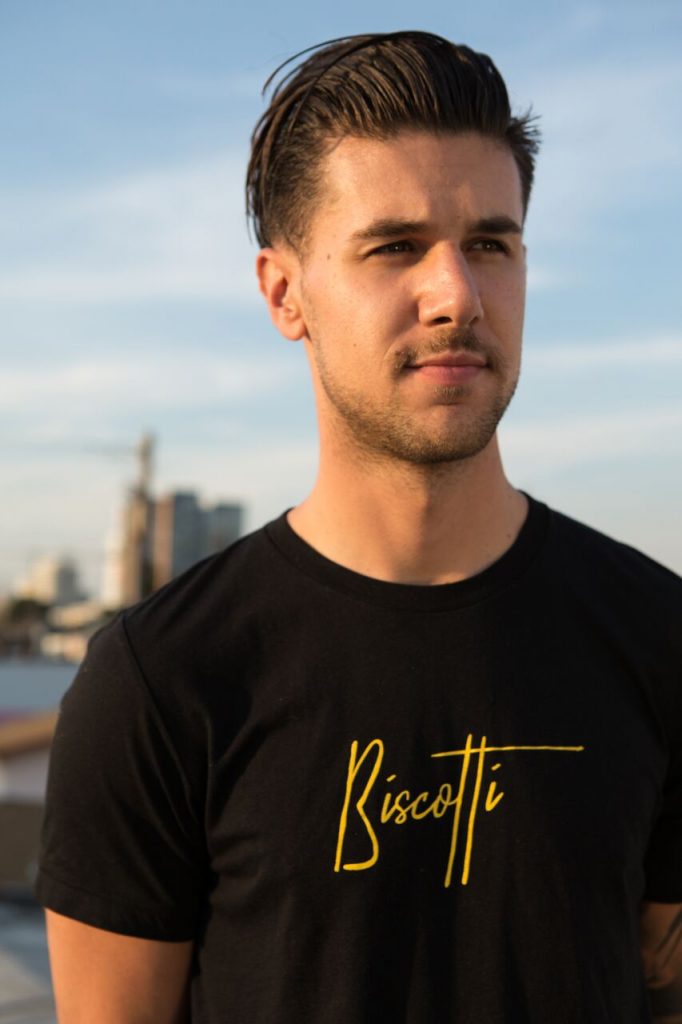 "I honestly thought I would be receiving quite a lot of negativity from back home," Collins said. "Instead, it seems like everyone is quite ecstatic. Italians know our laws contradict our history."
The only two Italian cannabis brands in California have developed a friendship born of a common passion, respect, and love for the herb, which reminds them of home. Whenever the founders of one company are in the other company's city, they have dinner. "We know what it means to deliver Italian products," D'Antonio said. "It's important to us that we carry on that tradition here."
Collins went as far as to call them "brothers." He revealed the camaraderie started on Instagram. "Both of us had cannabis Instagram accounts that claimed they were Italian," he said. "Mammamia added Biscotti on Instagram first, then thirty seconds later we received a direct message from them asking, 'Sei veramente Italiano?' [Are you really Italian?] I responded, 'Yes, I am from Pavia.' Then, they asked for my phone number. Less than ten seconds later, my phone rings. It is Simone. He asks, 'Ma stai scherzando?' [Are you kidding?] The rest is history."
"The core mission of Biscotti Brands is to blend the Emerald Triangle's cannabis quality with fine Italian design." —Luca Andrea Collins, founder, Biscotti Brands
Looking Ahead
As word of Mammamia and Biscotti Brands inevitably spreads across the Mediterranean, more Italian and European-centric brands are sure to follow across the Atlantic. That's fine with D'Antonio and Vincenzini. They are plodding away in their kitchen 24/7, trying to perfect the next great Italian edibles experience.
"We're working on a different version of Capri, called Capri Limone," D'Antonio said. "It's made with white chocolate and lemon. It's Capri, but with a twist. Torrone bianco from Sicily is something we want to do. Also Gianduiotti from Torino. We're very excited to get going on those in the near future."
Collins has plenty of ideas himself. He's marrying Italy's other great passion with cannabis. "We will be launching a high-end clothing line in mid-2018," he said. "It will blend Italian fashion with cannabis innovation."