It is officially that time of year and while you may be rolling your eyes at yet another holiday-themed product release, your taste buds may want to hear this one out.
Kiva Confections has introduced a limited-edition, cannabis-infused Turkey Gravy. The psychoactive effects of Kiva's Turkey Gravy kick in as little as 2-15 minutes—unlike traditional infused edibles which can take up to two hours—providing the user with holiday joy way before the turkey's tryptophan tries to steal the good vibes. Each single-serve packet of gravy mix is infused with 10mg of THC. Other ingredients include turkey stock, salt, onion, and garlic.
"The gravy product is made with cutting-edge technology that bypasses edibles' normally lengthy trip through the liver, instead absorbing into the soft tissue and stomach," Scott Palmer, co-founder and chief executive officer at Kiva told mg.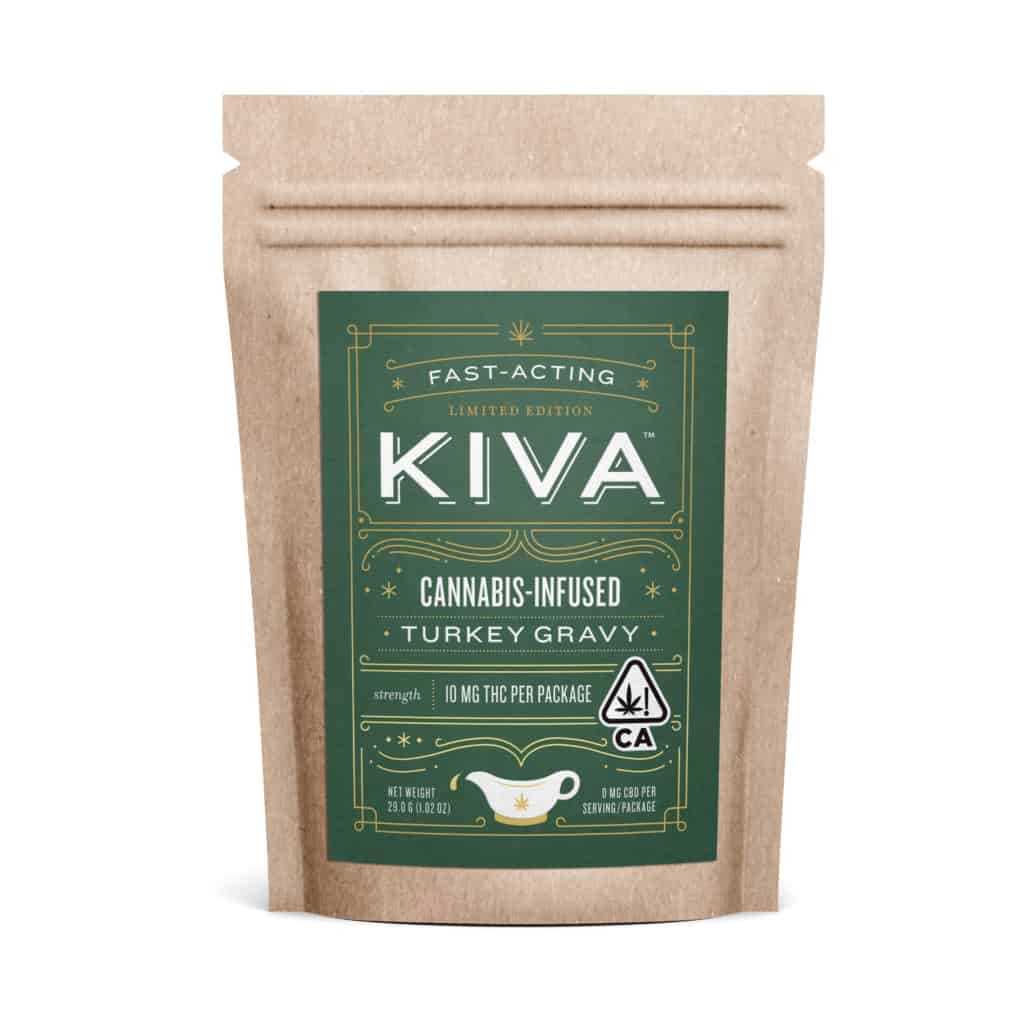 Kiva is not the first company to make an attempt at a fast-acting edible, but Palmer feels they have gotten the formula just right.
"Most other companies who have explored fast-acting technology have employed nanotechnology particles to speed up the process," Palmer said. "While the nano molecules used in these edibles are small, they are massive compared to the individually-encapsulated molecules used in this approach. Not only are they isolated from other molecules they might interact with, they are small enough to be absorbed directly into the body's endocannabinoid receptors—one molecule at a time."
Already in the spirit of the holidays, Palmer said an infused gravy was a fun way to showcase Kiva's unique approach to edibles.
"We have a passionate team driven to innovate in this industry and find novel approaches to cannabis and edibles," Palmer said. "We really live and breathe innovation at Kiva. It's in our DNA. We knew we wanted a playful way to announce our foray into the use of fast onset technologies in our products. So with tongue planted firmly in cheek, we created a fun, yet sophisticated way to elevate your Thanksgiving table, infused Turkey Gravy. And while some may call us crazy, we hope they keep an open mind and come to the table with an empty stomach."
In December, Kiva plans to launch a cannabis-infused, premium hot cocoa for the holiday season utilizing the same fast-acting technology.