K1 helps to enhance a surprising part of our lives.
Ahhh, the "sex talk." At a very young age, we knew there'd be a day when our parents would sit us down for the birds and the bees talk. I got off easy on this front. Mine went something like this. Mom: "So, you had the sex class in school today?" Me: "Yep." Mom: "Uh, do you have any questions?" Me: "Nope." Mom: "Okie dokie!"
And today, there's the sex talk I never expected to have—the sex talk with my budtender. I was in Denver for a weekend get-away with my new boyfriend and wanted to smoke cannabis and get horizontal. My Uber suggested 3D Cannabis Center and said he could take me straight there before dropping me off at the Airbnb where I was meeting my boyfriend. (He was honest enough to admit that he received a finder's fee for every person he drove to 3D. Brilliant marketing!)
When I walked into 3D, a store employee instantly greeted me with a welcoming hello and said, "Do you want to see the pot garden?"
I followed their yellow brick road to the back pot garden and met my very first "official" budtender, John.
"So, I really don't want to get high per se. You know? I don't want to be dipping  mozzarella sticks into Cool Whip or anything," I explained. "I just want to chill out a bit…and… well…have some playful, fun sex with my guy?"
Then I froze. Time seemed to pull away for minutes before he finally spoke.
"Do you need something to get you in the mood?"
"Oh, God no. Don't give me anything that would make me any hornier than I already am. Just something that would go with great sex and a Pink Floyd soundtrack. Something trippy, sensual, and chill," I clarified.
"Okay, try this. It's called K1," he said.
"So, do you pair music and sex and pot together often?" I asked.
"All the time," laughed John.
This sex talk was so much more enjoyable—and fruitful—than the one with mom.
On John's recommendation, I went with the K1.
Back home with my now ex-boyfriend—let's call him Luke—I took one hit and embarked on my first "sex on sativa" sexcapade. We were already completely obsessed with each other and had this hard-to-find chemical reaction whenever we were together. The sex was always epic, so we didn't need anything to enhance it. But, K1 introduced me to a different kind of sex. I'm not usually one for slow, sweet lovemaking were you gaze lovingly into each other's eyes. I typically like to be thrown on the bed in a more S&M-manner, and try lots of crazy different positions with several costume changes to the sounds of Muse, AC/DC, or the Arctic Monkeys. I like crazy sex. Some might even say OCD sex because I don't like to stay in one position too long.
But, the K1 turned me into a "pillow queen," as they say in porn. A "pillow queen" isn't typically a compliment—it's when a woman takes it more than she gives it and just dreamily lays comfortably on the pillow as the man makes love to her. I've never been that girl. Before you think it's boring, Luke was not complaining. He liked it slow. He liked being on top. He liked being present for every move, feeling every inch of me, and savoring every second of the sex. He liked staying in one position for longer than I ever did. I never realized I would like it this way too until K1 put me into this dreamy, almost ecstasy-like state, making it hands' down the best sex of my life. This sativa made me very present in the moment and very focused on the one or two positions we were in instead of always needing to switch it up a bit.
We found ourselves under the covers tripping out to Pink Floyd's The Wall, Morcheeba's Big Calm, and Portishead's Dummy having sex like teenagers for the first time. "Let's pretend we're in a fort," I said, holding the sheet up over us like a tent so that our parents didn't catch us. I started calling him by his high school nickname to add to the fantasy of being in this innocent, first-time place that you can never get back. When I made too much noise, he would shush me so our "parent's wouldn't hear us" and we'd giggle like school kids under the covers.
It was probably the most intense orgasms I ever had, thanks largely to really being in the moment and feeling more connected and intimate in a different way than the wham-bam-thank-you-ma'am style I've favored. When I woke up from my sex hangover the next day, I gave my budtender John a call to thank him for some of the best sex ever. I could feel him smiling on the other end of the phone.
Job well done, John.
BIO: Carrie Borzillo is an award-winning entertainment and lifestyle journalist and author of three books. She writes about sex/relationships for Men's Health, DAME, and Sexpert.com. Her books include, "CHERRY BOMB: The Ultimate Guide to Becoming a Better Flirt, a Tougher Chick, and a Hotter Girlfriend, and to Living Life Like a Rock Star," Tera Patrick's "Sinner Takes All: A Memoir of Love and Porn," and "Nirvana: In the Words of the People Who Were There."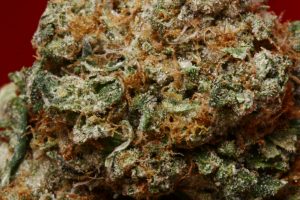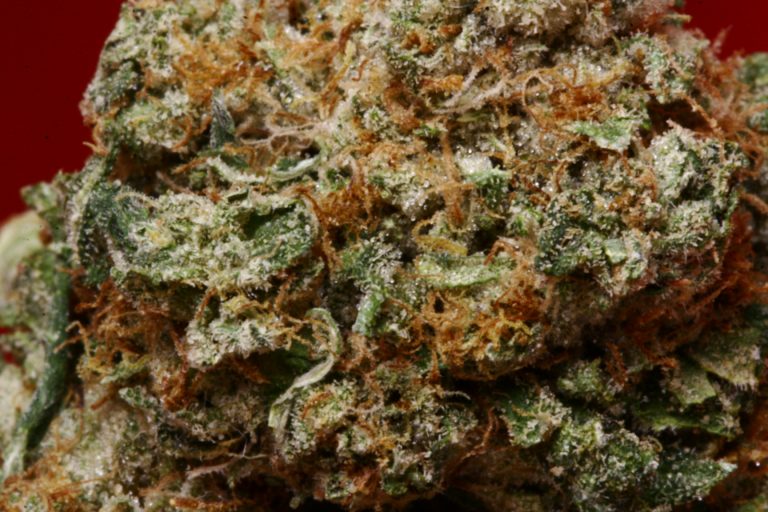 K1 SATIVA AT A GLANCE
K1 is a sativa-dominant hybrid cross between Durban Poison and LA Kush that is good for smoking before activities—like sex!—or parties. The high is golden, tingly, and very loose with an aroma of pepper and sage. In short, not only does K1 put you in an aroused state, its long-lasting and energetic sensation make for experimental yet dreamy sex.
HERE, HERE BUDTENDERS, SEX SELLS!
MARKET THESE STRAIN AS APHRODISIACS—AND WATCH SALES SOAR
GUCCI: A 2013 Cannabis Cup winner, Gucci has pungent yet spicy aftertaste is is very kinky to the palette. Perfect for any social activities—especially sex—as a few puffs give you a blissful, tingly feeling that makes you want touch, lick and savor skin. After a roll in the sheets, it will gently send you off into blessed sleep.
VOODOO: Hailing from Thailand, this uplifting sativa has a long-lasting almost euphoric effect married with a fruity aroma. Pair it with a glass of wine and—BAM!—you are ready to get rolling in the sheets.
GOD BUD: Fluffy, voluptuous and top-shelf strong, God Bud can be a sexual beast if taken at the right time with the right person. Due to its juicy resin, superb taste and smell, and frosty, succulent crystals, stories of unbridled passion are common after a weekend partaking in God Bud.
AFGHANI BULLRIDER: After setting San Diego on fire a few years back, the Bullrider has made its way up the coast of California bringing joy to all those who have the inside skinny on its magic: it's a sexual beast. With high levels of THC and CBD, and sweet and sour smell, the Bullrider is unique in that's it is a heavy high yet is full of creativity and a "touchy" sensation.
MATANUSKA THUNDER FUCK: This heavy Indica/Sativa hails from Alaska and has prolific reputation in the bedroom. With its sugary white hairs hot cocoa aroma and blissful body buzz, Matanuska is a must-have for marketing as an in-house aphrodisiac.
By Carrie Borzillo