In 2010, over 3,269,248 tons of olive oil was produced in the world, with most of it produced in three countries: Spain, Greece and Italy.
With this in mind, CannaOil Co. saw an opening in the cannabis market for something that was being holy under served: cannabis olive oil. With only two real competitors in the space, CannaOil Co. began their first batch earlier this year with a pressing in Italy.
"We identified a need in the market for an alternative to infused baked goods, candies and chocolates," says founder Stella J. The vision began to crystallize as they began experimenting with gluten free, organic, and no additives. They even claim to be pesticide free. "We use only the highest quality cannabis strains that are cultivated without the use of pesticides," notes Stella.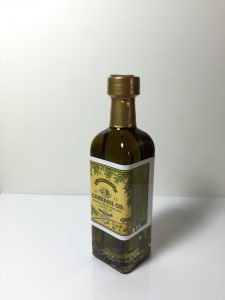 To date, sales have to dispensaries have exceeded their own expectations. And customer service has been a key element to their growth. They provide dispensaries a complimentary 'CannaOil Co.' branded display crate which adds a unique visual presence to the product. In addition, they are ever mindful of consistency. "Consistency in edibles is an increasingly important issue and this is why testing and batching are our #1 priorities. We give our patients the same experience with the same high quality every time," says Stella. Although the medicinal consumables market is changing every day with more state legalization and federal legislation pending, olive oil and other edible companies will be forced to evolve and create a more professional business environment for producing these infused items for patients.
Olive oil and other high-end delectables will become evermore prevalent as the masses become aware of the medicinal effects without the stigma associated with cannabis. CannaOil Co. is well ware of this. "CannaOil will be producing several other infused products over the next year. We are also in development to introduce other brands in the edible market with the same high-end quality and consistency that our customers have grown to trust," says Stella.
FOR WHOLESALE ORDERS:  [email protected]
www.CannaOil.co
BEST — — USES FOR CANNAOIL
CannaOil is best used with any cooked food, salad or fruit medley. We suggest drizzling a teaspoon over a meal or snack and enjoying a mellow body high. Patients can also marinate meats with CannaOil and even substitute non-infused oils with a teaspoon or two of CannaOil when baking. CannaOil should be eaten with food and not ingested in raw form. The THC in the olive oil actually metabolizes into the bloodstream with the food to release the healthful benefits of both the oil and cannabis simultaneously.