Vaporizing and dabbing are not just new fads but truly part of a robust health-conscious movement in the ever-growing cannabis community. Nixon's Dual Hitter is such a professionally-crafted smoking device that I had to share it with everyone, including my oncologist. (As I was recovering from ovarian cancer, major abdominal surgery compounded by intensive chemotherapy left my body so fragile that my oncologist was open to anything natural that would help. Dabbing became the only way that I could cope with the pain and nausea that came along with chemotherapy. The healing effectiveness of cannabis is mind blowing!)
This all-in-one means of medicating can vaporize flowers/keif/hash in a ceramic bowl and be easily swapped out for the ceramic nail to be used by the concentrate connoisseurs. The sleek handheld base that also functions as the torch takes convenience to the next level. No more juggling a glass rig in one hand and a flaming torch in the other, with your dab tool off to the side or between your teeth. Quality and safety are at the top of the list of pros – a barrier safeguards the user from an open flame, making it extremely difficult to burn yourself or anything else around you while trying to medicate. Nixon's design eliminates the stress behind handling a torch, and that makes a dabber's life oh so sweet!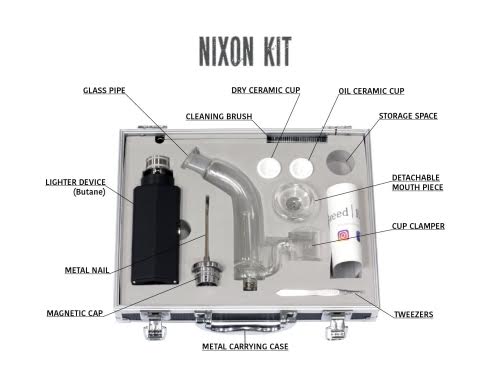 The Dual Hitter comes in an unassuming secure black travel case with easy-to-follow instructions for assembly and use. Included in the kit is the handheld base ,which doubles as the torch that is easy to refill and adjust the flame at the bottom. The curvature on the detachable mouthpiece is a comfortable surprise when taking that first rip! Magnetizing the titanium cap so that it not only keeps the smoke from escaping but also functions as a heat stabilizer for the ceramic bowl is a thoughtful perk. The fact that the dabbing utensil is also magnetized and can easily be removed from the cap is another bonus. The ceramic bowl and nail are accompanied by cleaning tools and extra supplies making it so that no extra accessories are needed once you have your kit in hand. The instructions are so precise they tell you how many seconds to hold the button to heat up your product of choice, which takes away the intimidation factor for first time users.
Nixon's design creates an efficient and health-conscious way for a smoker to take in his or her cannabis needs. The Dual Hitter is portable, easy to use and delivers smooth, clean-flavored rips. Opening the case and seeing this innovative product that takes away the daunting aspects of dabbing is a joy, let alone taking that first rip and blasting off into the future of medicating. If you are looking for a new vaporizer or dabbing rig, the Dual Hitter scores a home run.