Keirton Inc.'s Twister Trimmer line focuses on helping grow your ROI.
"Our core customers range from recreational hobby growers to commercial producers in over twenty countries," said Marketing Manager Rachel Turner.
The T2, launched in 2007, can produce seven pounds of wet product or 11 of dry product in one hour. Lining up two in tandem can more than double output. "T2 is a solid piece of well-engineered machinery," Turner said. "It has watertight electrical features which can be power-washed for a quick cleaning after a hard day's work."
The T4 launched in 2014 with a few tweaks. Its modular design and lighter weight make it easier to move and scale up or down in a customized fashion. Its user-friendly design allows four pounds of wet trimming or five pounds of dry trimming in a single hour. Assembly and takedown for cleaning can be done tool-free in just a few minutes. Distinctive rotation technology makes the machine adaptable for use on a broad variety of plants, too.
A dry tumbler option allows quick clean-up of dried flowers and buds while maintaining a gentle and clean cut in the finished product.
"As with all of our machines, the hopper and adjustable feet make for a trim tailored exactly to your needs," Turner said.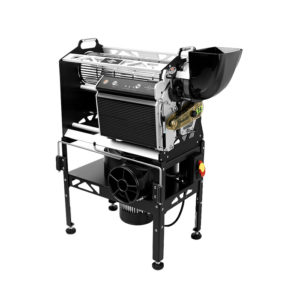 The T6
The T6, Twister's most versatile machine to date, is expected to debut May 20. Constructed of high-performance materials and featuring a plug-and-play interface, the tabletop T6 was designed with the home-grower in mind.
"After months of perfecting your home grow, simply allow the T6 to crown it with the perfect home trim," Turner said.
Trimming sucks!
Known primarily for its world-class trimmers, Keirton experienced unexpected success in another area: merchandise. According to Turner, the company's "Trimming Sucks!" and "Machines Don't Need Lunch" T-shirts have been a huge hit with customers and, oddly, hand trimmers. (Both shirts may be purchased on Keirton's website.)
Turner also said sales are growing every month. Keirton currently employs thirty-five people and plans to hire more in 2017. "Get the right people in the right place with the right tools, and something special happens," Turner said.
Founded in XXXX, Keirton has grown quickly in the past few years as the legal market expanded worldwide. Turner said the company has seen solid growth in both the commercial and home-grow sectors and has responded by scaling quickly and expanding its product line.
"We want any size of grower to be able to reap the benefits of harvesting automation," she said.
---
For Wholesale Orders: TwisterTrimmer.com