Intellichoice Provides Growers With The Opportunity To Reduce The Amount of Electricity They Use.
As commercial marijuana grow operations increase, so does the demand for resources to power them. Recent reports indicate power consumption by Colorado marijuana grows is equivalent to that of 35,000 homes and represents almost half of new demand for power. The numbers are even higher in California. According to Bloomberg News, indoor marijuana production made up 9 percent of household electricity in 2012.
IntelliChoice Energy Chief Executive Officer John Cole believes his company can offer a solution. "If growers truly are interested in finding the best alternatives for their grow facilities, they are not doing their homework unless they look at our product," he said.
The company's NextAire offer a way for growers to control environments while using significantly less energy. According to the IntelliChoice website, "NextAire's gas heat pump running and maintenance costs can be as much as 30 percent less than an electric heat pump, with power consumption up to 80 percent less." NextAire is one of the only natural-gas-based HVAC systems available in the United States.
IntelliChoice boasts that it is one of the few companies that works with both the cannabis industry and the federal government. "We are still working with the Department of Energy on a couple of products and projects, and for the Department of Defense we have done some products for them to do testing on military bases."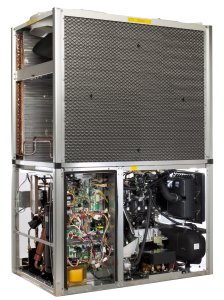 Current Chief Technology Officer Tommis Young formed IntelliChoice in 2009. In early 2015, the company identified a need for more efficient energy use by commercial marijuana grows and expanded its focus. "Many of the needs and the challenges growers had could be solved by our units because of how little electrical draw they need to operate," Cole said.
Like many, Cole sees a booming cannabis market on the horizon. Energy consumption and costs associated with marijuana grows will balloon, as well. More than ever, cost savings will be a crucial aspect of operating a successful business.