"With the massive increase in availability of flower, concentrates, edibles, oils, and vape cartridges, branding and quality packaging are now more important than ever," said Arnold Heckman, founder of Cannaline Custom Packaging Solutions.
The company helps clients capitalize on an often overlooked marketing opportunity: product packaging. "A custom-printed order not only looks more professional, but also costs less since there is no need to print expensive stickers or use expensive labor to apply them."
Heckman came up with the idea to create Cannaline after a long conversation with Steve DeAngelo of Harborside Health. DeAngelo spoke about the difficulties in finding a packaging designer willing to work with cannabis companies and knowledgeable about the industry. Heckman realized he had an opportunity to fill a void.
Cannaline "specializes in the cannabis industry and provides stock and custom-printed packaging" to make sure no branding possibility is missed. According to Heckman, the company typically can provide custom printing at no additional cost. Cannaline's extensive product line includes several glass stash jars, concentrate containers, pre-roll tubes, and smell-proof bags. Also available are custom-designed syringes. The company retains its own graphic artists and can create unique logos for clients who are unable to do so.
While branding is important, discretion and safety are also crucial. Cannaline's smell-proof bags are among its most popular products. The company also focuses on childproof packaging and currently awaits a patent decision for "the world's only child-resistant bag that is a cost effective solution for packaging units as small as a gram, and a glass child-resistant concentrate container." Heckman said addressing child-safety concerns can brand the entire industry in a new and positive way.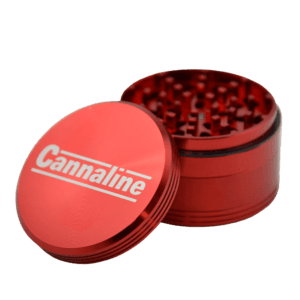 Wholesale
Cannaline.com
(301) 356-9096