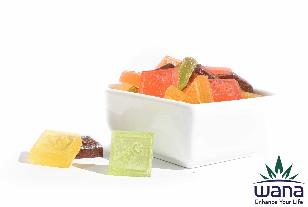 (PRESS RELEASE) PORTLAND, Ore—As the cannabis market blossoms in Oregon, consumers are turning to edibles for a safe, effective, discreet and delicious way to achieve a legal elevated lift. Wana Brands, the cannabis infused product market leader, has become a key player in Oregon's edibles market.
Wana Brands' consistent and delicious products have secured strong brand recognition expanding the company's growth into more than 240 of Oregon's 375 dispensaries. In addition to its ever-popular sour gummies, Wana Brand's jewels offer a low dose alternative, and the popular salted caramels are a regional favorite. Wana Rolls fudge chews, which are made from scratch and infused with tincture in the cooking process, will soon join the Oregon line up.
"Since launching in the Oregon market in July 2016, Wana Brands has successfully positioned itself as a market leader. We attribute this success to our consistency, taste and innovative drive," noted Nancy Whiteman, co-founder & co-owner of Wana Brands.
In addition to being available in nearly sixty five percent of Oregon's dispensaries, Wana Brands is the leading edibles company in Colorado, experiencing consistent month-over-month growth of market share in the incredibly competitive market. Wana Brands dominates, owning twenty three percent of the Colorado market share, with the next closest competitor at twelve percent, according to BDS Analytics 2017 May brand share report. The company launched in Nevada at the end of 2016, and has partnerships in Arizona and Illinois that will bring its products to those states in 2017. Additionally, Wana Brands will launch in 2017-2018 in Massachusetts and Maryland, and is in discussion with partners in California, Florida and Maine.
Wana Brands has invested in refining its proprietary recipes so that the taste of the company's delicious ingredients come through—not the taste of medicine—producing artisan level products that are infused—not sprayed–and have undergone rigorous internal and external testing to ensure precise dosage and consistency.
For more information or to schedule an interview with a Wana Brands representative, please contact Shawna McGregor at 917-971-7852 or [email protected].