BOULDER, Colorado — Wana Brands, a leading producer of marijuana-infused products, is rolling out two new edibles in the Colorado market: Wana Drops and Wana Blueberry Indica Gummies. Both are available in adult-use / recreational stores and medical cannabis dispensaries.
Wana Drops are a bite-size hard confectionery item available in three all-natural flavors:  Kiwi-Strawberry CBD / THC 1:1, Tangerine Sativa and Watermelon Indica. Designed for those seeking precise dosing, each drop contains 5 mg of THC. A great way to micro-dose, Wana Drops are half the strength of Wana Sour Gummies and come with 20 servings for 100 mg total THC per package.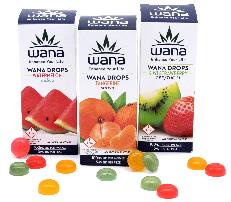 Like other Wana Brands products, Wana Drops are artisan quality, made in small batches, vegan and gluten-free. In a process perfected by Wana Brands' culinary experts, they are infused with a high-quality extract to ensure a consistent, potent and delicious experience.
Wana is also introducing a new class option to its extremely popular Wana Sour Gummies product line. Blueberry Indica Gummies offer an Indica infusion to the perfect blend of sweet and sour, made with all-natural flavors and coloring. They contain no artificial sweeteners or mineral oil and are vegan and gluten-free. Each gummie contains 10mg THC and come with 10 servings for a total of 100mg THC per pack.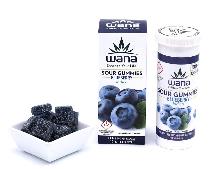 Blueberry Indica joins Mango Sativa, Strawberry CBD / THC 10:1, Strawberry Lemonade CBD / THC 1:1, Watermelon Hybrid, and the Assorted Flavors pack in Sativa, Hybrid or Indica, that includes Grape, Lemon, Green Apple, Raspberry and Orange flavors. Wana Sour Gummies were voted Favorite Edible in the 2017 Cannabist Reader Poll.
"At Wana Brands, we're always looking to provide our customers more options for experience and dosage," said Nancy Whiteman, founder and CEO of Wana Brands. "With Wana Drops, we are able to offer customers yet another tasty, effective and low-dose choice. We're proud of the enormous success of our gummies and are happy to include a relaxing indica option to complement Wana's other gummie options. Wana products have become the go-to edible for cannabis consumers in Colorado as well as the other markets where Wana is available."
With these two new products, Wana Brands expands its award-winning line of cannabis-derived products that include WanaCapsXR, the world's first extended-release cannabis capsule. Wana Brands has refined its proprietary edibles recipes so that the taste of the company's delicious ingredients come through, producing artisan-level products that are infused—not sprayed—and have undergone rigorous internal and external testing to ensure precise dosage and consistency.
Wana Brands controls 20 percent of Colorado's highly competitive edibles market, according to BDS Analytics' 2018 Brand Share Report. The company's popular products are also available in Arizona, Oregon and Nevada dispensaries, with Florida and Illinois among the states imminently coming online. The company additionally expects to expand into California, Maryland, Michigan, Ohio, Pennsylvania, Washington, and internationally in Canada.