LAS VEGAS — Nevada cannabis consumers can finally get their hands on the most popular THC concentrate in the United States. The Clear TM cannabis oil, renowned for its potency, purity and golden color is now available in dispensaries throughout the Silver State.
The Clear's products include its 500mg Classic vape cartridges and 350mg Classic disposable pens featuring CCELLTM technology. The initial launch includes five of The Clear's 17 proprietary handmade natural flavors: Golden Goat (traditional cannabis flavor), Blue Raz, Grapevine, Lemon Haze and Orange Cream. The Clear is the highest quality solvent-free extract available today, with only 100 percent natural and organic ingredients used, and without the carcinogens that may be ingested when smoking flower.
The Clear's CEO Justin Pentelute said, "Nevada's tourism market and proximity to California—where The Clear is the top-selling concentrate—all made Nevada the next logical market for us. We're confident that consumers in the Silver State will enjoy The Clear as much as the rest of the world does."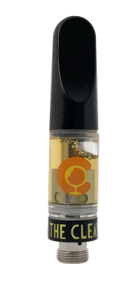 Nevada is the eighth state where consumers can access The Clear products, joining California, Colorado, Arizona, Washington, Michigan and New Mexico (CBD only).
The Clear was one of the first companies to distill cannabis extracts and has been perfecting the process since 2013 by applying the latest science and tailoring laboratory processes and state-of-the-art equipment for cannabis plant material.
All of The Clear's vaporizer products utilize the cutting-edge hardware CCELL. CCELL's ceramic-based cartridge technology revolves around a metallic coil that spans the center of the basin. It provides even draw distribution, more medicine delivered per draw, and a smoother, cleaner flavor with no burnt aftertaste.
Nevada's voters approved legal sales of adult-use marijuana in November 2016 and sales began July 1, 2017. The Nevada Department of Taxation has reported that sales of recreational cannabis were $305 million in the first nine months of legalization, and the state is on track to generate over $400 million in recreational sales in its first 12 months.