DENVER – NanoSphere Health Sciences INC  (CSE: NSHS) (OTC: NSHSF), parent company of cannabis brand Evolve Formulas, has joined forces with Vertical, the largest fully integrated company in the legal medical cannabis industry, to launch Evolve's growing product line in Arizona and California this summer.
NanoSphere Health's Evolve Formulas brand, which currently has products in over 120 dispensaries in Colorado and initially announced its California expansion earlier this year, operates through licensing IP. The new partnership with Vertical will provide planning, permitting, development and operation of cultivation, extraction, manufacturing, distribution and retail facilities in both Arizona and California, to officially offer Evolve products in these crucial markets. As the largest integrated company in the medical cannabis industry, Vertical utilizes a 1.2 million square feet grow facility, which they use to supply over 220 retail outlet stores including the production of approximately 250,000 grams of oil per month.
The cannabis product line, Evolve Formulas, consists of two variations of Transdermal NanoSerum pens, one THC-dominant and one CBD-dominant in formula. This summer, the company plans to launch an intranasal product and later this year will be introducing an intraoral product. All applications will utilize the NanoSphere Delivery System, which nano-encapsulates cannabinoid molecules in lipid membranes for transportation through the skin and mucosa in the nose and mouth into the bloodstream within minutes. The result is high bioavailability, minimal wait-time, precision-metered dosing and elimination of adverse side effects. This patented technology is the first and only advanced cannabinoid delivery system and can only be found in NanoSphere Health products.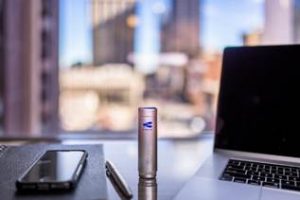 "This partnership with Vertical represents an ongoing phase of growth for Evolve Formulas," said Robert Sutton, Chairman and CEO of NanoSphere Health Sciences. "Expanding into both Arizona and California this summer allows us to bring our advanced, cutting-edge technology to new consumers and patients in the world's largest legal cannabis market. This partnership is another important step in bringing our patented technology to all legal states and Canada over the next 18-24 months." J. Smoke Wallin, President of Vertical Companies running distribution, sales and marketing added "Our team at Vertical is rapidly building out the industry leading sales and distribution platform in multiple markets. The building blocksfor this are a world class team and the best brand portfolio in the business. We couldn't be more excited to bring the cutting edge NanoSphere technology embedded in the Evolve brand to the licensed retailers and medical dispensaries throughout AZ and CA."