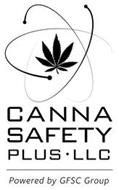 SPRECKELS, Calif. — Californians are rightfully concerned about the safety of consumer products they buy, from automobiles and children's toys to their meat, produce and medicines. And with the legalization of recreational cannabis this year, consumers also want to be informed about the safety of cannabis products as well.
With that in mind, Monterey County-based Canna Safety Plus LLC is providing the state's cannabis industry with the necessary testing, analytics and auditing to comply with state safety and quality standards.
With the company's trained and experienced auditors, anchored by its user-friendly, cloud-based proprietary software, which has been engineered and designed by industry professionals to prepare companies for the state regulation of cannabis, Canna Safety Plus is at the forefront of cannabis compliance and analytics.
Canna Safety Plus, in partnership with food safety consultants GFSC Group and prominent testing lab Deibel Cannabis Labs, has the necessary expertise, depth of experience and partnerships to provide the cannabis industry with the proper food safety auditing and analytical resources to comply with state standards, including SQF (Safe Quality Food), Hazard Analysis Critical Control Point (HACCP) plans, FDA Food Safety Modernization Act (FSMA) standards, as well as Good Manufacturing Practice (GMP) guidelines, product testing, and more.
"Our company partners have a depth of experience in food safety compliance, and food plant operations that are unsurpassed. We believe that the cannabis industry should have access to the same food safety compliance resources as any food manufacturing facility," said Canna Safety's Darryle Guarino. "We recognize there is no room for error when it comes to food safety compliance, and this passion comes through in everything we do."
To meet state product testing regulations, Deibel Cannabis Labs analyzes a number of factors in cannabis, including:
>Cannabinoids
>Terpene Content
>Moisture
>Water Activity
>Yeast & Mold
>Mycotoxins
>Pesticides
>Solvents
>Microbial Hazards
>Foreign Materials
>Homogeneity
>Heavy Metals
"Deibel Cannabis Labs is excited to be in partnership with Canna Safety Plus and we're looking forward to working with them to help our clients meet rigorous safety standards for the cannabis industry for years to come," said Charles Deibel, Managing Partner of Deibel Cannabis Labs.