DENVER — Cannabis consumers interested in trying out the hottest new concentrates trends—rosin and caviar—but concerned with potential additives, have reason to celebrate: L'Eagle Services, a cannabis cultivator and retail dispensary specializing in clean cannabis, is now offering solventless Rosin and Completely Clean Caviar, made with Clean Green Certified cannabis flower. The company is also introducing a line of topicals made with Clean Green Certified flower, starting with a Lavender Salve and Essential Oils Rollers. All these products are available to adult-use customers and medical patients at the L'Eagle dispensary located in Denver.
The rosin and caviar are made in-house at L'Eagle's facilities, without solvents, using Clean Green Certified kief from its own organically cultivated, long-cured strains.
L'Eagle's long-curing process is a rarely practiced art of air-drying the cannabis flower completely, dissipating all of the flavor-affecting chlorophyll in residual plant matter and allowing for a slow oxidation. L'Eagle cures for a minimum of 60 days. This time investment gives L'Eagle's cannabis a smooth and sublime flavor unmatched in the industry.
To create the Rosin, L'Eagle heat-presses kief using the top-rated PurePressure rosin press from Pikes Peak, a Colorado-owned and operated company. The purified product tests as high as 92 percent THC. The base bud for this one-of-a-kind product is the Girl Scout Cookies Forum Cut and L'Eagle Eagle, which are both only available in Colorado at L'Eagle.
Consumers find that rosin more closely resembles the taste and effects of smoking flower than any other concentrate.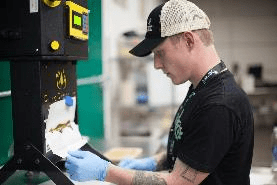 Made free of any additives, Completely Clean Caviar is fashioned by hand-dipping dense buds of L'Eagle's clean cannabis in freshly pressed solventless rosin and then dusting with kief. These flavorful nugs come in several strain-specific options.
L'Eagle's clean green process for caviar provides consumers a great alternative to other products on the market that are most often created by using substandard product and masking it with concentrates that can contain residual solvents, including propylene glycol. Additionally, L'Eagle incorporates minimal strains–usually only one or two–which results in a cleaner lift than multiple strains of source material.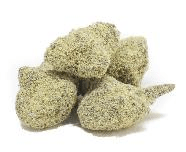 As another clean marijuana-infused alternative for consumers, L'Eagle is also launching topical products: a salve and three infused essential oil rollers. Both are made in-house at L'Eagle. The salve contains a 2.5:1 ratio of CBD to THC, with a total of 250mg CBD and 100mg THC in each 2-ounce container. Created for pain relief, the L'Eagle salve is 10 to 20 times stronger than similar cannabis salves available at Colorado dispensaries. Containing lavender and neem, the L'Eagle Salve works wonders on aches and pains while providing a calming effect.
The essential oils rollers, which are made with a lighter oil base, come in three blends: Relax, Relieve and Stimulate. Each roller contains a 1:1 CBD:THC ratio, with a total of 100mg THC and 100mg CBD in each roller—making this product 25 to 50 times stronger than any other topical on the market. Essential oils used in the rollers include birch and turmeric, which act as natural pain relievers; black pepper, an anti-inflammatory; mandarin, which boasts anti-anxiety properties; lavender and peppermint, famous for their ability to reduce tension and relieve stress; rosemary for boosting mental activity; and soothing ginger.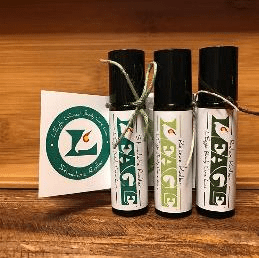 "L'Eagle wants consumers to approach cannabis in the same way they approach the food they eat," said co-owner Amy Andrle. "Our rosin is just one example of the full menu of high-quality, great tasting products we offer. You wouldn't put food that tastes bad or has toxic ingredients in your body. Why not have the same expectation of cannabis that you would for food?"
"That same logic should apply to what you put on your skin, and that's why we've created our own line of topicals," Andrle added. "Our customers know they can trust our products, whether they visit us for topicals, rosin, caviar or our other high-quality offerings."
L'Eagle Services prides itself on sustainable cultivation methods rooted in organic agricultural best practices, including being free of synthetic pesticides.