NEW YORK — It might not be a national holiday and you might not get a day off, but as dispensaries open at an ever-faster rate, more and more Americans are out there celebrating 420.
Introducing
Homesick
Four Twenty Candle. Blaze it up at 420 or anytime to relax and celebrate good times.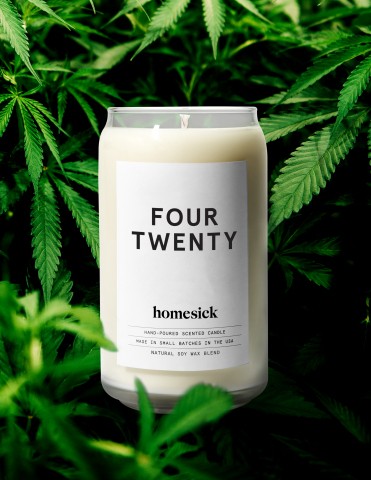 What does it smell like you might ask? Long nights filled with deep conversation and laughter. Outdoor concerts in the park and summer days in the sand. A cloudy room, drifting to the tune of your favorite album. Light it up and don't worry about a thing.
Or, if you prefer to get in the weeds, the Four Twenty Candle is comprised of the following notes:
Top Note: Bergamot, Cannabis
Mid Note: Cannabis, Cedarwood
Base Note: Sandalwood, Patchouli, Musk
Homesick Candles are designed to bring people happiness by taking them back to a special memory or place. They are hand-poured in the USA and made with an all-natural soy wax blend. Typical burn time of a Classic sized candle is 60-80 hours. To see the whole collection or to purchase the Four Twenty Candle for $29.95, please visit
www.homesick.com
Coming soon: Thank You, Mom. Freshly trimmed flowers on the kitchen table. Lingering wafts of your favorite perfume. The smell of breakfast sizzling on Sunday. A house made a home because of you. Packaged in a personalizable gift box so you can tell her exactly why you love her so. Available in time for Mother's Day.
https://homesickcandles.com/collections/memories/products/thank-you-mom-candle