Los Angeles, Calif. – Mendocino County craft cannabis brand Henry's Original has reached a significant milestone, selling its millionth cannabis pre-roll this week. The popular brand also announced its collaboration with Omura, expanding their footprint in the flower space.
Omura, a new technology and design brand, was founded with the goal of perfecting the whole flower cannabis experience. As a new flower partner for Omura, Henry's Original will provide four sun-grown strains for Omura's Series 1 Vaporizer; Sour Amnesia (Sativa), Blueberry Cookies (Hybrid), Mendocino Nights (Indica) and Ritual (CBD).
"We're honored to have just sold our millionth pre-roll, and grateful for all of our loyal customers who've embraced Henry's Original products and our brand values," said Henry's Original CEO and co-founder Jamie Warm.
"This is a significant milestone for us and a testament to our dedicated team who works hard keeping the legacy of Mendocino County farming strong."
"We're equally as excited to be partnering with Omura, one of the most exciting and effective vaporizer systems we've encountered for delivering the many benefits of cannabis. Through our dedication to handcrafting the finest heirloom cannabis, Henry's Original shares Omura's mission to deliver a premium flower product and experience, and we are proud to partner with such an innovative and like-minded brand," he added.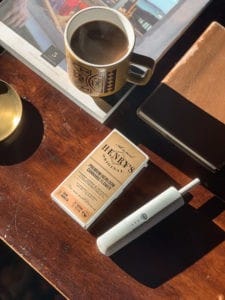 "From our partner growers to our system, Omura considers environmental impact in all brand decisions," said BJ Carretta, Omura Head of Marketing. "To this end, Henry's Original's dedication to smart sustainability, clean green-certified cannabis, and support of local California farming communities makes the brand an extremely synergistic flower partner for Omura."
Using next generation heat-not-burn technology, the Omura and Henry's Original flower cartridges allow for unprocessed whole flower consumption with no burning and no ash.
The Omura system lessens the risk of over-consumption, ensuring a controlled cannabis experience every time. The biodegradable and compostable flower cartridges pair exclusively with the Series 1 Vaporizer and come pre-filled with 0.125 grams of Henry's Original flower per cartridge, delivering approximately 10-12 doses to be enjoyed over a 3-minute session. Omura's debut Series 1 Vaporizer and Henry's Original whole flower cartridges are available now for purchase throughout California.
---
About Henry's Original
Henry's Original is a craft cannabis brand started by local farmers in Laytonville, CA, providing sun-grown, clean green-certified cannabis throughout California. Handcrafted in small batches, Henry's Original whole flower jars and pre-roll products deliver the finest cannabis grown on family farms in legendary Mendocino County, renowned for terroir that produces some of the world's best cultivation conditions. As the largest license-holder and employer in Northern Mendocino County, every Henry's Original purchase supports California farming communities.