LOS ANGELES – Grenco Science, leader in advanced technology cannabis vaporization, is elevating the concentrates experience to an artform with the introduction of the G Pen Roam, the best new all-in-one portable water filtered vaporizer for concentrates, with customizable temperature settings for a controlled experience.
The Roam fits in the palm of your hand, providing the most discreet and powerful, portable and durable, highly engineered and enjoyable concentrate experience. The G Pen Roam launches in stores and online at gpen.com April 1, 2020.
The G Pen Roam seamlessly combines intuitive design with advanced technology while still preserving the experience of traditional dabbing. Optimized to the users preference, the Roam heats up within seconds to 600° – 800°+F (315° – 427°+C), shown on a digital temperature control and LED display along with a haptic feedback feature that indicates when the device is ready for use. With a full quartz tank, it delivers the best flavor, and its custom temperature settings melt all forms of concentrate material to perfection.
Engineered for ultimate ease of use and portability, it features a spill-proof, self-contained borosilicate glass hydrotube; removable silicone mouthpiece that is enclosed in a durable aluminum housing; and is magnetically connected to the powerful, rechargeable 1300MAH lithium ion battery. "The Roam delivers innovation and artistry unlike any other concentrates vaporizer," said Chris Folkerts, CEO and Founder of Grenco Science "It is the most highly engineered product that Grenco Science has produced to date, with the most design considerations for the best user experience."
G Pen Roam Key Features:

● Heats up within seconds
● Stays on for 30 seconds
● Temperature control between 600° – 800°+F
● Manual mode optional
● Full LED display
● Full quartz tank
● Enclosed glass hydro-tube with removable silicone mouthpiece for easy cleaning
● Rechargeable 1300 maH lithium-ion battery
● Rapid charge with pass-through technology
● Charges fully in approximately 2 hrs
● Hemp Travel Case
● Additional Quartz tanks available to purchase separately
Each G Pen Roam complete kit comes standard within a hemp travel case, with room for two concentrates jars and a pocket for accessories which include a micro USB to USB charging cable, loading tool, and cotton swabs.The best new all-in-one portable water filtered vaporizer for concentrates, the G Pen Roam retails for $250 and will be available in store and online on April 1, 2020.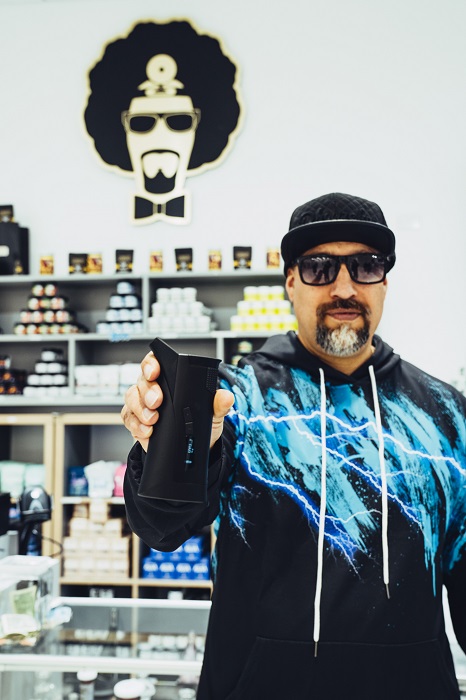 ---
About Grenco Science
Grenco Science is a leader in engineering advanced cannabis vaporizers, setting new standards in aesthetics, portability, functionality, and user experience. Through proprietary research and development, as well as collaborations with influencers in music, art, and fashion, Grenco Science is transforming the cannabis experience and leading the movement to bring cannabis traditions to the 21st century. Visit gpen.com