GreenBroz Inc.,a global leaderin harvesting solutionsfor the legalcannabis in­ dustry, proudly announces the official market release of the GreenBroz Alchemist TrichomeExtractor.
The Alchemist 215 Trichome Extractor and the Alchemist 420 Trichome Extractor are two of the latestad­ ditions to the GreenBroz line of harvesting equipment. Similar to the GreenBroz 215 and 420 Dry Trim­ mers, the 215 and 420 Alchemist Trichome Extractor represent two different sizesof machines, with the 215 model being perfect for small to medium sizedcultivations and the420 model catering to medium or commercial scale operations.
The Alchemist Trichome Extractor is built fromfood-grade materials (stainless steel and high-density pol­ yethylene). Both the 215 and 420 modelcome with four(4) 180 micronstainless steel screens, which pro­ duce an ideal trichome extraction (15-25°/o by weight) forfurther processing. Pleasenote that 80 and 130 micron screens are available as well.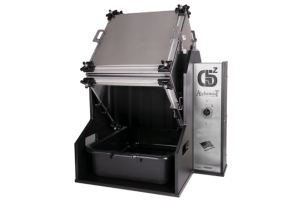 An intuitive design yields a simple operating process whereas the user insertstheir trim into the machine, adds pulverized dry ice (optional), closesthe machine and turns it on. The Alchemist TrichomeExtractor rotates end overend, separating the trichomes from the leafwhile leaving your plant matterin tact for fur­ ther processing.
"The GreenBroz Alchemist Trichome Extractor is the perfect compliment to our Dry Trimmers, which produce an intact, uniform trim that is perfect for extraction," said GreenBroz Inc. CEO Cullen Raichart. "This will ensure that you are truly getting the highest yield possible out of your product. Additionally, in keeping with GreenBroz tradition, thesemachines are simpleto operate, easyto clean, and gentle on your product. The Alchemist operates solvent-free and is constructed from food-grade materials, so your clients can rest assured that the purity of your product is maintained throughout the process. We're thrilled to announce the official launchof these newproducts and anticipate a strong reception throughout the industry as well as our currentclientele who already own and operate other GreenBroz Inc. products."