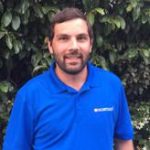 (PRESS RELEASE) MENTOR, Ohio—To better serve the growing hobby and commercial horticulture market in Colorado, EYE HORTILUX® has expanded its sales team into the state.
Adam Edwards is the new District Sales Manager in the state so growers, retailers, and distributors in Colorado can have an experienced resource to turn to for advice on how to get the most from their plants.
Edwards has spent most of his career overseeing and managing the sales and service of highly controlled indoor spaces for the indoor cultivation industry. This experience, along with his background in Environmental Studies at The University of Colorado – Boulder, gives him a wealth of knowledge and firsthand experience that he can share with local growers.
Edwards views this as an exciting opportunity to help growers understand what really makes a plant happy. "Right now there is such innovation in the industry it is hard for growers to evaluate what is really a step forward in plant growth and what is just marketing hype," Edwards said. "I want to work with these professionals in all aspects of the industry to help sort out what is the best way to maximize their yields," he said.
Director of Specialty Products Mike Anderson is excited to have Edwards on the EYE HORTILUX Team. "Adam's vast knowledge of the grow market is an asset to the Colorado area," Anderson said. "He brings so much hands-on experience that he can share with growers at all levels. I hope growers will consider him a resource to turn to when they have questions about best practices for achieving maximum results."
To contact Adam Edwards, or for more information on the EYE HORTILUX products, please contact EYE HORTILUX at 877-905-2562, or visit EyeHORTILUX.com.