DENVER – For consumers who want to test products before committing to the Nano way of life, Evolve Formulas, the cannabis brand utilizing NanoSphere Health Sciences' patented NanoSphere Delivery System, has released its pioneering product – Transdermal NanoSerum – in convenient sample size pouches. The new product size is now available for wholesale order by dispensaries across Colorado.
Wholesale boxes of sample size NanoSerum contain 10 cards, with each card folding out to reveal two pouches of 0.25ML viscous gel. The product is made in the original NanoSerum formula, with 5:1:1 ratio of THC:CBD:CBDA. NanoSerum can be applied directly to the skin at the site of pain or inflammation for relief in minutes, or to the pulse points for systematic therapeutic benefits and relief from anxiety.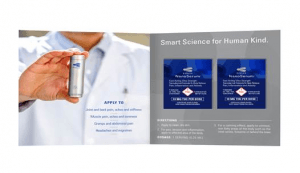 Like all Evolve Formulas products, the sample size NanoSerum uses the NanoSphere Delivery System, the only nanoparticle delivery platform in the industry, which nano-encapsulates cannabis molecules in lipid membranes so that they canbe transported through the skin and mucosa into the bloodstream within minutes.