20 Dose-Dispenser Provides Discrete and Hassle-Free Option for Evolve Customers
DENVER (Feb 28, 2018) – Back by popular demand, the 5ml Transdermal NanoSerum pen is now available in more than 90 dispensaries throughout Colorado. This compact product size contains 20 doses of NanoSerum, each with 10mg of THC. The game-changing
Evolve Formulas product immediately penetrates the skin following application to deliver direct-focused relief from pain, inflammation and anxiety.
NanoSerum is the only transdermal cannabis product offering a patent-pending delivery system for cannabis molecules which uses nanotechnology to transport THC directly into the bloodstream and to the CB1 and CB2 receptors of the endocannabinoid system, offering precise, measurable doses and rapid absorption. Using the NanoSphere Delivery System's industry-first technology, cannabinoid molecules are encapsulated in natural, nano-sized lipid spheres, enabling them to cross the skin barrier to the bloodstream and cells, increase bioavailability and bioactivity.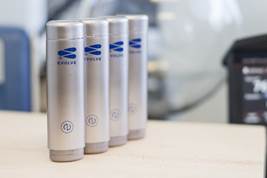 "Evolve Formulas is expanding its product line with adaptations and new innovations that meet consumer needs," said David Sutton, COO and President of Evolve Formulas. "Our product pipeline brings next-generation technology to cannabis consumers, providing fast-acting, measurable doses of cannabinoids that go directly to where they are needed, no ingestion or inhalation required."
Unlike oral ingestion or inhalation, use of Transdermal NanoSerum offers results within ten minutes, with cannabis reaching the bloodstream in less than three minutes. The technology also provides consistent, measurable, standardized dosing and has advanced non-invasive, user-friendly administration in the cannabis and pharmaceutical industries, while also decreasing the adverse effects of cannabis.
NanoSerum is now available in 5ml and 10ml pen sizes in select medical and recreational dispensaries throughout Colorado. For a full list of store locations or more information, click here. The NanoSerum formula is 100 percent natural and 100 percent free of contaminants, made from natural biocompatible, biodegradable non-toxic materials.