AUSTIN, Texas — In the interest of helping more qualifying patients across Texas access much-needed CBD medicine, Compassionate Cultivation, a pioneering licensed medical cannabis provider, is forging a first-of-its-kind partnership with Epilepsy Foundation Central & South Texas (EFCST) to create a new funding program for patients. The company is donating $5,000 to kick off the initiative and has committed to donating another $5,000 to the Epilepsy Foundation Texas (EFTX) that covers Houston, Dallas-Fort Worth and west Texas.
The Texas-based company, which was fully operational less than a year after receiving its provisional state medical cannabis business license last May 1, is raising the bar for the state's Compassionate Use Program. The law allows patients with intractable epilepsy to purchase and use locally made low-THC medical cannabis products rich in the compound cannabidiol (CBD).
"Our patients are our top priority, and no one should have to forgo medication that could help ease suffering because they're worried they can't afford it," said Morris Denton, Compassionate Cultivation's CEO. "We hope many patients will benefit from this effort we're spearheading with EFCST, and we couldn't be happier to be working with such a supremely dedicated organization."
In addition to the seed funding Compassionate Cultivation contributed to launch the Compassionate Use Patient Assistance Program (CUPAP), the company will donate profits from sales of non-medication merchandise such as apparel, hats and accessories to the program, which will be open to donations from individuals and other Texas medical cannabis licensees.
"Epilepsy patients need to have options and access to essential anti-seizure medication, including CBD," said Sindi Rosales, founder and CEO of EFCST. "We're very grateful to CC for partnering with us to create this program."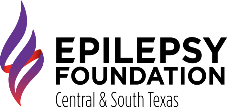 Patients can qualify for financial assistance through CUPAP to fill a doctor's prescription for CBD oil; the need-based program will be overseen by each regional Texas epilepsy affiliate. It is first launching through EFCST, which spans 79 counties in the south-central portion of the state; its sister affiliate EFTX that covers Houston, Dallas-Fort Worth and west Texas will begin its regional program soon.
Because of the federal restrictions against medical cannabis, insurance coverage is lacking for patients using CBD products that are legal through the Texas Compassionate Use Program.
"While our CBD medicine is the lowest priced in Texas, there's no denying the costs of health care and medication can be a burden for many Texas families, whether it's covered by insurance or not," Denton said. "That's why we're taking action."
For people who are interested in contributing to the CUPAP effort, donations can be made by visiting http://bit.ly/CompassionateUsePAPDonation.
Patient applications are now being accepted online by EFCST (http://bit.ly/CompassionateUseAssist).
The two affiliates of the national Epilepsy Foundation already work with patients to help cover the costs of conventional drug prescriptions in emergency instances.
"The Epilepsy Foundation Central & South Texas is committed to providing access to care, and the generous support from Compassionate Cultivation helps us fulfill our mission," Rosales said. "We are thrilled to offer this opportunity to support those in need. EFCST supports the state program that provides a legal avenue for doctors to work with patients in pursuing CBD treatment."
Roughly 30 percent of patients with epilepsy don't respond to conventional treatments, according to the Epilepsy Foundation, and CBD has emerged as a promising alternative treatment. In recent years, CBD rose to prominence on the global stage as numerous patients and their families shared their stories in nationally broadcast documentaries and local news reports. The research base has been growing with clinical trials that demonstrate efficacy of CBD in treating certain types of epilepsy. Based on the 2017 Texas population estimate of 28,787,290, approximately 1.8% of Texans (518,351) are diagnosed with epilepsy, according to an EFCST analysis of CDC BRFSS data.
Compassionate Cultivation made history in Texas this past February when it opened the doors to the state's first retail dispensary and welcomed in patients. The company is one of three businesses licensed to grow cannabis, process it into low-THC formulations of CBD oil and provide it to patients who hold a valid doctor's prescription.