Standing in my Denver office in early June, it all seemed so very far away. In the weeks that followed, I would be heading northeast to Toronto, and then farther east to Saint John, New Brunswick, and then waaaaay southwest to Mendocino County, California—all for cannabis business gatherings of different stripes.
One of the events, O'Cannabiz in Toronto, was a straight-up business expo, and I moderated a compelling panel on the future of adult-use marijuana with the biggest cannabis brands in the world on stage alongside me. Another event, the World Cannabis Congress in Saint John, was a modified take on the conference format, with invite-only "delegates" instead of attendees, no expo floor, and curated panels. Mine was on the role of the media in a 420-legal society. And the third, Meadowlands, was something of an anti-conference—a scheduled, if informal, camp-out focused on California's post-implementation cannabis supply chain in the stunning Mendo woods three hours north of San Francisco.
More than 3,500 miles separated Saint John and Mendocino, but truly, some of these events were closer philosophically than many of the cannabis business conferences to which we've grown more accustomed.
You can't stroll the meandering floor of any cannabis business expo without hearing execs lamenting this still-new industry's ever-expanding conference space. Some events, like MJBizCon and the Cannabis Business Summit, are the must-attend big dogs. There are seemingly countless other events serving specific niches including technology, individual product categories, and even singled-out cannabinoids like CBD.
But as the legal marijuana industry settles into its fifth year of adult-use sales, and as Canada preps for its recreational dawn on October 17, it's also encouraging to see a new breed of cannabis business gatherings emerging from the fray: the boutique business event.
Let me set the scene: After navigating a series of winding roads paved among towering redwood trees, I parked my rental car in a dirt lot and approached a dimly lit pop-up tent marked as registration. A few minutes later I checked into my teepee, and a few minutes after that I walked into a large meadow where an acoustic band played on a simple stage and a couple hundred people gathered around a large fire pit.
What a welcome to Meadowlands, a grassroots event thoughtfully organized by Meadow, a software solutions provider known for its handy cannabis delivery platform and its status as Y Combinator's first start-up in the legal marijuana space. The loose schedule stood out for its star-gazing night hikes, ganja yoga seshes, and infused cooking demonstrations, though its three (total!) panels stood out for the legitimate depth they attracted, including top state cannabis regulator Lori Ajax and influential city marijuana officials from San Francisco, Los Angeles, and Sacramento.
It was impossible to have a conversation that weekend that didn't address the event's special singularity, unique environment, and casual atmosphere. Joints, pipes, and vaporizers were passed around widely during the regulators' panel discussions, a differentiator that did not go unnoticed. While it wasn't outwardly a business gathering, the event drew a crowd of entrepreneurs, decision-makers, and thought leaders, and business definitely was conducted around the campfire.
A few days earlier in the equally out-of-the-way city of Saint John, a similar segment of cannabis industry decision-makers gathered for the decidedly business-casual World Cannabis Congress—an event that was more Canadian in focus but similar in intention to the California-centric Meadowlands.
The WCC's agenda was jam-packed with panels, sure, but it also was peppered with thoughtful programming and amenities, including full breakfast, snack and lunch buffets (as opposed to the coffee-and-danish spreads more common to business events); a comfortable makeshift lounge serving soft drinks and cocktails directly across the hall from the panel rooms; afterparties that celebrated Saint John's seafaring locale via delicacies including seaweed and fiddleheads; and multiple female keynote speakers, including comedian Chelsea Handler and New Frontier Data Chief Executive Officer Giadha Aguirre de Carcer.
Like during Meadowlands, the WCC delegates were consistently charmed by the event's small size and personalized approach. Whereas the cannabis industry's largest expos set up shop in conference hubs like Los Angeles and Las Vegas, there was an undeniable novelty to leaving the tiny Saint John Trade and Convention Centre (which shares a large building with a buzzing public market and the town's public library) without thinking about hailing an Uber—and instead walking the city's quiet, hilly streets in search of food, drink, and familiar faces.
It was more than a metaphorical breath of fresh air. It was actual fresh air, with stunning views of the Bay of Fundy, to boot.
The cannabis industry relies on the big shows, and I know I'll see many of you at the Cannabis Business Summit in Anaheim and MJBizCon in Vegas, shows that I likely won't miss out on in the next five years because of how essential they've become. But the industry also needs more boutique business events like the World Cannabis Congress and Meadowlands—gatherings that provide a different atmosphere and scope, not to mention a different level of intimacy and personal connection.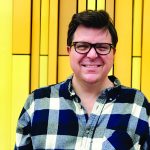 Ricardo Baca is a veteran journalist and thought leader in the legal cannabis space and founder of Grasslands: A Journalism-Minded Agency.