BEVERLY HILLS, Calif. – An unusually heavy rainstorm didn't damper Hollywood's scenesters spirits as they attended TMG International's 14th annual pre-Oscar Beauty & Lifestyle Suite at the Beverly Hills Hilton.
After disappearing into the waiting arms of the lobby elevator, guests were deposited on the penthouse level. A massive suite anchored the long, plush hallway adorned with vintage black-and-white photos of Hollywood stars.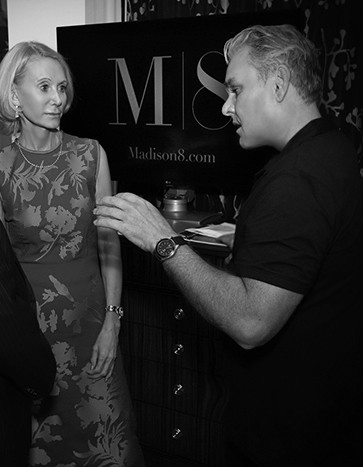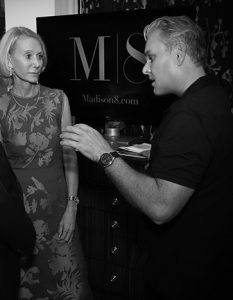 Each year, a few dozen brands gather in the gargantuan suite during Oscar weekend to showcase their wares, talk about their brand, offer beauty treatments, and more. This year, guests found skin- and hair-care products, smoothies and water, a mozzarella bar, a Cheetos popcorn machine, and a photo booth, among other things. They also found a new kid on the block: a CBD suite presented by Christine King and Gavin Antill of the cannabis creative agency Madison 8. King, also the founder of TMG International, felt the time had come for CBD to join her elite suite.
"In the past decade we have expanded our team to focus on mass-market beauty and have worked to create and open sales channels, both e-commerce and on-shelf at retail," she said, explaining TMG's expertise encompasses creating innovative strategies and branding campaigns for luxury skin care, hair care, jewelry, and lifestyle brands. "It's this knowledge and experience that led to the creation of Madison 8 for the cannabis space along with my longtime associate, friend, and creative director, Gavin Antill."
With the increased interest in the flower, CBD, and hemp spaces, the timing seemed right for King to bring her skills and extensive network of contacts to the cannabis industry, she said.
"Our goals are to effectively and creatively market existing brands as well as working to develop our own brands," King said.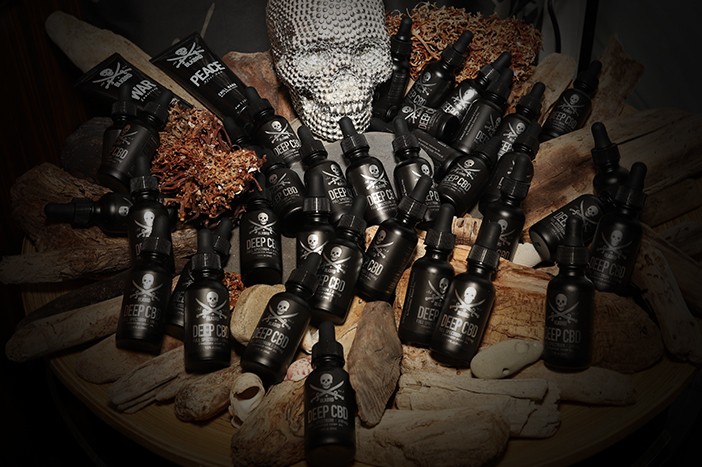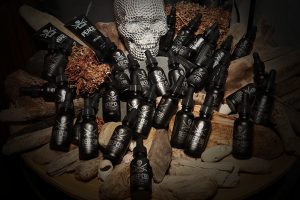 She went about selecting brands for the Hollywood suite by studying the sector and meeting with companies.
"We wanted brands that reflected the event's historical stature of luxury, so we approached only brands we considered fit into our aesthetic," she said.
The CBD suite was not hidden in the back room. It was the "first" room as guests entered the affair. Brands showcased included BLKBRDCBD (Blackbeard CBD), Punch Edibles, Hora, WINK, and Genifer M.
Antill, who founded BLKBRDCBD, said he knew right away the TMG suite was a perfect opportunity for CBD companies not only to create brand buzz, but also to test response from Hollywood's young elite.
"I've been a creative director and brand builder for my entire professional career," he said. "I grew up in an advertising industry family and have worked in many sectors of the creative industry. My interest in CBD came because of the multiple concussions and many broken bones [I suffered] racing dirt bikes. I researched numerous recovery and pain-relief avenues and was led to CBD."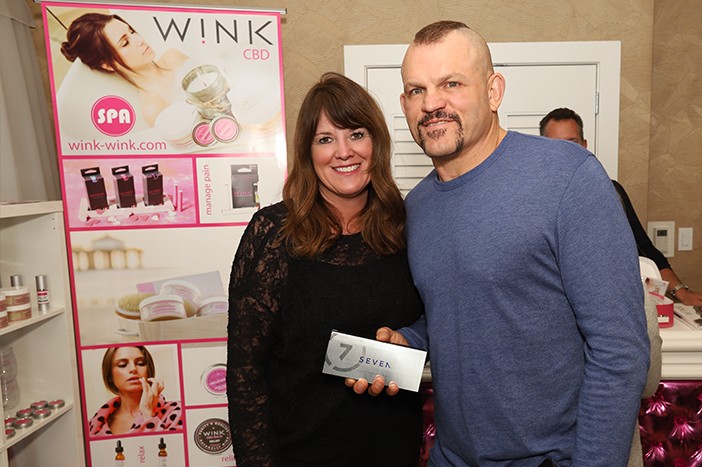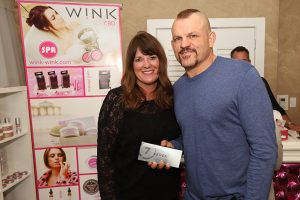 WINK founder Stacy Verbiest joined the CBD movement after witnessing the fear, lack of sleep, stress, anxiety, depression, loss of appetite, and complex pain-management rituals of women with cancer. While THC and CBD have many benefits for both men and women, WINK specializes in producing high-quality products that ease mental, emotional, and physical side effects of female-specific conditions such as menstrual cramps, stretch marks, depression,  and anxiety. The company, launched in 2017, imports European hemp plants to ensure its products contain less than 0.3 percent THC. With FDA approval, WINK may sell CBD products across state lines in the continental U.S.
"We are dedicated to empowering women who want to enjoy the therapeutic effects of cannabis and hemp without the intense high," Verbiest said. "Women deserve the cleanest, most pure experience when it comes to using CBD and THC. Many of our guests [at the soiree] were perceptive and embraced trying CBD as an effective alternative to meds."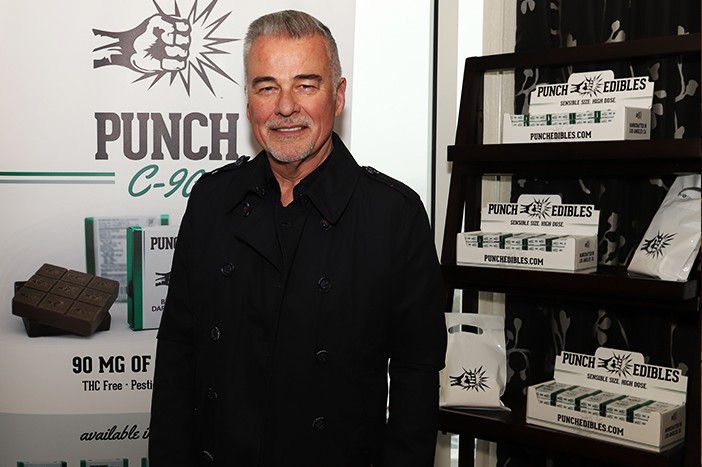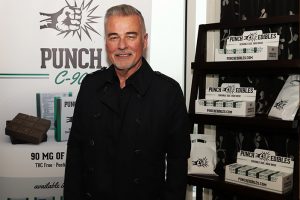 With the CBD edibles sector on fire, it made perfect sense for Punch Edibles to showcase their chocolates. Launched in 2015, the company produces THC and CBD chocolates. Punch Bar C-90 contains a high dose, making it an anomaly in a market where high-CBD bars are rare. Chief Financial Officer Samantha Czubiak said that's why she saw an opportunity.
"Most on the market blends THC and CBD," she said. "We use a hemp-derived CBD, so there are no THC residuals, making it legal for us to ship. [Our products] can help with sleep, provide relief from muscle soreness after a workout, and [give] just an overall relaxing feeling."
The company also recently launched the Hora line of skincare products. Hora showcased its Super Serum + CBD facial serum, which is composed of what Czubiak called "super ingredients": marine collagen, reship oil, argan oil, vitamin A, vitamin B3, hyaluronic acid, vitamin C, and CBD.
"Everyone was super-complimentary about the look and packaging," she said. "We brought awareness to using CBD in mainstream skincare. A lot of celebrities were exited to try the product; most didn't know you could have CBD in skincare [products]."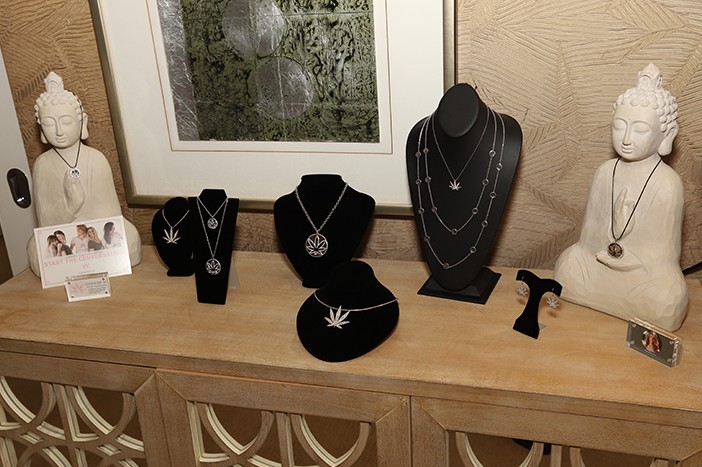 Though it contains neither CBD nor THC, Genifer Murray's eponymous jewelry line, Genifer M, was a standout at the party.
"We participated in this event because celebrities are often on the cutting edge of what is new and supporters of good causes, like the legalization of cannabis," Murray said. "We met many people who were very interested in our brand, our mission, and our jewelry. We believe exposing our brand to these influencers will help us reach more people that share our passion for cannabis, empowerment, and beautiful jewelry."
Hosted over the course of two days, the event was hugely successful, according to King.
"Hollywood's glitterati, influencers, and tastemakers all were very excited to experience the brands," she said. "Maybe next year we'll have to expand the CBD part of our suite."