DENVER – Cannabis production and wholesale company Dixie Brands announced a pending name change in response to recent protests and civil unrest related to the Black Lives Matter movement, racism, and raised awareness about negative connotations of the word "Dixie" and its association with the Civil War South.
"We think of a brand as much more than a trademark, its the foundation for a deeper, emotional connection with our consumers and as such needs to reflect the values of its community," Dixie Brands Vice President of Marketing Andrew Floor told mgRetailer.
"Dixie was founded ten years ago as a pioneer in the cannabis space and while we have always endeavored to be a responsible member of our industry, the growing conversation about racism, inequity, and injustice has provided a whole new lens for us to apply to that commitment and it has become obvious that the Dixie brand name itself may be a source of pain due to the historical context of the word," he said.
"It is with that lens in mind that we made the decision to change our iconic brand name," Floor continued, "and craft an updated, contemporary identity that truly reflects the values of our company, our team and our community—values such as inclusivity, equality, freedom, integrity, and progressiveness."
Have they chosen the new name yet?
"Not yet!" Floor replied. "But our team is actively working to develop a new name and visual identity that reflects our core values while still offering the great products that our fans love and trust. After ten years in business, this was not a decision that was taken lightly, but there is no doubt in our minds that it is the right thing to do.
"Although this transition will take some time to filter into the marketplace, we are actively working to chart the next chapter and are incredibly excited for what's next," he added.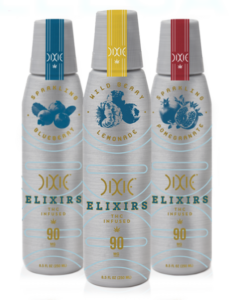 The company formerly known as Dixie has operations in Colorado, California, Maryland, Michigan, and Nevada, and helms two subsidiary hemp brands: Aceso Hemp and Therabis for pets. Expect a new name and look for its popular Dixie branded products including elixirs, edibles, chocolates, topicals, gummies, as well as its Synergy, Dew Drops, and Tarts lines.
Members of many industries are embracing social equity and inclusiveness in response to the current political climate and raised awareness. Established country trio The Dixie Chicks also dropped the word "Dixie," and now will be known simply as The Chicks. Other symbols of the Confederacy, like the Confederate flag, recently have been removed from display at NASCAR racing events and even from the state flag of Mississippi.
Floor pointed out that cannabis companies and musicians have the same goal—to produce a product that makes people feel good—and so the name change was ultimately a no-brainer. An added goal that comes with rebranding, he said, is to implement increased social equity initiatives.
"Our decision to change our brand name is one indication of that commitment, but we have also recently launched a Social Equity and Accountability Team to make sure that we continue to put those beliefs into action across all aspects of our business," Floor said.
"The story of cannabis' role in society is a long and sometimes dark one that we should collectively strive to understand and never forget. As referenced in our 2016 video release, 'Pot and Prejudice,' marijuana laws have often been disproportionately enforced against communities of color. We also believe firmly in the power of the plant to heal and to contribute to the well-being of all and we absolutely have a responsibility to ensure that happens," he said.
[youtube https://www.youtube.com/watch?v=EKE8c3OuWHM]