WASHINGTON, D.C. – America braced for the first week of quarantine measures in states where coronavirus infections could run rampant, including "safer at home" orders issued in California, Connecticut, Delaware, Hawaii, Illinois, Indiana, Louisiana, Massachusetts, Michigan, New Jersey, New Mexico, New York, Ohio, Oregon, Washington, and West Virginia.
States with legal medical marijuana laws that are under shutdown protocols include Connecticut, Delaware, Hawaii, Louisiana, New Jersey, New Mexico, Ohio, and West Virginia.
Recreationally legal states currently under shutdown include California, Oregon, Illinois, Massachusetts, and Michigan. Washington State, site of the first coronavirus outbreak in the U.S., was under "safer at home" restrictions as of March 23, after an order from Governor Jay Inslee.
Maryland, Nevada, Virginia and Kentucky have ordered all non-essential businesses, stopping short of more restrictive "safe at home" guidelines. The order closed all casinos on the famous Las Vegas Strip, where residents have been asked to practice "safer at home" protocols due to concerns for locals and travelers.
So far, lawmakers in California, Connecticut, Maryland, and Washington State have given cannabis dispensaries "essential" status, including them on a roster of businesses that can remain open for business during the coronavirus shutdowns. Other essential businesses include banks, pharmacies, gas stations, food vendors (take out and delivery only), and laundry mats and services.
Marijuana law reform organization NORML issued a statement encouraging governors and local officials to grant cannabis businesses essential status.
"NORML commends the decision of various state governments and local jurisdictions during this pandemic to designate medical cannabis facilities as 'essential' to the community. This designation permits them to continue to provide important services to patients who rely on them," said NORML Executive Director Erik Altieri in the statement.
"There are several million state-licensed medical cannabis patients in America. Because many of these patients are among our more vulnerable populations, it is essential that they maintain uninterrupted, regulated access to lab-tested products during this time," Altieri continued. "Policymakers must not push these patients to the illicit marketplace because unregulated products may contain contaminants, adulterants, molds, pesticides, or other components that could potentially endanger their health."
Many regions, like Colorado and Florida, have instituted safety protocols including doctor's recommendations by phone, as well as pickup and delivery only cannabis sales to encourage social distancing, though they are not yet under shutdown orders.
In Massachusetts, Republican Governor Charlie Baker closed recreational cannabis shops, but allowed medical dispensaries to remain open.
Advocacy organization Medical Marijuana Project (MMP) issued an open letter to governors of states that have not yet given cannabis businesses essential status, asking that officials do so during shutdowns. The letter requested the following protocols be applied:
Declaring medical cannabis businesses "essential" and ensuring they do not have to shut down operations in the event of a shelter-in-place order.
Allowing and encouraging medical cannabis delivery, including allowing for it to be contactless.
Allowing and encouraging online ordering and curbside delivery.
Providing standard operating procedures to medical cannabis businesses so they can implement best practices to protect public health in the face of the pandemic.
Ensuring businesses can continue operations during the pandemic, including in the event some personnel are ill and there is a need for quick hires, such as by waiving requirements that employees first receive or renew identification cards.
Ensuring patients are allowed to consult with physicians by telemedicine.
Extending the expiration date of medical cannabis cards until after the crisis has abated.
Advocacy group the Cannabis Consumer Policy Council (CCPC) also issued an open letter and infographic with safer sales guidelines for vendors. The points outlined in the letter included:
Consumers and medical cannabis patients need access to their medicine in light of current "shelter in place orders." This is particularly important to patients suffering from illnesses that suppress their immune system as well as anxiety and PTSD during these unprecedented times.
Consumers and medical cannabis patients need to work with their dispensaries and delivery services to forecast their medicinal needs for the next thirty days so retailers can make thoughtful buying decisions in the days to come.
Importantly, if jurisdictions do not keep shops open, patients will be forced to go to the illicit market, which is exponentially more risky and needlessly puts a further burden on public safety.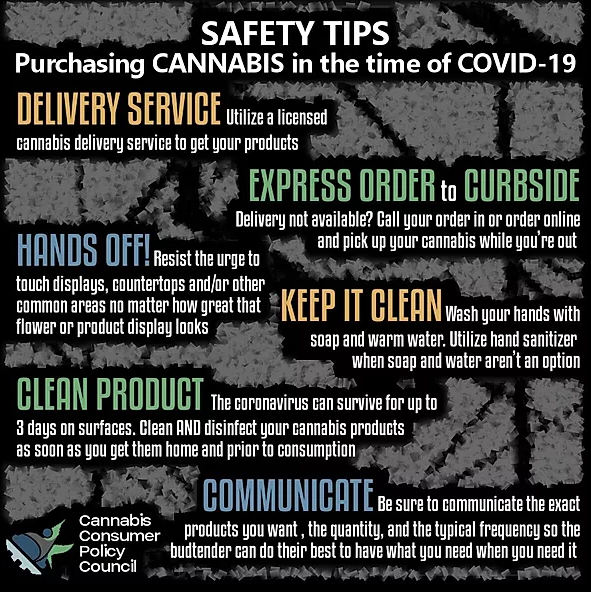 Toronto-based cannabis pharmaceutical company RAMM Pharma issued a corporate update in regards to the COVID-19 (aka coronavirus) crisis and said, "Since the global outbreak of COVID-19 we have been focused on developing and implementing our response plan both as a supplier of critical materials as well as a responsible medical company, employer, and community member."
RAMM subsidiary businesses Medic Plast SA and Bioset, which manufacture and supply more than 150 medical products to international markets—especially Uruguay—will increase production of items including "disposable medical clothing, including surgical masks, gowns, and gloves for use by patients, doctors, nurses, and clinicians."
"We are doing everything we can to provide critical supplies to the healthcare professionals working tirelessly to help the community and stand ready to provide further assistance as needed," Jack Burnett, RAMM Pharma chief executive officer, said in the update. "Meanwhile [RAMM Pharma] continues to establish itself as a leader in the development and commercialization of cannabis-derived prescription drugs and registered products to meet the growing demand in Latin America and other jurisdictions globally."
Cannabis distribution and secured logistics company HARDCAR has developed an A.I. software platform that uses closed circuit TV cameras, already installed in stores, to help monitor and manage social distancing requirements in real time, for vendors that are not under pickup or delivery only orders. The platform, developed with HARDCAR strategic partners Zensors, is available for a three-month trial, free of charge.
"Critically, companies can deploy our platform in a matter of hours and be able to determine if people are moving within the specified 6 foot distances. More importantly is that the system will also detect if people are touching and or approaching areas that may be of concern. The system was designed for customer analytics," said HARDCAR co-founder Todd Kleperis.
Cannabis testing facility ACS Laboratory, located in Boca Raton, Florida, "took action" to be designated as an essential business in Florida, allowing the company to continue third-party testing for cannabis and hemp.
"ACS's ability to do its part is integral to ensure that there is an adequate supply of verified, properly-tested medical marijuana available to qualifying patients in Florida at all times," said ACS Laboratory President Roger Brown.
"Our stellar customer service and essential testing services will continue in the face of this pandemic. As of now we are not experiencing delays and will continue delivering test results as quickly as possible," Brown added, "I personally want to inform every client that ACS Laboratory is here to support your business so we can continue serving patients with life changing medicine. If we stay calm and diligent, we will all get through this crisis together."
Maryland-based cannabis dispensary Mana Supply Company, with three locations in Maryland, Colorado, and Missouri, announced that its store located in Edgewater, Maryland—a former bank building—would now feature the first drive-thru for medical cannabis sales serving the mid-Atlantic region. Completion of the drive-thru was sped up to accommodate dispensary patients that wish to observe social-distancing.
"I'm truly grateful to the leadership provided by Governor Hogan, Anne Arundel, County Executive Pittman, and MMCC [Maryland Medical Cannabis Commission] Executive Director Will Tilburg," said Mana Supply Co. co-owner Christopher Jensen. "Their no-nonsense approach to this crisis is saving lives.
"Figuring out the medical cannabis world can be daunting from a patient perspective, so we try to take some of the pain out of that process," Jensen added. "Many of our patients suffer from enough pain. We make folks feel as confident, empowered and comfortable as possible. The drive-thru is one more step toward that goal."
Leading Canadian cannabis corporation Canopy Growth announced that in reaction to the global coronavirus crisis, it would close all corporate-owned stores for their Tweed and Tokyo Smokes brands. The temporary closures were effective as of March 17, and affect twenty-three locations. Patients can still access products through Spectrum Therapeutics, or via Tweed and Tokyo Smokes e-commerce platforms.
"We have a responsibility to our employees, their families, and our communities to do our part to 'flatten the curve' by limiting social interactions. For us, that means shifting our focus from retail to e-commerce," said David Klein, Canopy Growth chief executive officer.
"This is a big decision but it was also an easy one to make—our retail teams are public-facing and have been serving an above-average volume of transactions in recent days. Given the current situation, it is in the best interest of our teams and our communities to close these busy hubs until we are confident we can operate our stores in the best interest of public health," Klein said.
Finally, on Thursday, Pennsylvania-based National Cannabis Risk Management Association (NCRMA) announced it is stepping up to assist member cannabis businesses with coronavirus-related inquiries, dealing with everything from product shortages to additional staffing, and especially risk management practices.
"We are responding to the needs of the cannabis industry and working to provide education, support and expertise," said NCRMA Chairman Rocco Petrilli. "This pandemic has forced cannabis business owners to look at risk management more directly and take necessary steps to protect themselves and their businesses."