They say past is prologue, but does it have to be? Although the cannabis industry is relatively new, it has been around long enough for companies to learn and improve.
Terrapin Care Station is taking their past experience and applying it to craft a brighter future. Founded in 2009, Terrapin now operates six dispensaries, four cultivation facilities, and one extraction lab. After successfully operating shops in several Colorado cities including Boulder, Denver, and Aurora, Terrapin ventured out east to Pennsylvania with a cultivation center and processing lab.
Terrapin seems to be firing on all cylinders, but that did not happen overnight. They recently remodeled two of their retail locations in order to improve operations and have also applied their collective wisdom to the design of their brand new shop in Longmont, Colorado.
The first of their remodels was at their Mississippi Avenue, Aurora location. This "retail cannabis center boasts nearly 8,000 square feet, adding nearly 4,500 square feet over the previous store," Bradd Rigoni, Director of Store Operations, told mg. Rigoni has years of experience managing retail stores such as Urban Outfitters.
With all new lush display cabinets, wood floors, and added floor space, sales have increased sharply at the Mississippi Avenue location. They've had to hire additional staff and add registers to keep the line of customers flowing. But Terrapin's relationship with the community may also be a factor in their growth.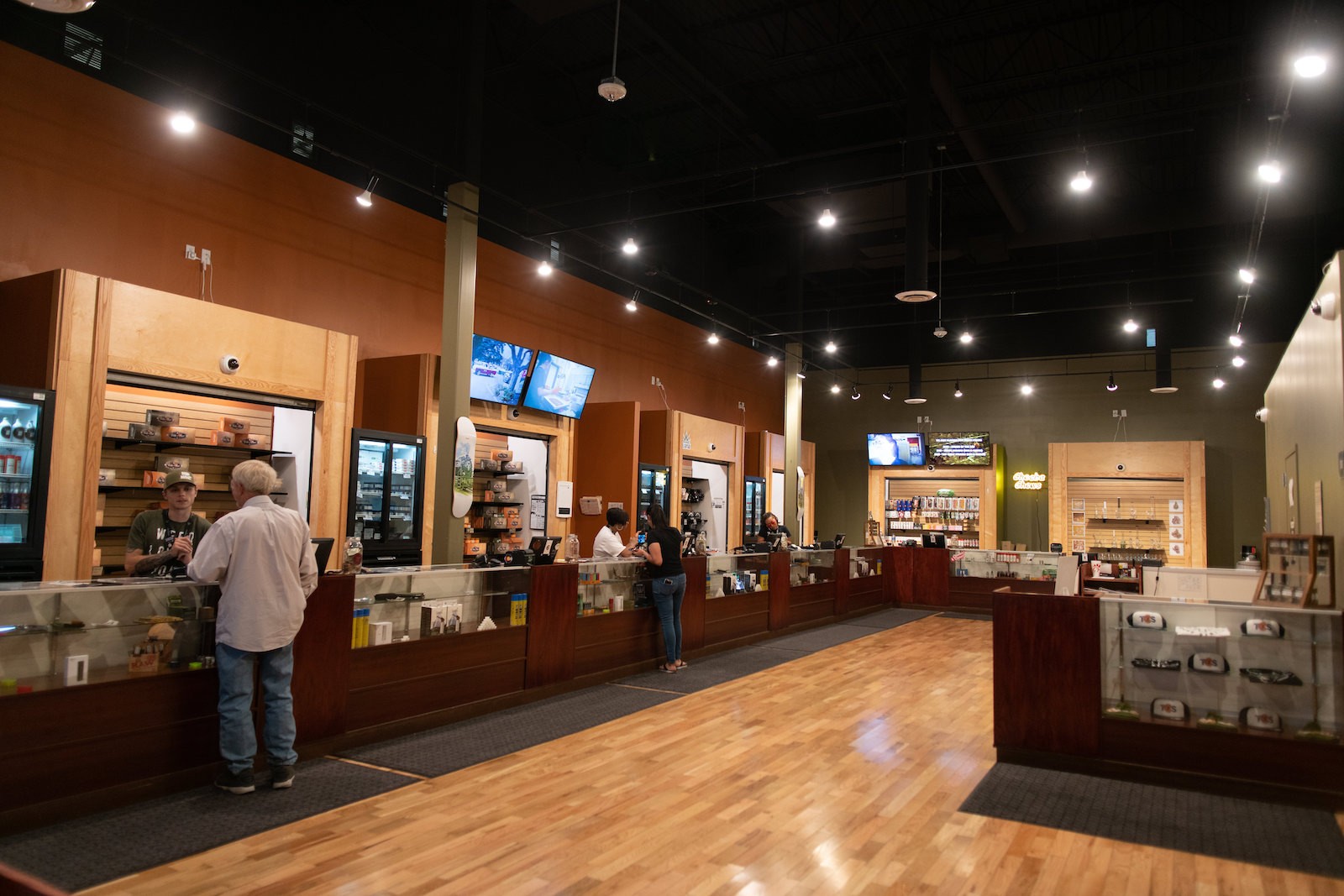 "The remodel was celebrated with a ribbon cutting that included representatives of the Aurora Chamber of Commerce, as well as support from local elected officials," Rigoni explained.
Terrapin also remodeled their original shop located in South Boulder on Manhattan Circle. "I would sleep in the original 1,000-square-foot medical cannabis space in the early days of operations," Chris Woods, founder, and owner of Terrapin Care Station told mg. "After the remodel, the shop has doubled in size and additional staff and registers also had to be added to keep up with the increase in customers."
The Manhattan Circle location serves both recreational customers and medical patients and features a consultation room, meaning patients do not have to recite their entire medical history in front of strangers on the showroom floor. Ensuring that customers and patients feel comfortable was a key focus of the remodel. "The space is very open and inviting, and it offers a personal customer service experience. We're especially proud of the lobby. Which has a one-of-a-kind wall wrap featuring a train station," Rigoni said.
Customers seem to be appreciating the changes at Terrapin's shops. Sales have increased steadily in both locations and it may be due to the fact that Terrapin can cater to all types of consumers. Those seeking a quick visit greatly benefit from the added space, staff, and registers. But not everyone is looking for speed weed. "For those looking for a loner educational experience, the remodels have allowed us to staff the stores appropriately so as to reserve some budtenders for a more in-depth customer-facing experience," Rigoni said.
Terrapin's newest location is in Longmont, CO and its design was guided by everything Terrapin's team have learned over the years. "What was once trial and error has evolved into concrete procedures," Tyler Worley, Terrapin Care's Project manager said. "It took nearly 10 years of experience to get there."
In many dispensaries, the interaction between the customer and budtender is severed multiple times during the customer's visit. "Most dispensaries including Terrapin's older locations have developed a system in which the budtender is required to leave a customer while they track down a specific product," Peter Marcus, Terrapin Care's Communications Director said. At the Longmont location, budtenders can stay with the customer as they walk the store, view products, and answer any questions that arise. Once the customer is ready, they are then directed to a checkout employee. This allows lines to flow without taking the focus off of customer engagement.
Many dispensary buildouts take much longer and incur higher costs than originally conceived. But after almost a decade working in the industry, "Terrapin Care station is getting really good at designing stores," Worley said. Construction at the Longmont location was ahead of schedule and on budget.