Vessel is flourishing in a state with declining sales, increased competition, and ever-changing laws.
Vessel, the Dutch-inspired dispensary in the northwest Slabtown district of Portland, has been ranked the best dispensary in Portland by the hip local newspaper, the Willamette Week, two years in a row. The paper noted, "Flanked by two glass-manufacturing companies, it resembles a spotless Nordic pharmacy and caters to people who know their pot and will make a trip for good seed or concentrates."
That's just what the owners wanted to hear after struggling to take Vessel from idea to reality. Their mission was to have the best organically grown flower in the state, harvested just outside Eugene, and have it served by the most compassionate and empathetic budtenders in town. With only three employees, two budtenders, and a manger, the shop is intimate. Nevertheless, it sees a whopping 100 patients a day. But business hasn't always been smooth sailing.
"We struggled a lot in the beginning trying to figure out what kind of shop we wanted to be, what prices we would offer, and what types of customers we wanted to attract," said manager Sara Kemple.
Kemple has worked in and around cannabis for years, cultivating, growing, and working in other shops, but she said managing Vessel has changed her life. The experience has taught her how to run a cannabis business properly and help customers in need. "We have helped people alleviate the symptoms of brain fogginess from coma, cancers, broken bones, anxiety, depression, sleep loss… You name it, and we have helped treat it," she said.
"Our big challenges have been the licensing, the competition, the laws, and testing requirements." – Sara Kemple, Manager
Stepping inside Vessel feels like entering an origami paper lamp. The minuscule space is moon-dust-white with a wall of elegant wood shelves. Twig-like glass pieces from the adjacent Elements glass studio are suspended from the ceiling at a series of vaulted angles. The owners wanted to give a sense of upscale affordability. "The design aesthetics were based off our owners' lifelong pursuit of glassblowing," said Kemple. "Vessel is a name used in the glassblowing industry. Also, the name describes the size and shape of the building." The shelves are stocked not only with organic flower, but also with a colorful smattering of hand-blown pipes, bongs, and twenty or so types of concentrates and edibles. The shop sells about ten strains of organic seeds from GI Grow and an equal number of organic clones from Taproots. But flower is king.
"Our best-selling item is our flower," Kemple said.
The tiny staff is well-trained and gets excellent reviews from Kemple: "They are extremely passionate and spread that love to our customers." This has been key to the shop's success, as the Oregon market has gone through myriad of compliance and legal issues in the past few years.
In October 2015 the state enacted "early start," a provisional measure allowing dispensaries to begin selling only flower to recreational customers 21 and older. Recreational sales were tax-free in the remaining months of 2015, but in 2016 the state began mandating the collection of taxes from recreational purchases. In June 2016, "early start" expanded to include concentrates, edibles, and topicals. In October 2016, the state began issuing licenses to recreational retailers and phasing out the "early start" program.
With the transition to a fully regulated recreational market, the state enacted more stringent testing requirements. Newly licensed retailers could purchase products only from similarly licensed vendors who were required to adhere to stricter product-testing protocols. Unfortunately, with an understaffed licensing apparatus, delays in licensing and testing resulted in product shortages, and the market suffered its first recession. All this, combined with declining sales and increased competition, makes Kemple's job a monthly puzzle.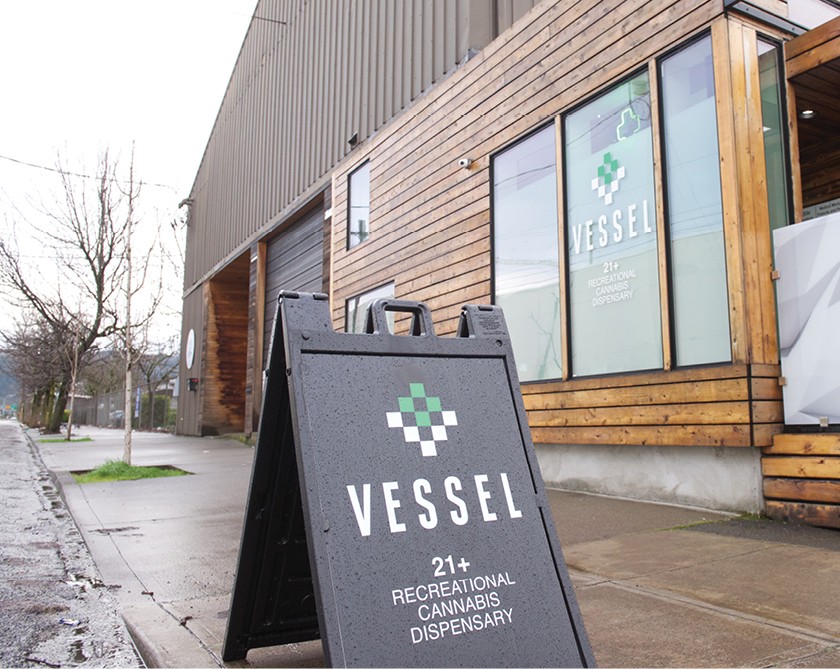 "Our big challenges have been the licensing, the competition, the laws, and testing requirements," she said.
Leafly gave the shop a 4.6-star rating, noting the thirteen in-house strains at reasonable prices, friendly staff, and superior flower. WeedMaps called the combination of Clean-Green-Certified flower like 9 Pound Hammer and Sunset Sherbert, as well as flower from Wynberry Farms, Lucky Lion, and Sweet Life Distribution, a winning formula. Grams of outdoor, indoor, and greenhouse range from $8 to $16; the shop offers $20 eighths every day.
Kemple is extremely proud of the small shop's big reputation. To maintain it, she adheres to a very simple philosophy: "The motto I live by is if you work hard every day and surround yourself with a good community of people, good things are bound to come of it."
---
Vessel
1979 NW Vaugh Street
Suite B
Portland, Oregon 97209