Twenty years after California's Proposition 215 legalized the first cannabis sales, the market has become saturated with companies and products. The novelty of legal medical marijuana is wearing off, and now people want to know what they are putting in their bodies and where it is coming from.
David St. Clair took the future into consideration when co-founding Temple Extracts. "We wanted to use pure cannabis oil ourselves, but because we are health conscious purists, we wanted a product that was the finest quality and had no additives and no fillers. We saw the need and began assembling a team of top people from growers to lab chemists in order to create products that we would be stoked consuming ourselves," he said.
At Temple, everything starts with the process. The company utilizes a network of cannabis farmers committed to ecologically sound farming practices. Michael Bardin, another  co-founder, explained how Temple create its products. "Our seventeen-step process starts with the highest-quality supercritical C02 extraction instrument." Temple's process does not include hydrocarbons such as butane, propane, or hexane.
Terpenes also factor heavily into the equation. "We preserve terpenes concentration and quality so we can create a robust and flavorful product while maintaining terpenes' medical benefits," Bardin said.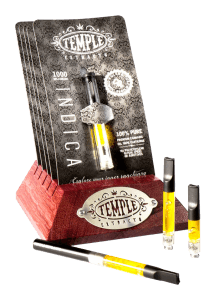 We manufacture our own oil so we know exactly what goes into every product we sell. -Michael Bardin Temple Extracts co-founder.
Temple does not outsource the manufacturing of its oils. The company's boutique, small-batch approach allows it to attend to details. "Our oil is always single-origin, strain-specific, and batch-specific, so consumers can find the right quality oil and have more options that meet their unique needs and tastes," St. Clair said.
Being environmentally conscious and detail-oriented does not end after production. "We conduct exhaustive lab tests on all our specific batches for terpenes, potency, residual solvents, and pesticides," Bardin said.
While some companies overlook the environmental impact of their packaging, Temple does its best to ensure the company behaves responsibly. "All of our packaging is the most sustainably sourced we can find," Bardin said. Temple uses recyclable material as well as vegetable-based inks.
Temple products can be found all throughout California, including the Bay Area, Los Angeles, Santa Cruz, and Palm Springs. The company appears in more dispensaries every week, and growth stands a good chance of continuing as vape pens become more popular. "We believe the health benefits and ease of use will continue to push vaping forward as a preferred method of consuming cannabis," St. Clair said.
For wholesale orders: TempleExtracts.com