A craft-brewery-inspired tour gives dispensary visitors a look inside a seed-to-sale operation.
Our company draws a lot of inspiration from the micro-brew movement of the mid-1990s," said Truman Bradley, founder and chief executive officer for Seed & Smith. "That movement reshaped the way people look at beer. The microbreweries proved beers can be different, and with education, consumers will come to demand more variety and higher quality. We believe this is happening with cannabis and want to help carry the banner forward."
Bradley is ecstatic about the launch of The Experience @ Seed & Smith, inspired by experiential tours at destinations like New Belgium Brewery, Celestial Seasonings, and Stranahan's Colorado Whiskey. The company took over an old forklift manufacturing warehouse next to its retail shop and turned the space into a full-service grow, lab, and extraction facility that also offers an educational encounter for customers. "Whether you have never seen a cannabis grow and lab or whether you are an industry veteran, this is a place where you can come, bring your friends and family, and have fun learning about a wonderful plant that is gaining its rightful place in America," said Bradley.
The Willie-Wonka-like tour reveals the entire lifecycle of the plant, from a bloom room full of seedlings to the lab where extraction occurs to trim rooms, packaging stations, and video screens flashing educational messages. There's also a "Smelfie Station" where visitors can smell freshly extracted terpene blends. The tour ends at the retail shop, where visitors may buy what they've seen produced. The company plans to add a kitchen once it secures an edibles license.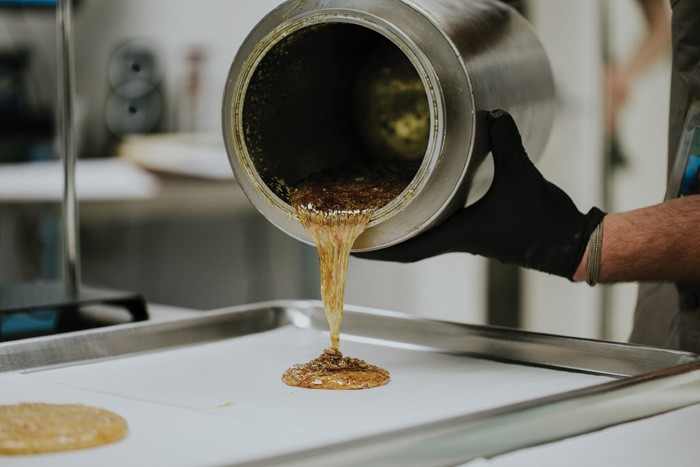 Seed & Smith launched in 2014 as a response to what Bradley perceived as a surfeit of mass-produced, low-quality cannabis in Colorado. He felt if he could marry consistency and quality with a state-of-the-art retail shop, the business would be successful. Although he's built a profitable and respected retail store, the idea of showing customers "what we do and how we do it" was too much to pass up. He went on the prowl for investors, meeting with nearly thirty before he found one who understood the gravity of what he was trying to accomplish. "Unlike other cannabis facilities, here you can see the love and the craftsmanship that goes into making the products," Bradley said.
In the two months since launch, the free tours have been a huge hit. Bradley said he has noticed a significant bump in sales, much of which he attributes to word of mouth. Tourists make up a significant portion of the operation's customer base, as Seed & Smith is near the Denver airport. The company employs thirty-seven people across all departments—production, sales, logistics, extraction, tour, and retail—but plans to expand in 2018. "We are growing quickly and often promote from within," noted Bradley.
What I've Learned So Far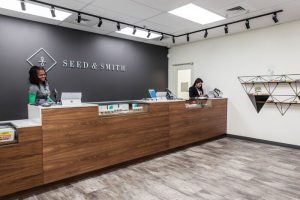 "I've heard it said that owning your own business means you get to choose which eighty hours of the week you work," Bradley said. "While I'd say the owners don't work eighty hours, we definitely never feel we've accomplished everything we had hoped to do each day. Seed & Smith really touches all aspects of the plant from seed to sale, so there's no shortage of things to do."
"The best part of my job is that every day is completely different," he continued. "One moment I'll be working on new packaging for an upcoming product, and the next I'll be discussing a potential partnership with a license holder in another state. After that, I might be tackling [a human resource] issue or walking an inspector through our facility."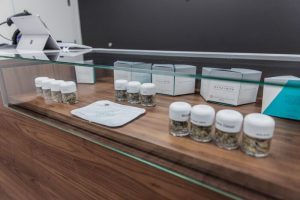 "There are obviously parts of my job that I like more than others, but for me the variety is what keep sit interesting," he added. "In general, I try to get up early and then finish my day in time to either play a few games of volleyball or take my dog for a walk. If there are emails or other things I need to wrap up afterwards, then I can do those later that night."
From the beginning, Bradley put an emphasis on hiring budtenders who are not only knowledgeable and passionate, but also speak multiple languages. "Alongside our tour guides, Seed & Smith budtenders are the face of our company," he pointed out. To create harmony among employees, Bradley follows a particular process: When new employees join the company, they introduce themselves to the team and tell one story about themselves that will help everyone get to know them. Bradley's anecdote? In another life, he was a professional swing dancer. "The only individual competition I ever won was an endurance contest," he said with a chuckle. "I may not have been the best dancer on the floor at any given time, but I definitely was the most stubborn. That's a good skill to have when you own your own business."
When it came to design, Bradley and his cohorts did most of the heavy lifting. They gutted the old warehouse themselves "in order to build each room the way it should be built," he said. The space literally is designed down to the square inch. For example, they put systems in place to provide the ideal climate for the cannabis plants to flourish. In Colorado, outside temperatures can range from the high 90s to zero degrees Fahrenheit, but cannabis plants enjoy 70 degrees and sunny every day. Bradley reckons the facility keeps the plants happier and healthier.
"This isn't like Jurassic Park, where you only see the [dinosaurs] that make it and the failures are on a different island," he said. "We're showing true production rooms. It takes a lot of guts to do that, and it takes a lot of money to design a facility that's capable of producing this stuff, day in and day out, on a high-quality scale."
When it comes to sales percentages, Seed & Smith is in line with most of the state's dispensaries: 40 percent flower (Sunset Sherbert and Tango are favorites), 25 percent concentrates, 15 percent vapes, and the rest edibles and other items. However, Bradley noted, "One thing that makes us different is that because we have an extraction facility and a grow that harvests every five days on-site, we constantly have new products on the shelves."