Goddess mermaids, crystals, reclaimed driftwood, art, sea shells, dream catchers, a phenomenal menu, and a tribe of gorgeous budtenders make 99 High Tide one of Los Angeles's most respected—and serene—dispensaries.
99 High Tide
22775 Pacific Coast Highway, Malibu CA 90265
99HighTide.COM
310 456-9930
The sun is setting behind the Malibu pier, turning the sky a riot of blue and pink all the way to the horizon. Yvonne "99" DeLaRosa Green, 99 High Tide's founder, is closing shop. The breezy scene has been in the works since 2008. "The dream behind opening up the 99 High Tide began back in 2008 when my husband and I opened our first dispensary, the now legendary 99 High Art in Venice," Green said.
A Malibu native and actress—she's appeared in TV shows such as How I Met Your Mother, NCIS, and CSI—she considered starting a high-end dispensary in the tony beach community perfectly sensible. 99 is the only dispensary in Malibu, and people have taken notice. Many herald 99 as one of the top dispensaries in California. To be sure, Green is living her dream. "It really is a dream come true," she said.
DESIGN
"The overall design aesthetic was inspired by the transformational healing powers of the ocean and mother nature," Green said. "It was a vision of [my husband] Sam's and mine to transport our patients into a higher consciousness reality with a Zen-like waiting room and then escort them into our ocean-inspired medicine room. As surfers and ocean lovers, we were inspired by nature and ocean mythology, where mermaids and man collide.
"The waiting room and 'bu-tique' were created to feel like the beach, using natural elements such as driftwood, sea glass, and sea shells," she continued. "As you enter the medicine room you are greeted by a projection of our real-life 'mermaid' [Hannah], and she guides you into the mermaid cove. The lighting in the cove was designed to be very low,with wave reflections on the walls. We designed the space to incorporate visionary art, as well as living succulent wall art and original furnishings made of reclaimed driftwood. The space is surrounded by gorgeous crystals and one-of-a-kind dream catchers made by local artist Marie K'noos."
ARCHITECT
"Sam and I are very open to a shared vision when it comes to co-creating the 99 High Tide design," Green said. "So, along with our good friends Axel, Jadwiga, and Dazjal, we collectively contributed to the overall vision. We want our patients to feel calm, serene, and enveloped by a sense of wellbeing and ocean healing vibes when they walk into our mermaid cove medicine room."
BUDTENDER REQUIREMENTS
"First and foremost, the requirements to become one of our 'goddess mermaids' begins with a love and knowledge of cannabis," Green noted. "Whilewe find the term budtender to be industry standard, we prefer to use the term cannabis consultant. Our cannabis consultants are undeniably gorgeous, but that is secondary to their compassion and knowledge of cannabis."
BEST SELLERS
99 High Tide is famous for carrying the best top-shelf strains and highest quality products. "We personally test all of our products and only carry those with the highest of standards," Green said. "We are one of the first dispensaries in California to have our flower tested, and we will soon be announcing that we are going to be the first all-vegan dispensary in the world. Our most popular product is, without a doubt, our flower. Our menu is quite phenomenal and often described as the best-stocked dispensary."
HOW OPENING 99 CHANNELED MY INNER BUSINESSWOMAN…
"99 has changed my life in so many ways," said Green. "As an artist, I never thought of myself as a businesswoman or even as an entrepreneur but, indeed, that is what I was doing all along.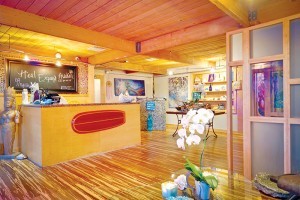 "As a creator of the 99 High Tide brand, I am able to more quickly manifest my dreams of a higher-consciousness world by using my celebrity as an actor and as a medical marijuana activist to help heal this planet and ourselves—through advocacy, fundraisers, media, and as a speaker at events and business panels about this incredible and magical industry."