Sparc has been setting the standards for the modern day dispensary since 2008, in everything from design to customer relations and employee fairness.
mg  takes a closer look at the trailblazing business which has been dubbed "the Apple store of marijuana shops."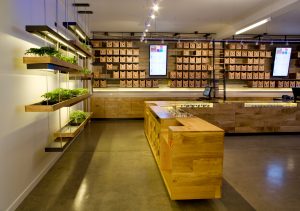 NAME: SPARC
FOUNDED: 2009
ADDRESS: 1256 Mission St., SF, CA 94114
Phone: 415 252-7727
OWNER: Erich Pearson. Erich is a renowned leader in the cannabis industry—a long-time advocate, legislative consultant, dispensary operator, and cultivation expert. He serves on the board of the National Cannabis Industry Association (NCIA).
DESIGN: Spacious, modern and well lit. "Our interior has been described as having vaguely bong-shaped lights made of borosilicate science glass drip from the ceiling, with steel shelving holding dozens of apothecary-style wood boxes, each containing a different strain or form of lab-tested cannabis," says Robert Jacob, SPARC's Executive Director, and former mayor of the City of Sebastopol. The sales counters are made of local oak, with inset glass-topped drawers exhibiting our lab-tested products for members to examine up close. Additionally, SPARC features a cascading grid of steel and glass as a front wall, patterned on the genetic code of THC with peppered clear and aquamarine panes. "The translucent-glass façade is reminiscent of the molecular structure of tetrahydrocannabinol (THC) and was inspired by Twin Peaks Tavern, the first gay bar in the nation to have clear windows," says Jacob. SPARC won the AIA SF Architecture Award in 2010.
ARCHITECT: Larissa Sand of Sand Studios. SPARC is often described as "The Apple store of marijuana shops."
AVERAGE NUMBER OF PATIENTS A DAY: 400 –600.
NUMBER OF EMPLOYEES:  Over 160. "Everyone makes a living wage and all full-time staff are provided with outstanding benefits. Our staff also receives professional training through ASA's PFC program. We care for our employees, and they, in turn, care for our members by providing outstanding service," says Jacob.
BEST SELLERS: "This year our hottest sellers have been Cookie Wreck, Cherry AK, and Blueberry Jack. We have over 160 unique products at SPARC, including flowers, concentrates, edibles, vaporizer pens, and more. Anyone can see our products at any time at http://www.sparcsf.org/medicines/Flowers we are also the exclusive provider of Marigold," says Jacob.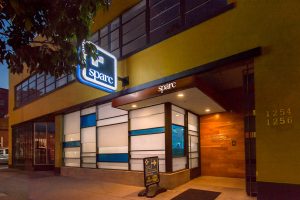 COMPANY MOTTO: "To be proud! We're proud to be a strong, vertically integrated organization in California: to be involved with the entire process, from start to finish, from cultivation to customer. Proud to literally put our product to the test so we know we're providing the highest-quality cannabis every time," says Jacob.