Most companies in the cannabis industry are still in their infancy. That's no surprise: The majority of states that have legalized the medical use of cannabis have done so since 2010, and no states approved recreational use before 2012.
Finding companies within the cannabis industry that have spanned several generations is a rarity, but SoCal Safe is a notable exception. The company was formed in 1915. "I'm told that at that time we were the 243rd company to get a resale permit in California," said Chief Executive Officer Eric Mueller.
In the 1950s, Mueller's father was hired to run the business. About a decade later, he purchased all outstanding shares. Since then, growth has been impressive.  "In 2016, we did over $32 million in sales and service, and it appears that 2017 will also be a banner year," Mueller said.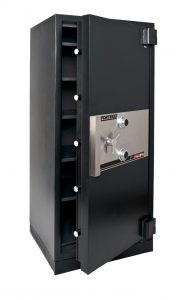 "For 100 years socal safe has set the standard for strength, quality, and customer care in the security industry." –  Eric Mueller, CEO, Socal Safe
Why so bullish? One of the industries to which SoCal Safe caters, cannabis, is demonstrating record growth and has extreme security needs. Keeping cash and product under the same roof can attract criminals. "When you don't have the opportunity to take the money you make and deposit it in the bank, you need to have the best protection possible," Mueller said.
While cameras and door locks prevent unauthorized access, SoCal Safe lets shop owners feel confident if those deterrents fail. "A shop's last line of defense is a safe," according to Mueller.
SoCal Safe offers a variety of security products tailored to meet the needs of the cannabis industry. The Cannabis Safe F and FX series are constructed with six internal stainless steel compartments, allowing inventory to be separated by value. The safes bear a two-hour fire resistance rating.
With the future of federal cannabis law and enforcement in limbo as a new presidential administration takes office, banking may remain elusive for the cannabis industry. "I fear that we will see an increase of crime in correlation to the growth of the sector, so making the investment in security should be a focus for the industry," Mueller said.