WITH A STAFF OF WELL-DRESSED PROFESSIONALS AND A DAZZLING, TIMELESS CHALET AMBIENCE, THE SILVERPEAK APOTHECARY HAS BEEN A BIG HIT IN THE BESPOKE MOUNTAIN RESORT TOWN.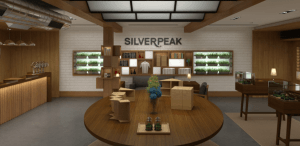 When Silverpeak launched, its mantra was, "Move over merlot. Cannabis has arrived!" With tony neighbors including Gucci and Ralph Lauren, Silverpeak not only resembles a combination world class winery and vacation cabin, but also rates five stars in education and customer service. "What we found out since we opened for recreational sales in March of 2015 is that many customers want to know more about the products," said Mike Woods, Silverpeak's chief operating officer. "We estimated about 80 percent of our customers wanted to increase their education about what was for sale and how to use it. The new design will not only encourage educating our customers, but it also will allow them to take as much time as they want and have a hands-on experience."
In addition, Silverpeak runs the nearby High Valley Farms, home to state-of-the-art greenhouses that don't depend on artificial light. There, the company produces artisanal, hand-harvested cannabis.
The idea
"We set out to rethink the culture of cannabis and create a new retail environment and brand identity that would convey the values—social responsibility, acceptance, guidance, sophistication, superior quality—of Silverpeak's founder, Dr. Jordan Lewis," noted general manager Hugh Burrows.
Design
"From the very beginning of the process, Jordan knew exactly what he wanted," said Burrows. "He wanted to give his brand a different and unique look and feel, departing from all the clichés of the industry. He wanted to offer a friendly and caring atmosphere in tune with the surrounding community. He has a very clear and long-term vision for his business: sophisticated and timeless."
Architect
Tanagram Design
Average daily customers
150-200 retail and medical
Number of employees
Fourteen budtenders, 4 managers
Budtender requirements
"Someone who wants to make a career out of the marijuana industry and is curious and passionate about learning," said Burrows. "This is not just a job; this is a lifestyle. By becoming a budtender, you are doing something that is illegal almost everywhere in the world. It is a political stance and a decision that could affect you later on in life."
BEST SELLERS
"The Gold Pax 2 has been flying off our shelves," noted Burrows. "For flower, our Flo, Purple Trainwreck, or Blue Dream sativa and sativa-hybrid strains are incredibly popular. For edibles, Highly Edible gummies by Cannapunch does really well. For cartridges, 500mg Karing Kind CO2-extracted pure THC oil cartridges."
NOT YOUR GRANDMA'S ARCHITECT
Tanagram Design, which not only designed Silverpeak but also has done work for Adidas and Flow, provides comprehensive architecture and design services for branded environments around the world. The firm brings together multiple design disciplines to ensure seamless and cost-effective delivery of the client's vision from concept to completion.
Services include architectural and interior design, project management, branding, and environmental graphics, as well as creative services for packaging, point-of-sale, merchandising, and multi-channel marketing, including website development and advertising.