In the months preceding its entry into the Southern California market, classy Portland dispensary brand Serra playfully stirred anticipation. At meticulously selected intersections around Los Angeles, striking wheatpaste posters popped up, evoking traits the company wants consumers to associate with its brand—happiness, relaxation, relief, focus, energy, and creativity—interpreted in a bold, highly imaginative visual style with a surreal edge, inspired perhaps by the irreverent Italian concept magazine Toiletpaper. Fresh, forward-gazing, and fun, Serra's West Hollywood store promised to be something genuinely different in a town spoiled with interesting dispensary concepts.
"Right from the beginning we wanted to be fun, we wanted to be cheeky, we wanted to be sophisticated, we wanted to be artful," said Serra's founder and Brand Director Cambria Benson. "The goal was to be a brand that pushes the boundaries while helping to destigmatize the plant for a new group of people."
Serra launched its flagship store in May 2016, in Portland, Oregon's Old Town Chinatown. Housed in an 1889 historic landmark, the location was among the first "elevated" dispensaries to position itself as a safe, open cannabis experience. The balance of tight product curation, clear language, and intentional, elegant design attracted consumers intimidated by the average pot shop at that time. A Serra product line soon followed with a statewide roll-out, rounding out a cohesive concept that set a bar so high it still stands largely alone today.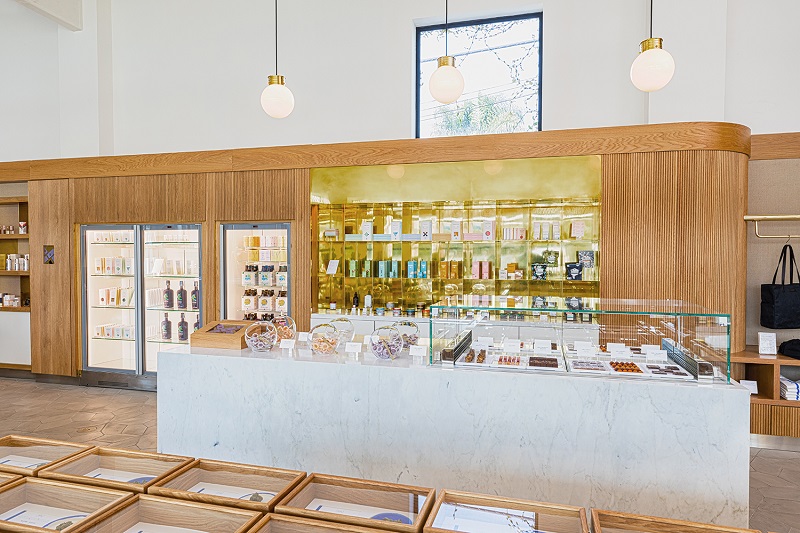 The Los Angeles location soft-launched in March, becoming the ninth dispensary from Groundworks Industries, the vertically integrated parent company Benson formed with her husband, Spencer Noecker. Groundworks also is behind Oregon's popular 1960s-themed Electric Lettuce dispensaries. In addition, the company oversees cultivation and extraction facilities as well as distribution throughout Oregon.
When Benson viewed the West Hollywood site in 2017, the space was a rundown former auto body shop nestled between The Grove and the Beverly Center, with a surplus of affluent cannabis consumers within its radius.
She immediately saw the building's potential. "I fell in love with it from the get-go because of the green living wall on the side of the building," she said. "Once we saw all the natural light inside, and of course all the parking, we knew this was the space [for Serra]."
These differentiators and a respect for the legacy of buildings made Benson and her team go against advice to bulldoze and rebuild on the valuable plot of land. "We love taking a building's unique heritage and using that to inform something beautiful and new," she said. "It's important that we make our stores feel unique to the local market while also acknowledging we're becoming part of the history of the building."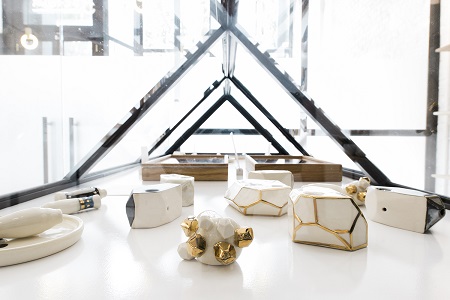 Although the team wanted the new store to reference the brand's flagship location in Portland—reflective brass and gold surfaces, abundant natural light, intuitive layout—Benson wanted the West Hollywood location to feel distinctly Californian. "Once we had the space, I went through my list of dream local designers. We thought it was important to work with people who knew Los Angeles and understood the city's aesthetic."
One design studio topped her list: Commune.
Founded by principal designers Roman Alonso and Steven Johanknecht in the early 2000s, Commune consistently has ranked among the most influential interior design studios in the world. Counting the likes of the Ace Hotel, Google, and the Los Angeles County Museum of Art as clients, the firm has earned a consistent spot in Architectural Digest's AD100 and the Elle Decor A-list for an elegant-yet-playful take on California Modern.
"I had respected their work for a long time," said Benson. "They have a unique approach, always value the historic aspects of the property, and bring a sense of California cool without being overdone."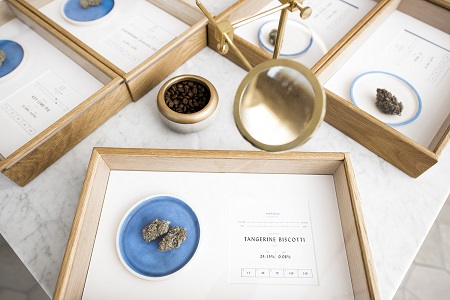 Alonso explained, "Serra wanted a design inspired by multi-brand, luxury specialty stores and not necessarily other dispensary experiences," but he was quick to point out no one wanted the finished design to feel "pretentious or precious." "It had to offer comfort," he said. "Casual elegance is a hallmark of Los Angeles. It's ingrained in the lifestyle here, and it was our goal to carry this through into the design."
Commune built on Serra's minimalist palette by introducing white oak and Carrara marble alongside the firm's signature brass details and intentional splashes of International Klein Blue. "The finishes were already in the brand identity," Alonso said. "We just dialed up the execution a bit."
The store is divided subtly into product categories, with the plant taking center stage. U-shaped flower bars are lined with wood and glass boxes housing nugs on ornate plates, labeled clearly by effect. Around the periphery is a confectionery bar with little edibles from Serra, Satori, and Atlas arranged as if they could be individually picked and boxed ("One day…," Benson lamented). A refrigerator showcases Cann, Lagunitas, and new infused aperitif Artet, followed by a wall of skincare products and topicals, and a light selection of vapes by the point of purchase.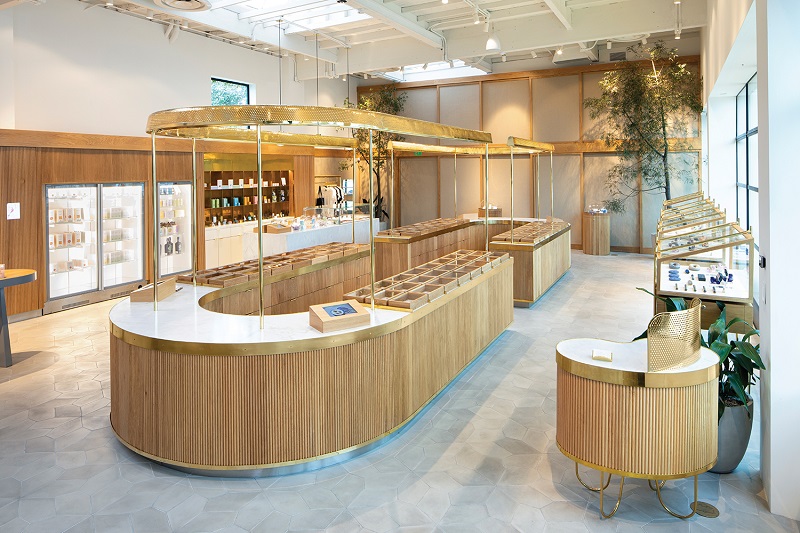 As well as being a strong curator, Benson thoroughly enjoys forming collaborative partnerships, particularly with companies from outside the cannabis industry. Serra has created products with Stumptown Coffee, Woodblock Chocolate, and Jacobsson Saltum, which she feels has been a key method of raising awareness and building trust with new consumers. "We want to create good products with people we love, and partnering with brands people know and trust helps them feel safe exploring cannabis," she said.
This spirit of unconventional collaboration is on display in glass cabinets by the entrance of the store, where a rotating selection of local artists showcase abstract glassware and luxury smoking accessories. "We wanted to have products that fit the way we live," Benson explained. "All the objects on our shelves look like art objects, except you can either smoke, store, or grind with them. I'm really excited that there's more mainstream design brands getting on board with cannabis goods, accessories, and paraphernalia."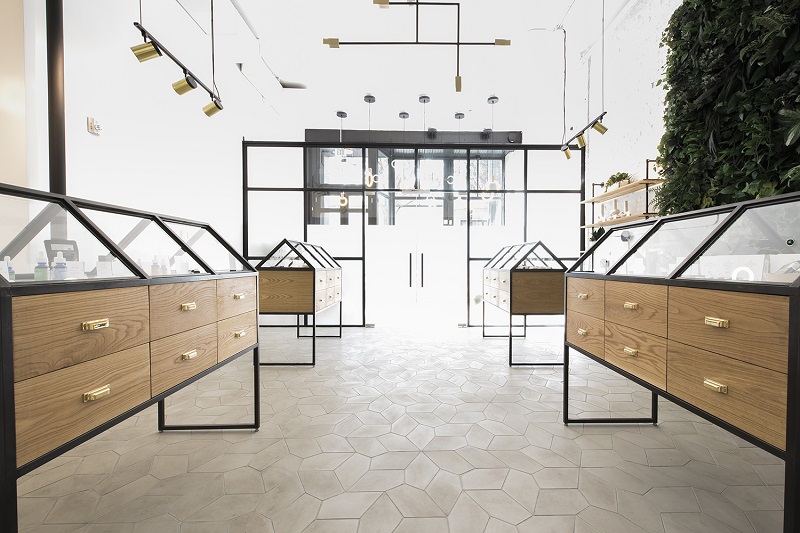 While Serra is hitting all the right notes, the timing of the West Hollywood launch was fraught with challenges. March's COVID-19 lockdown restrictions certainly took some of the wind out of the dispensary's sails. Then, the WeHo location was in the heart of Southern California's first major protest against police brutality at the end of May. When mg visited the store a few days later it was boarded up—as many retail businesses in the city were. Benson disclosed the flagship store in Portland had been looted.
The losses to her businesses were difficult, but they are surmountable. Benson insists the Black Lives Matter movement's message is of far greater importance than material losses to a commercial entity. "Those things can be replaced and rebuilt," she said. "We just want to keep our employees safe and keep the focus on amplifying the voices of people of color and striving for an equal society. The past few months have been a learning experience and a necessary push for improvement and accountability as a business." She added Serra has increased its ongoing efforts to support organizations that work for inclusion and equality in cannabis and beyond, such as NuLeaf, NAACP, Urban League, and Social Justice League.
"This is just the start," Benson said. "We will continue to reflect, learn, and engage with our employees and communities to create thoughtful initiatives that provide meaningful change."