When Larry Scheffler and Bob Groesbeck envisioned their Las Vegas dispensary, Planet 13, they insisted on one non-negotiable point: The shop had to present an experience as "over the top" as the city itself.
The pair, who share the role of chief executive officer, spent roughly $7.5 million bringing the concept to life. On opening night hundreds of customers, window-shoppers, and local politicians marveled at the glitz, glamour, and far-out-ness of the complex. "Vegas is the entertainment capital of the world," said Director of Marketing David Farris. "It was important for [us] to capitalize on that unique experience."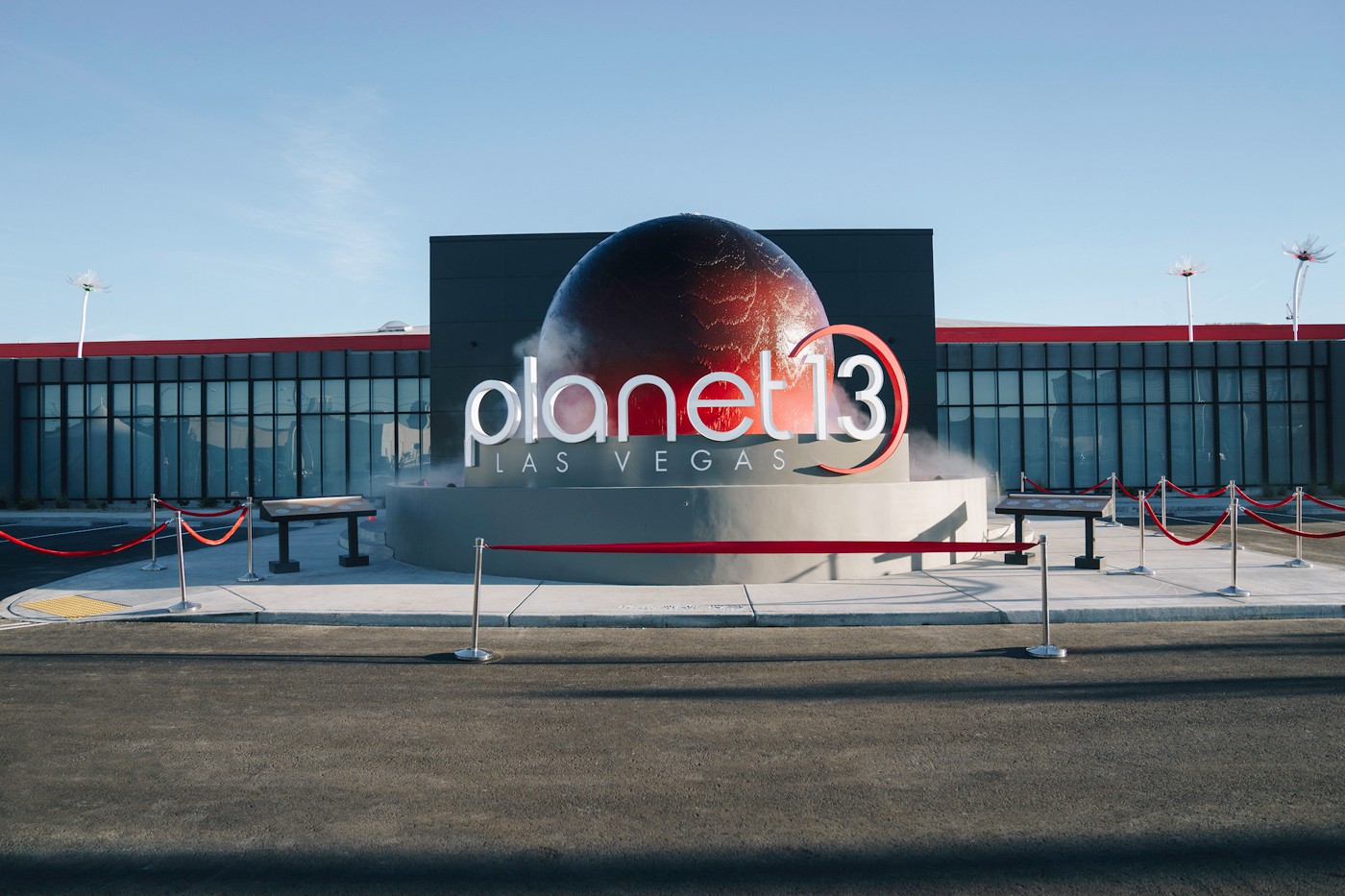 Interaction is king
The 40,000-square-foot cannabis entertainment superstore—purportedly the largest dispensary on Earth—is situated right across the street from ultra-upscale The Wynn Hotel. "We really wanted the exterior of the building to standout," said Farris. "With over 60,000 hotel rooms overlooking our property, it was important for Planet 13 to have a monument cohesive with our planetary theme."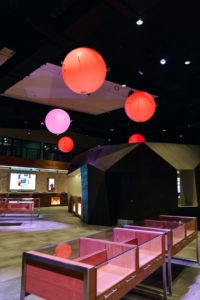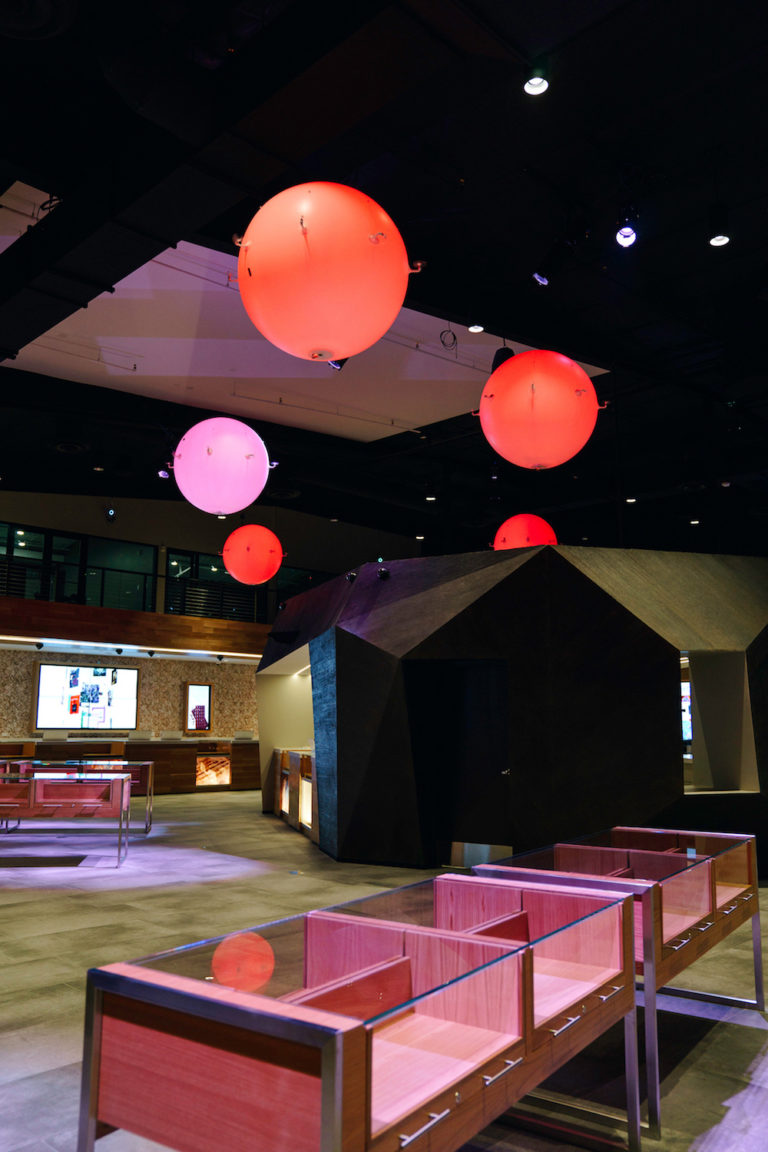 To say the building is unique would be an understatement. From fifteen-foot-tall, interactive LED lotus flowers sprouting from the rooftop to a Vegas-Strip-worthy glowing outdoor water wall and a dry wall where shoppers can leave their mark in laser graffiti, the shop is designed to wow customers and passersby. "The lotus flowers can be controlled by visitors," said Farris, "making them bilateral pieces of art as they change colors, sequences, and patterns." Planet 13's lobby had to match the structure's colossal, lively exterior. "Our lobby is much different from a traditional [dispensary] approach," said Farris. "It allows the customer to browse and enjoy a few entertainment components before entering our facility. Our visitors aren't constrained to a small waiting room, and I think this creates a better environment." Inside, the shop is loaded to the hilt with dazzling features unique to Planet 13, including state-of-the art 3D visuals projected onto the ceiling. The mesmerizing display includes blue whales making waves and flashing purple, pink, and red orbs that perform a floating aerial show. "We wanted the effect of giant indoor drone orbs performing choreographed shows," said Farris. Just as the above titillates, so too does below with footstep-responsive LED flooring. "Each step leads to a digital reaction," said Farris. "There's a koi pond where water ripples with each step, and the fish bolt when you step near them."
Form and functionality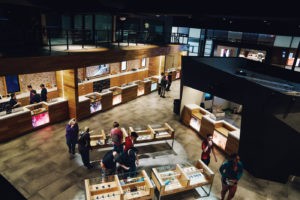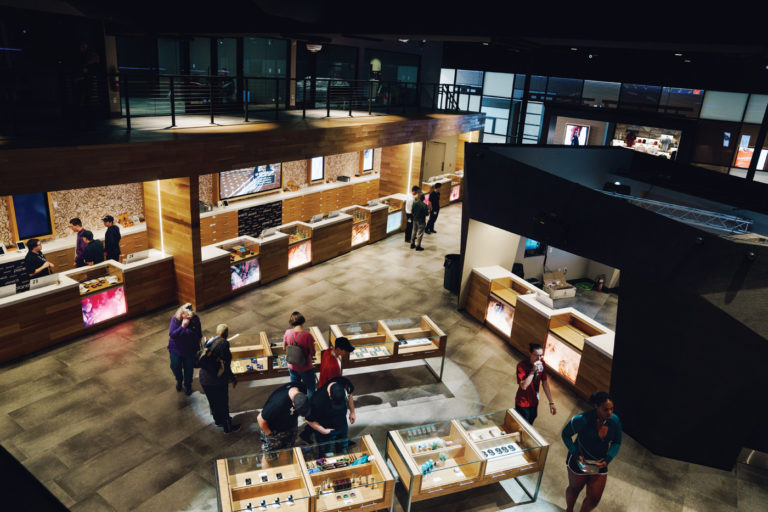 More than fifty flower strains and products from more than twenty-eight vendors stock the shelves in a scrupulously curated collection. "We strive to be synonymous with quality and quality products," said Farris. "It is important for brands to align with our upscale atmosphere, and we also want to develop a strong relationship with all our brands." Merchandising is just as important as product selection. "Planet 13 will even work with brands to build out their individual displays," Farris added. Despite the enormous number of products on display, everything is surprisingly easy to find. All the walls are glass and adorned with nests of flickering menus flashing with deals, brands, and directions. "Our display cases allow for our visitors to browse simultaneously without feeling cramped," said Farris.
Designed to be elegant, yet bold, "the [logo's] vibrant red crescent is symbolic to our store and consistently seen within our branding."—David Farris, director of marketing, Planet 13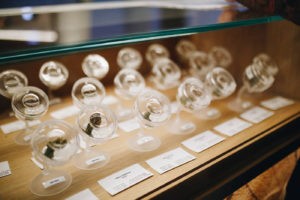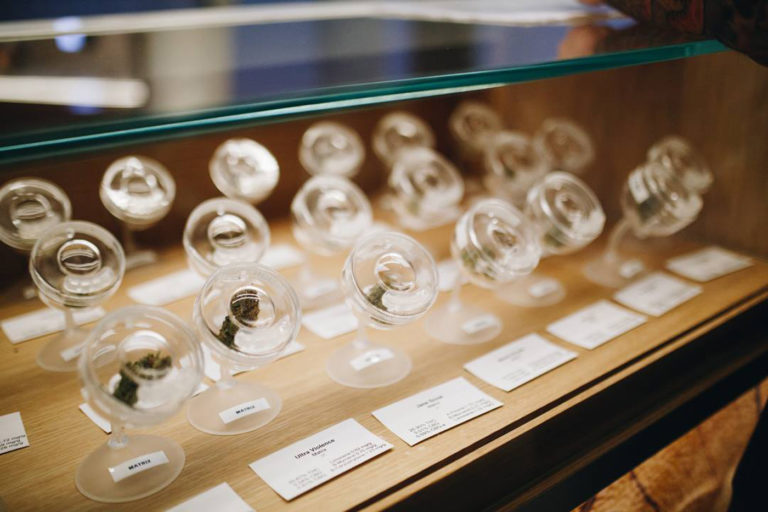 While mapped as a gargantuan open-concept showroom, the store maintains intimacy in the flow of foot traffic. According to Farris, the "zone system"—which allows visitors to find their favorite products without having to wander unless they want to take in the sights—is key to the customer experience. Multiple sensory stations where customers can test the aroma of strains by holding a clear, wine-glass-shaped case to their nose dot the floor, each buzzing with friendly, red-shirted budtenders. But it's the snaking grand hallway that makes the superstore easily navigable. "The grand hallway is a crucial component to our operational flow," Farris said. "This hallway also gives us the ability to properly expand the building in future phases." Speaking of the future, Farris said, "We are also looking at possibly adding amenities like food courts and coffee shops." He added that an express checkout lane for customers who desire a quick check-out experience is in the final planning stage. The eventual goal is to serve 2,000-plus customers a day.