The new Harborside in San Leandro, California, is the fourth iteration of the pioneering dispensary. Like its siblings in Oakland, San Jose, and Desert Hot Spring, California, the San Leandro medical-only shop mixes contemporary industrial architecture with decor reminiscent of Danish modern. Designed by the company's in-house design and retail development teams and led by Retail Development Project Manager Kaliyah Eyre, the build-out was part reclamation, part upgrade, and all inspired.
Originally a World War II era warehouse, the building proved challenging from the start, according to Alexis Mora, Harborside's marketing chief. But its high ceilings and abundant natural light—as well as connection to a seminal moment in American history—made the location too good to ignore, and the structure's bones were good. Engineers and city officials were brought in early to ensure modifications would meet building codes. "On the seismic work alone, we had to build floor-to-ceiling 'seismic shear' walls that prevent side-to-side motion, along with installing massive steel braces that help hold the whole building together in an earthquake," Mora said.
She added the team never thought a cannabis company would have to worry about steel tariffs and the price of metal components, but on this project those things mattered—a lot. "When you're digging ten-foot shear wall foundations and filling them with steel rebar and concrete, you can't help but get a glimpse into the supply-and-demand world of global commerce, even though your daily focus is cannabis, cannabis, cannabis," she said.
It's very important to us to be a part of the community fabric and to try to understand the history of a city as it has developed over time.
San Leandro has long been an important commercial and industrial hub of the Bay Area, with well-developed commercial corridors and a long history of great corporations like Coca-Cola Bottling and Ghirardelli Chocolate. The Harborside design team worked within the historical culture. "It's very important to us to be a part of the community fabric and to try to understand the history of a city as it has developed over time since we, the cannabis industry, are now a part of that city's history," said Mora.
The lobby sets the tone. "When a customer enters our lobby, we want them to feel warm and welcome," said Mora. "We are dedicated to exceptional customer experiences, and our friendly staff greets all our guests and provides an explanation of how the open-sell model works in our store."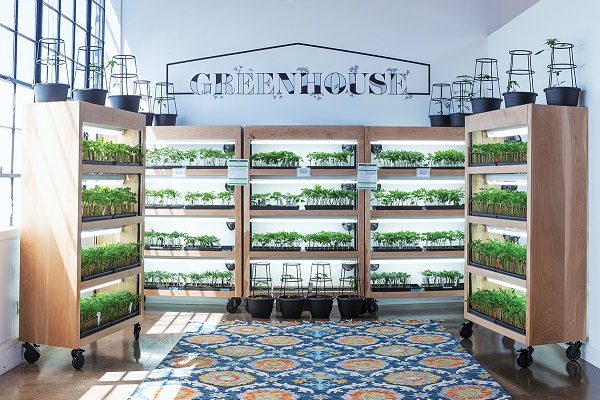 The open-sell model—which is a hybrid of experiential browsing and personalized assistance—became popular with cosmetics companies like Sephora and Clinique in the second decade of the twenty-first century. Upon (finally) realizing not all shoppers wanted to be hovered over by a knowledgeable and well-meaning, if sometimes pushy, salesperson, high-end department store cosmetics counters began allowing customers to explore products on their own. Sales associates were available to demonstrate, make recommendations, and answer questions, but otherwise they gave shoppers space. Harborside employs the concept only in the San Leandro store. "Our space is open-sell, so customers can see and interact with the inventory on the floor," said Mora. "While all models have unique benefits, we believe this one is the most efficient since the customer gets to dictate their shopping experience."
Customers pass from the lobby into the entry hall, where a large graphic with Harborside's values conveys the spirit of the company's mission and commitment to the cannabis community. Then there's the big reveal: the showroom. The staff calls the space "the Mecca of all cannabis showrooms." Twenty-five-foot-tall ceilings stained a pastoral reddish-brown and more than 700 windows evoke a hybrid greenhouse and lounge. True to industrial design, metallic ventilation tubes snake across the ceiling from one end of the space to the other.
Key to creating the right look were flooring and lighting, Mora said. Floors are shiny, polished, factory-made concrete that catches and reflects the light. Overhead sconce lights balance on the showroom's wooden support columns. As the sun goes down, the wood lights up and makes the room glow.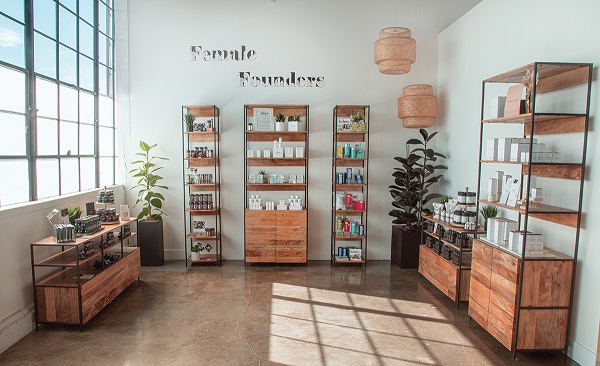 The base colors of the building are simple: classic black and white. "We added hints of blue on some areas of the floor to ground those spaces with a sense of calm, trust, and stability, while splashes of yellow accents around the dispensary inspire clarity and positivity," said Mora. Foliage abounds, including a few fifteen-foot-tall trees in strategic locations. Wall art includes Harborside's trademark green-and-white-striped flag with an equality insignia in the upper left corner, symbolizing growth, harmony, and safety. A quaint greenhouse where visitors can check out the baby plants that will produce future flower purchases adds a homey touch.
Inside the 7,000-square-foot showroom, products are displayed on custom-built honey-wood display tables by category: flower, cartridges, edibles, and wellness items. There's also a dedicated section for special collections that rotate throughout the year. For instance, to honor International Women's Day, the staff created a "female founders" section with curated products from female-owned and -operated brands.
The Harborside brand has been a staple in retail cannabis since 2006, and the company has created a loyal following across the years by relying on word of mouth as well as web, email, and social channels. The company also employs directional billboards and local advertising, as well as self-branded merchandise. "While merchandise sales make up a small portion of our sales, we are expecting it to grow as we roll out new items and activations this year," Mora said.
Business has been brisk. Since launching in February, the dispensary has seen a 25-percent to 30-percent increase in sales. Mora said she believes growth will be even bigger after the store begins offering recreational products later this year.