Retailers find stable revenue streams in non-plant based products.
During the past eighteen months, cannabis sales have shattered previous records. While flower still comprises 60 percent of the overall market (concentrates compose 21 percent; edibles 11 percent), accessories and merchandise sales have reached more than 1 percent of the pie—and that's a big slice. Traditionally, head shops have sold the lion's share of accessories, but lately there has been a slow but steady migration to cannabis retail. While handheld vaporizers remain the best-selling dispensary item, sectors like apparel, books, and hard goods are beginning to make a dent in the bottom line. Boutique and premium companies such as Tetra ("dedicated to elevating the smoking experience"), Sweetflag, Van der Pop, and Cannador have upped the ante when it comes to smoking accessories.
"Tetra was conceived in 2015 at a picnic on the beach in Malibu, after I took out an ugly glass pipe," Tetra co-owner Eviana Hartman said. "We were discussing a lack of good design in the realm of smoking accessories and how we were the right people to do something about it. As visual people, we and many of our friends make consumer decisions based on aesthetics as much as function, and we felt the accessories scene was marked by a total absence of good taste. By bringing more visually appealing products into the mix we could contribute meaningfully to a broader cultural shift."
Tetra's artsy items include designer ashtrays, storage, lighters, pipes, rolling papers, keychains, incense burners, candles, diffusers, and gift cards.
However, like in all other industries, some shops do a better job with merchandising. A shop owner must know the clientele to judge whether high-end items and other out-of-the-box products will work for the shop's customers.
Tourists and customers love merch
L'Eagle, in Colorado, has had good luck with merchandise. Gear is popular, particularly T-shirts, hoodies, stickers, lighters, water bottles, pint glasses, and sunglasses.
"Tourists love these items, because these items are souvenirs that can legally leave the state," said co-owner Amy Andrle. "We also have strain-specific L'Eagle branded shirts."
Currently, merch comprises roughly 5 percent of the store's sales, with PAX vaporizers and Puffco tools being best sellers.
Colorado's Native Roots, which has multiple locations across the state, has found merch not only improves sales, but also enhances the consumer experience.
"We find that our clients, whether they are locals or tourists, tend to gravitate toward our Native Roots 'wallpaper' branded items: T-shirts, hoodies, socks, and our N-Pen," noted Visual Merchandising Manager Breezy Lenz. "But our offerings outside of cannabis products include everything from vaporizers and glass accessories to hats and grinders."
Plenty of Room for Growth
Today, the average dispensary generates 2-3 percent of its total revenue from sales of accessories and merchandise. However, Sasha Kadey, chief marketing officer for the distributor Greenlane, said he believes dispensaries could generate as much as 20 percent of their revenue from accessories.
"This is potentially a very profitable revenue stream for a dispensary because of the tax implications and cost structure," Kadey said. "The current dynamic is akin to a hair salon that only sells services—haircuts, styling, blow-dries, and color—but doesn't sell any of the styling products. Salons see as much as 30 percent of their revenue from hair care products."
Marley Natural's smoking accessories line is hot right now. The company's elegant Black Walnut Collection of trays, cases, grinders, pipes, and other accouterments accented with handblown glass has been a welcome addition to high-end shops with sophisticated customers. Marley Natural also sells wallets, key chains, and candles.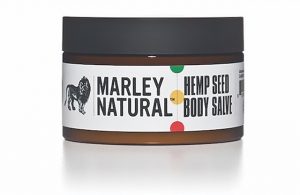 "When we launched the Marley Natural brand last year, we initially limited accessories sales to our dispensary partners that also carried Marley Natural cannabis, [in order] to maximize patients' brand experience," a spokesperson said. We ended up receiving a lot of interest from dispensaries and specialty boutiques in states where Marley Natural cannabis wasn't available yet. We now sell our accessories collection across the country."