From the outside, Mindful dispensary is not the most impressive building in the neighborhood. Located in a suburban Chicago industrial strip mall, the all-brick edifice is bland and uninspiring. The exterior is deceptive, however: Inside, the dispensary demonstrates the old aphorism "beauty is more than skin-deep."
Step through the front door, and the lobby immediately impresses. Two massive, antique wooden cabinet-like structures containing a multitude of small drawers dominate the space, evoking a turn-of-the-nineteenth-century Midwest apothecary. Playing on the vintage aesthetic, a smattering of chalk-art menus created by patients adorn the walls. Streetlights visitors might have expected to find outside the shop instead sprout at strategic locations indoors. "One of our favorite design highlights is the full-sized streetlights surrounding the sales counter," said Kurt Berry, a former commodities trader and now Mindful's general manager. "They are the exact ones you see along busy roads or in parking lots, and they symbolize the back-alley way of buying cannabis in previous times."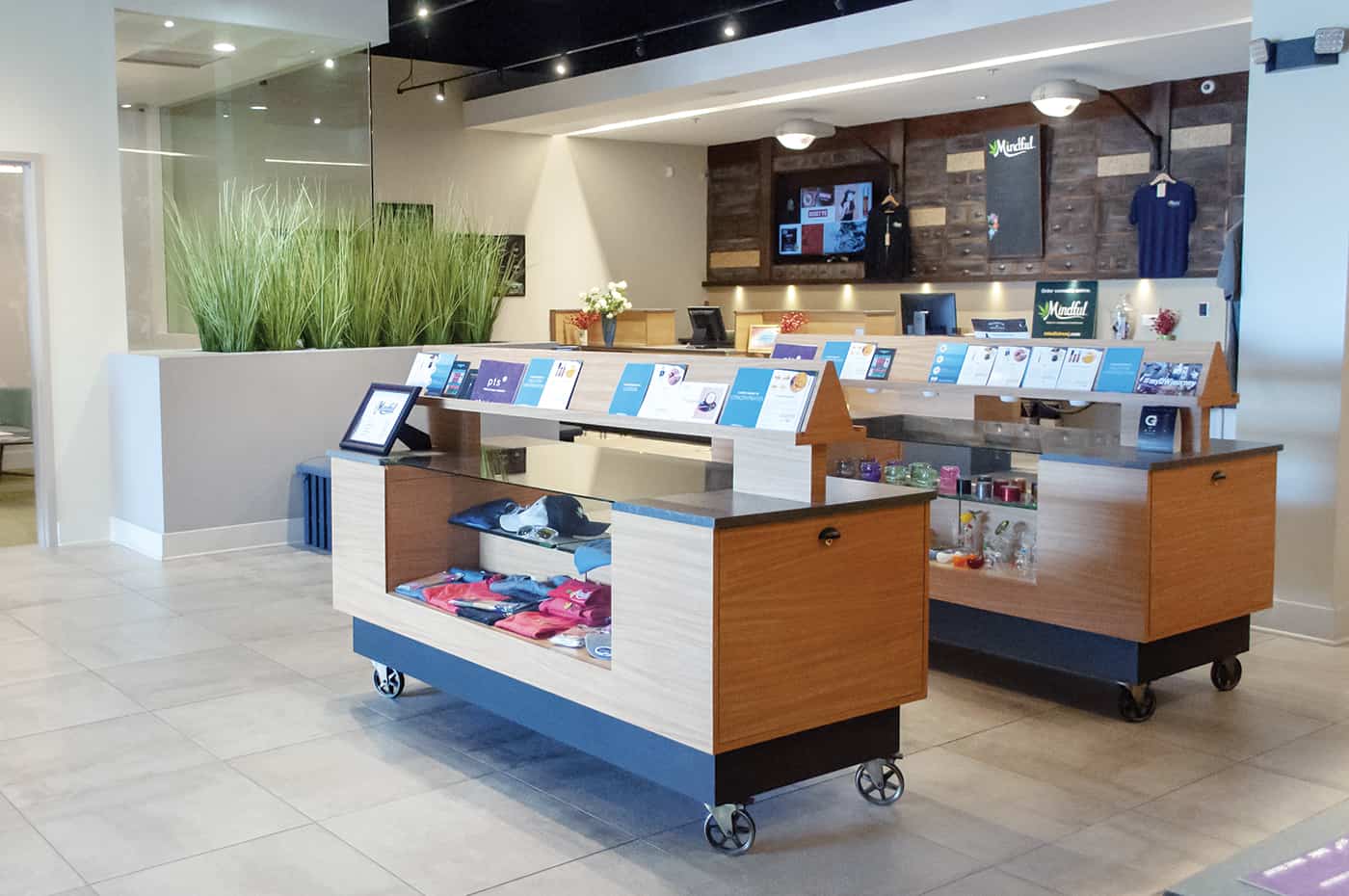 That's where the vintage design stops, in favor of high-tech, contemporary elements. Sleek monitors built into a wall of drawers scroll photos of products, sales flyers, and other content through a platform called Budtender TV. Tablets blinking full menus with live pricing and availability dot the sales area. Gleaming glass counters float above well-lit display cases, some of which contain cannabis products while others highlight glassware, accessories, and branded clothing. A few of the display cases are on wheels and may be moved off the sales floor to accommodate special events—cooking and rosin-pressing classes, glass blowing demonstrations, and cocktail parties with live music, for example—or for high-traffic sales days such as 420.
Once checked in, returning patients may wander about the facility interacting with budtenders and each other or lounging in a large circle of modern Crate & Barrel chairs orbiting around a sleek wooden coffee table. Views of the city are framed by grand, bright windows.
"We didn't get every design concept right, but this one was spot on," said Berry. "Mindful is more than 6,000 square feet [of floor space], and with all of this square footage we wanted to create a pampered and welcoming shopping experience for our patients. Some are in a hurry and get right down to [making purchases], while others enjoy the luxury of taking their time and being comfortable. We often see patients having conversations with one another while enjoying their leisurely pace."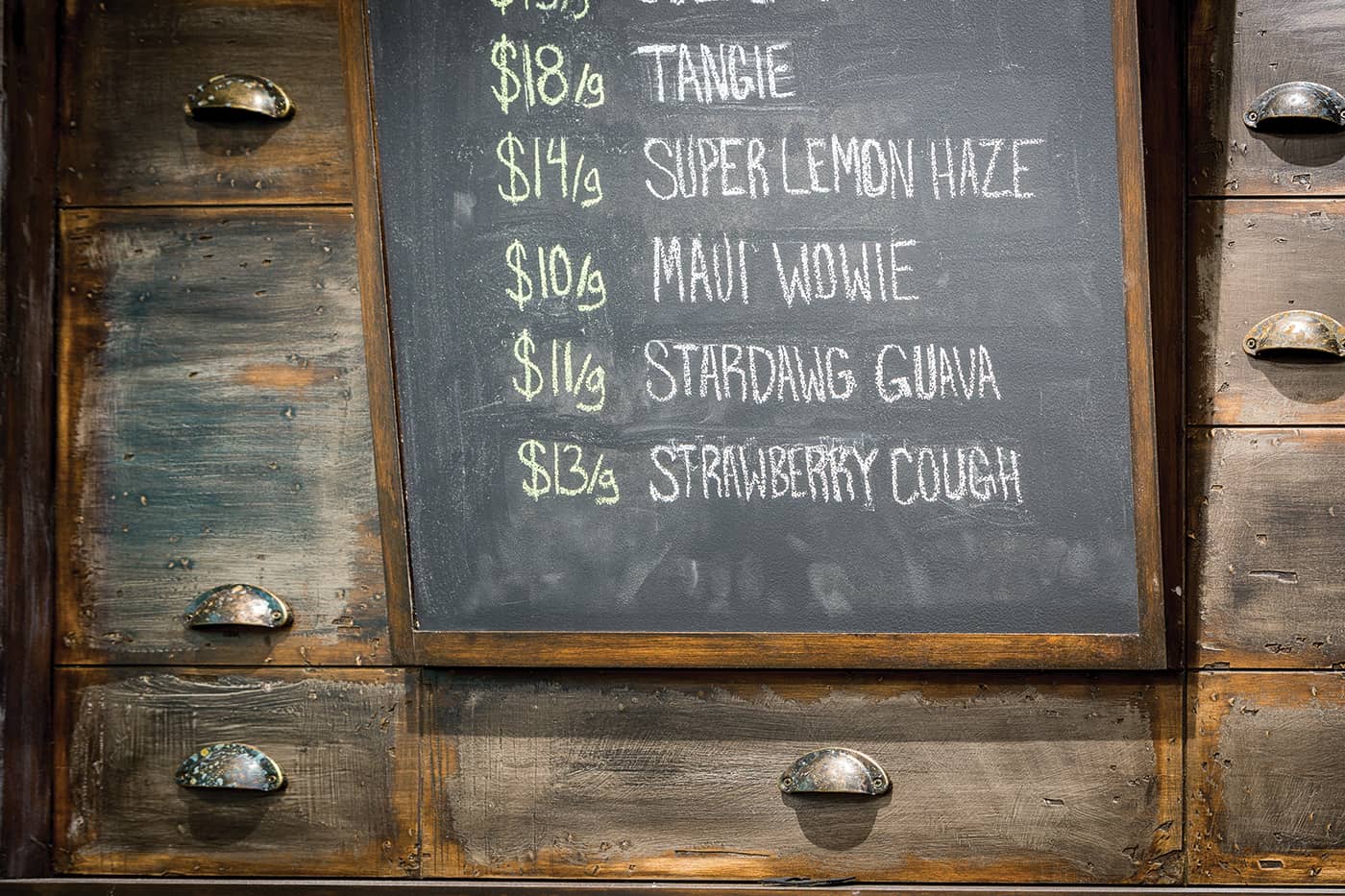 The shop's palette—a mélange of browns and beiges with splashes of gray—was designed to soothe troubled waters and calm the spirit. Painted cork covers the countertops. "Although it is slightly soft and porous, it is durable," Berry said. "[Painted cork] is also a fraction of the cost of marble or granite." Italian ceramic floor tiles pull walls and counters together.
New patients are treated to a different, but no less sumptuous, experience. Counselors spend an average of thirty minutes with each new guest in a comfortable, private-without-seeming-claustrophobic consultation room surrounded by three-foot-high silk grass plants. Hand-painted plumes of smoke adorn the wallpaper, along with a funky, utterly random painting of a frog. "[The frog] has no significance or meaning," said Berry. "We just like it."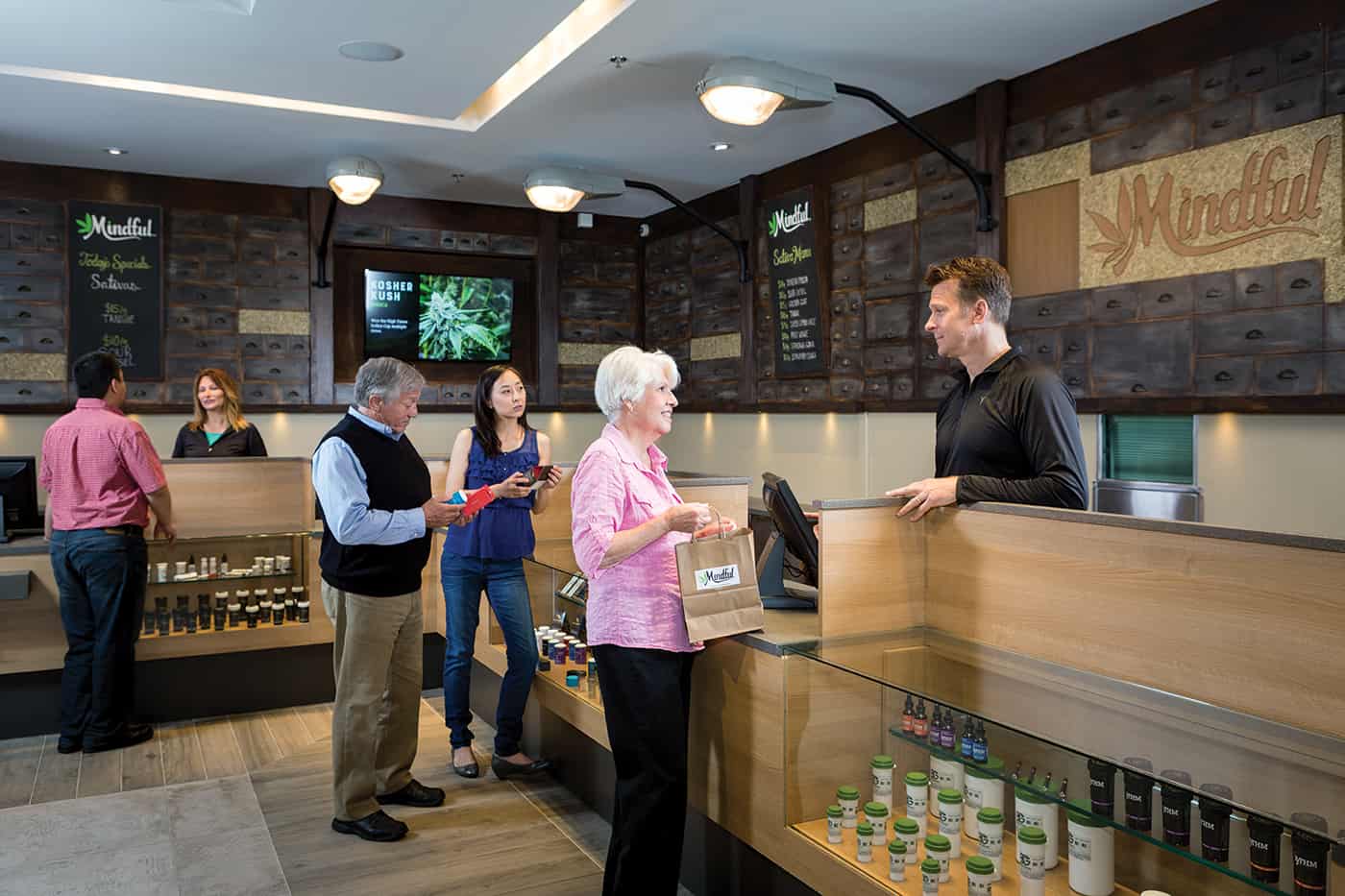 Mindful sees an average of 150 patients daily, but Berry expects that number to grow significantly when recreational use becomes legal in 2020. Although he knows competition for adult-use consumers will be fierce, Berry feels Mindful is well positioned for the transition.
"We often use the phrase 'proudly independent,'" he said. "Out of the fifty-five medical dispensaries in Illinois, only about fifteen are not owned by cultivators. Mindful is one of them."