Often dubbed "Illinois's premier dispensary," FloraMedex is located in the tiny Chicago suburb of Elmwood Park, in a historic Industrial Revolution-era building boasting exposed-brick, industrial architecture. When Michelle Farina first saw the loft-style mixed-use facility populated by a top-notch group of doctors, nurses, pharmacists, hospice care, and medical billing specialists, she knew managing the cannabis dispensary was the job for her.
Farina arrives at the office by 9:45 a.m. and stocks products before opening the store. Keeping track of inventory can be a tedious process, but it's made easier by Biotrack. "We also conduct a complete inventory of all the products in the store, which is cross-referenced with the state monitoring system," she said. "We then open the doors and commence servicing our patients. At the end of the day, we reconcile our sales and close the registers."
Farina said sales are brisk, up 8 percent since launch and growing month-on-month. FloraMedex's patient-care specialists are expertly trained, and with an astute staff, Farina's management philosophy is simple: provide full support to her peers and excellent service to her patients. "I like to ensure that all employees are trained to the highest level of standards, which I also hold myself accountable, to effectively operate the dispensary.
"I like to ensure that all employees are trained to the highest level of standards, which I hold myself accountable, to effectively operate the dispensary. – Michelle Farina
On most days, Farina can be found educating, informing, and helping women between the ages of 40 and 60 who are afflicted by fibromyalgia, rheumatoid arthritis, and various forms of cancer. She typically serves 10-15 patients a day. Illinois is a new medical market, with many older, uneducated patients, so Farina and her crew have their work cut out for them as they educate patients for the first time about the benefits of cannabis medicine. For instance, while some patients think a high THC total is best medicine for them, many lower THC options that are high in CBD are more effective treatments.
To cover all the ground thoroughly, Farina's patient-care specialists go through sixteen hours of training prior to serving any patients. This is unheard of in Illinois, she said. "Plus, they have eight hours of continuing education every quarter," she added. She's especially proud of the shop's reputation. Reviews on WeedMaps or Leafly begin with "the place was spotless and the employees very helpful" or "the staff are incredible. I was greeted like an old friend and whisked away into a beautifully decorated, warm loft. I felt like I was immediately at home."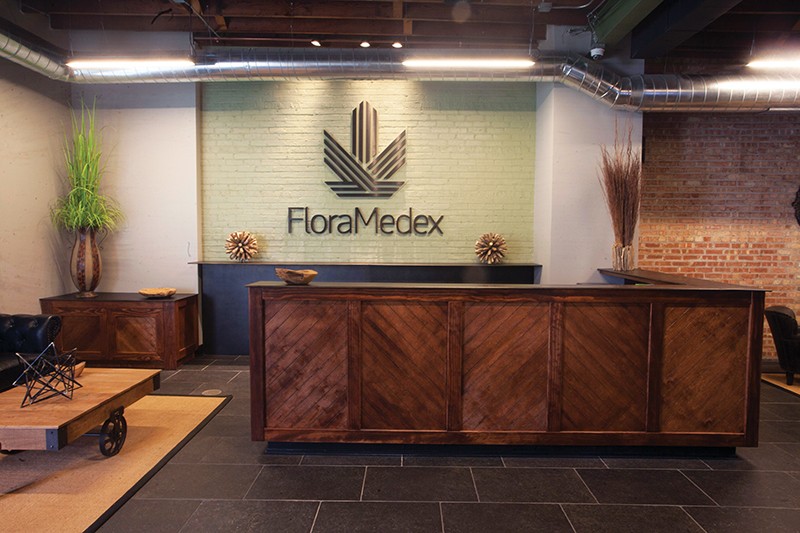 As well as managing a staff of eight, Farina must stay up to date about all the regulatory and compliance laws and state trends. For example, cultivators in Illinois now partner with product producers to create new delivery methods. She also spends a good deal of time meeting with vendors, looking for the next hot product. The shop's sales breakdown is 55-percent flower to 45-percent vapes and edibles. Some of the most popular brands include Progressive Treatment Solutions, GoldLeaf, and Cresco. Right now, she can't keep the Brownie Pops in stock. "I believe the price point, coupled with the potency, make it a very attractive product," she said with a wide smile.
Farina likes to remind her employees the key to doing their job well is passion. Her thinking: It's easy to excel in any workplace if you're doing something you truly love to do. She said she sometimes works a full shift and watches a two-hour cannabis summit after hours. "What can I say? I love what I do," she said with a chuckle.
The love shines through. Farina has a reputation for discovering cultivators who go the extra mile and attach terpene profiles to the laboratory results. Although she knows the importance of terpene profiles in medicine, a lot of her customers don't even know what a terpene is. "One of my favorite parts of the plant are the different terpenes," she said.   —Rob Hill
The Ups and Downs of Being a GM in Illinois
Stigma
Overcoming the stigma related to cannabis is a big challenge when dealing with government regulators and banking institutions hesitant to finance businesses in the industry.
Slow Growth
Medical marijuana patients in Illinois were slow to embrace the statewide medical marijuana pilot program in early 2016, thus creating financial challenges as dispensaries worked to develop a base of customers.
Patients
At the end of 2016, about 14,770 patients in Illinois qualified for the medical program and spent about $36.27 million at dispensaries, according to state figures. To begin 2016, about 4,000 patients were approved for the pilot program. Patients bought about $8 million worth of cannabis in August, the most recent month reported by the state.
The Courts
Courts have ordered the state to add or consider adding seven new qualifying medical conditions—including common ailments like migraine headaches, osteoarthritis, and intractable pain —to the list of forty-one already approved.
Recreational Around The Corner?
On March 22, state lawmakers introduced SB 316, which would end marijuana prohibition in Illinois and establish a system under which marijuana is regulated and taxed for recreational use.