From price and packaging to customers' habits and scouting the competition, marijuana dispensary product buyers are always looking for an edge.
Josh Best, the ordering and purchasing manager for Colorado's Medicine Man, likes to arrive at the office at 9 a.m. sharp. He enjoys the quiet solitude while he plans his daily schedule. Since legalizing recreational use, Colorado has seen an explosion of vendors, and keeping up with them has been a challenge. The former budtender usually sees five vendors a day, or about twenty a week. He prefers to make appointments instead of seeing walk-ins. Typically, he meets with brands' sales representatives, but lately he's noticed an increase in distribution company reps. "Either way, I like knowing there is one designated person I can reach out to with questions," he said. "Then the relationship develops in a positive direction."
Medicine Man categorizes customers into two groups: tourists and regulars. The Denver location is tourist-driven; tourists generally are excited to hear about all varieties of products, however exotic. The situation is the opposite at the Aurora location: The neighborhood dispensary sees a much more regular customer base, who return to buy their favorite strain, concentrate, or edible.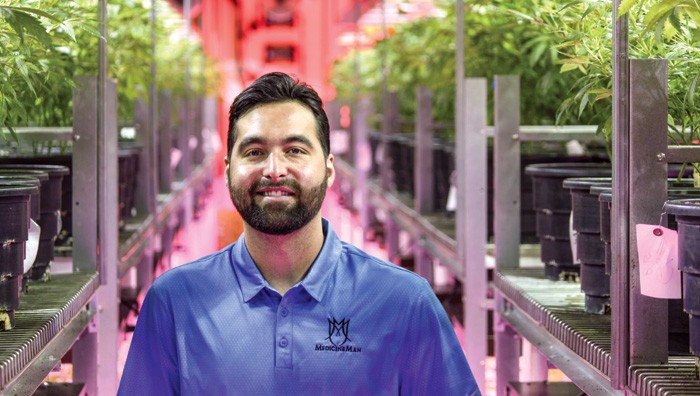 "We try to find the right combination and balance between price and quality when making decisions," said Best. "We like to give startup companies a shot at shelf space if we think their product is special. We ask for samples and have our budtenders test each new product and do a complete review."
Best likes to begin with a minimum order to test popularity. Although he's figured out what his best-selling products are (flower and gummies), he's become savvy about carrying special items for the seasons. For instance, he boosts summer sales by stocking infused drinks but discontinues those products in the winter.Best is patient when giving new products a test run ("a month or two will tell you the story"), but shelf space is precious so he also scouts other shops to see what's selling. "It is crucial to know what our competition is selling and at what price," he said.
Best is patient when giving new products a test run ("a month or two will tell you the story"), but shelf space is precious so he also scouts other shops to see what's selling. "It is crucial to know what our competition is selling and at what price," he said.
Price isn't everything, though. Best believes building relationships between vendors and customers is important. He said he enjoys hosting in-store pop-ups to provide education. Creative specials are frequent, as well.
Compliance with laws is vital, he said. With packaging regulations constantly changing, it is imperative Medicine Man makes sure every product is properly labeled with batch numbers, testing results, THC symbols, etc.
"Sometimes our deliveries can have over 1,000 units of product, so making sure each and every one is compliant with the current regulations is a big deal," Best said.
"I like knowing there is one designated rep I can reach out to with questions. Then the relationship develops in a positive direction." —Josh Best, ordering and purchasing manager at Medicine Man
At The+Source dispensaries in Las Vegas and Henderson, Nevada, Procurement Manager Courtney Barker met with vendors in August and September about specials for Breast Cancer Awareness month in October. Barker usually sees seven to fifteen vendors a week; lately, she's seen closer to twenty. Barker arrives at the office several hours before the store opens, answers emails, makes sure product has been put out on the showroom floor, and ensures signs and menus are current and eye-catching. She then briefly huddles with her team of three and lets them know what new products have been added.
Then the vendors arrive. "After collecting payment for previous deliveries, we talk about specials," said Barker. "Sales and specials are worked out months in advance, so the earlier we can get the logistics settled, the better."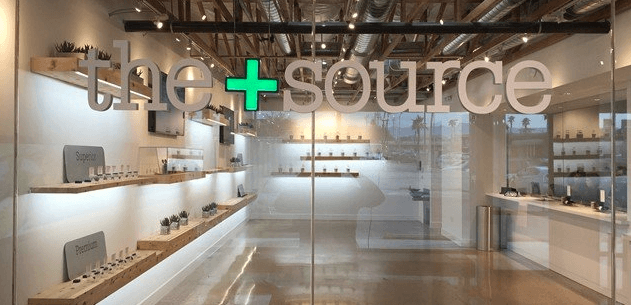 Before joining The+Source, renowned for its modern industrial design and well-trained budtenders, Barker was a bakery manager at one of Whole Foods's highest volume stores. There, she learned the importance of product variety. While many of her The+Source customers stay true to their favorite products, more and more shoppers are interested in trying something new. Lately, that's been concentrate sauces ("everyone is loving the great taste and effects").
Although Barker prefers appointments, she will take a quick meeting to find a new gem for the store. Barker is adamant about having the most recent products in the shop, so having one-on-one meetings with vendors is very important. "I do have a team that works under me, and sometimes they will take meetings if I'm too busy," she said. "I never want to turn away a vendor, so even if we have to just make five minutes for them, we'll do it."
Unlike some of the more developed markets, Nevada has no representative firms. The brands typically send in their own rep, which is fine with Barker. "I prefer for it to be one person per brand; then the rep isn't spread too thin," she said.
Before she accepts a new product, she asks the vendor to bring samples for her team to try. If the product is an edible, she wants an infused sample because "I already know what a chocolate chip cookie tastes like. I need to know what your infused cookie tastes like." The process with flower is different. "If I have previously worked with the grower, I don't ask for samples because I know that it will be good," she said. "But if we haven't purchased from the grower before, I want to try the product."
While flower is king in Vegas, disposable vape pens are gaining market share. Customers from out of town like to consume discreetly. The+Source's in-store vape brand, 8Fold, has been a big success; Barker said she hasn't been able to keep enough in stock. She's fond of two brands of edibles: Highly Edible and incredibles. "If I don't have those in store, I definitely hear [complaints] from our customers," she said.
Nevada is an emerging market, so Barker faces unique challenges than proclaimed those in more mature markets, like Colorado, don't. Getting the required amount of product in a timely manner is one. Because rec sales kicked off in July without sufficient preparation, vendors had a difficult time filling orders. Many of the state's fifty shops sold out of flower, causing Governor Brian Sandoval to declare a "state of emergency," allowing more licensed distributors to enter the economy.
Compliance issues, regulatory red tape, and cumbersome legislation have made keeping up with demand challenging ever since. For instance, Nevada is the only state where retailers legally do not have the authority to restock their inventories. Under a temporary court order, alcohol wholesalers have the exclusive right to move marijuana from growers to retailers. The rule aims to "promote the goal of regulating marijuana similar to alcohol"…and protect liquor stores from losing business as the demand for recreational marijuana rises.
Nevertheless, The+Source is thriving, thanks in part to Barker's managerial experience at Whole Foods. She knew picking the right people for her team was of paramount importance. "These had to be people who were going to be as particular as I am about product quality and compliance," she said.
When it comes to price, Barker has learned an important lesson: Some products might be a bit pricey, but they are worth the extra money because they bring in new customers. "I've been proven wrong many times when I didn't think a product would sell…but then it flew off the shelves," she said. "If a vendor has a big social media presence, with a high-cost, quality product, I will still bring that on because the exposure for the shop is great. Quality is our number one thing, and sometimes you have to pay a higher price point to get that quality product."
At speakeasy-cool Barbary Coast in San Francisco, vendor hours are Tuesday, Wednesday, and Thursday from noon to 4 p.m. Buyer Kit Hall sees up to forty vendors a week—and that's about to double with recreational use beginning in 2018.
Barbary Coast is a "neighborhood" dispensary. Planted in the center of the former red-light Mission District, the four-year-old dispensary's clientele is mainly hip dot-com entrepreneurs and young urban professionals who are looking for cutting-edge products. Hall, who was a rock 'n roll touring manager before joining Barbary Coast two years ago, always is on the prowl for unfamiliar products. "I'm constantly on WeedMaps and checking out other collectives," he said. He's scrupulous about what he'll stock, though
"If I like a product, I will send it out for testing," he said. "Even if the vendor provides testing, I still send it. Once the product passes, I work out payment options with the rep and it goes on the menu."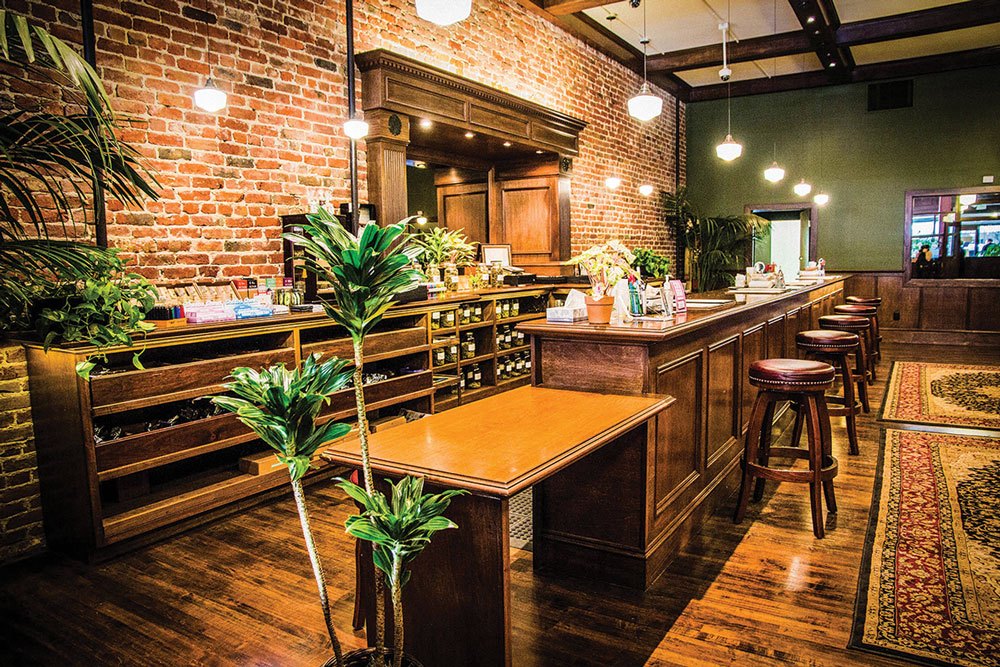 The shop's reputation for testing all products (through Pure Analytics) is part of its allure. "Patients want to know potency and if the medicine is free of mold, pesticides, and solvents," he said. "You'd be surprised how dirty medicine is out there. Most collectives don't test." Flower and concentrates sell best, and Hall said he knows whether a product works for Barbary Coast's clientele within a month.
Hall has a simple pricing philosophy: Make both the dispensary and consumers happy. "It's all about repeat business and relationships," he said.
Blüm's motto is "premium cannabis with professional service." The company has four locations in Nevada and one in Oakland, California, each with its own unique clientele. This keeps Lucas Farrell on his toes. Farrell began a year ago as an assistant manager at the Reno location, and now he's the buyer for all of Blüm's Nevada locations.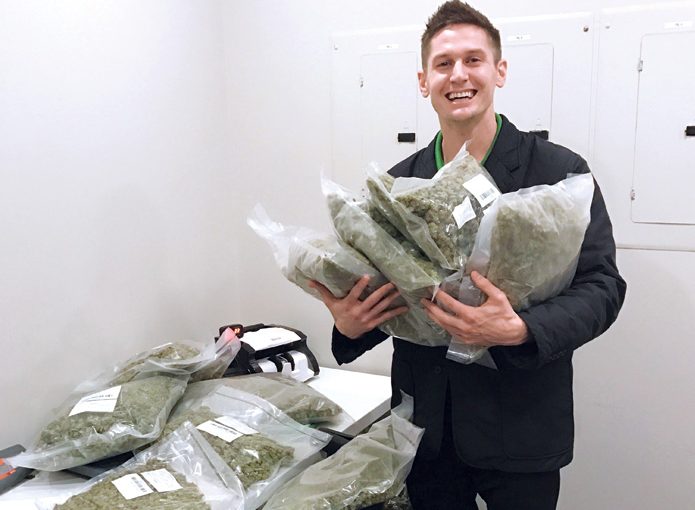 For Farrell, a self-proclaimed workaholic, there are no typical days. "I technically have no schedule," Farrell said with a sheepish grin. "But I usually work six days a week, twelve hours a day. I want the people that we do business with, and my team, to know they can count on me."
Farrell prefers vendors make appointments but welcomes walk-ins, too. As the buyer for four shops, Farrell's main challenge is to keep an eye on each location's independent needs. In Reno, customers are primarily baby boomers and senior citizens, who shy away from the more exotic products. In Vegas, however, where most of Blüm's clientele is younger, the shop is filled with edgier products, especially CBD and concentrates. Farrell likes to give a new product every chance to succeed. If it hasn't sold well in six weeks, he'll run a promotion, hoping to boost popularity.
"The last thing I want to hear is a customer saying they could get the same exact product at a cheaper price down the street."—Lucas Farrell, buyer, Blüm
"It's interesting to see the same product selling faster than you can keep it stocked at one store while it doesn't move at the next," he said.
How does he stay on top of it all?
"I like to scout other shops. It's important to be aware of what the competition has and how much they are selling it for," noted Farrell. "The last thing I want to hear is a customer saying they could get the same exact product at a cheaper price down the street."