The Northern California collective of sun-worshipping cannabis experts Legion of Bloom are collecting legions of extremely loyal fans. When you get to know them, it's easy to see why.
The first clue you're dealing with a different kind of collective? They're conscious cultivators and firm believers in whole plant medicine. "Our genetics are properly selected and cared for, while each step of the cultivation process is fine-tuned to be as eco-friendly and environmentally savvy as possible," said Legion, who speak as a network or collective community, not as individuals. (That would be the second clue.)
For many herbalists, there's a healing alchemy that happens when sunshine meets plant. In Legion's view, "The sun is the ultimate source of energy. It is both abundant and sustainable, providing a full spectrum of light over artificial light." So, flowers are grown outdoors with an abundance of TLC. Using natural resources is integral to the approach; no chemicals, pesticides, or artificial lights are used in the cultivation process.
The collective's mission: To elevate the plant through sustainable, conscious practices and production methods. The website proudly states, "Our craft cultivation practices provide superb flowers for extract offerings which have quickly become the future of cannabis. As the industry becomes more sophisticated in practices, we will be among the leaders pushing the bar for innovation and conscious change."

Legion even uses a special microbe-enriched soil — the plants are cultivated in composted teas. Creating herbal medicine from herbal medicine? We'll raise a cup to that.
PRODUCT CLOSEUP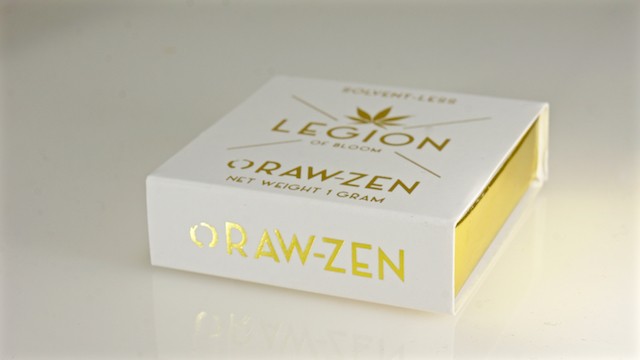 Raw-Zen
The appropriately named UK Cheese Raw-Zen is a deliciously pure and calm-inducing rosin. This solvent-free, amber honey-colored extraction is an elegant and clean alternative to BHO (butane hash oil) extractions. (Smoking residual solvent can lead to a build-up of neurotoxins in the body.) Legion uses its flowers "to craft cannabis extracts that maintain high terpene and cannabinoid profiles that work together to provide users with an experience known as the entourage effect."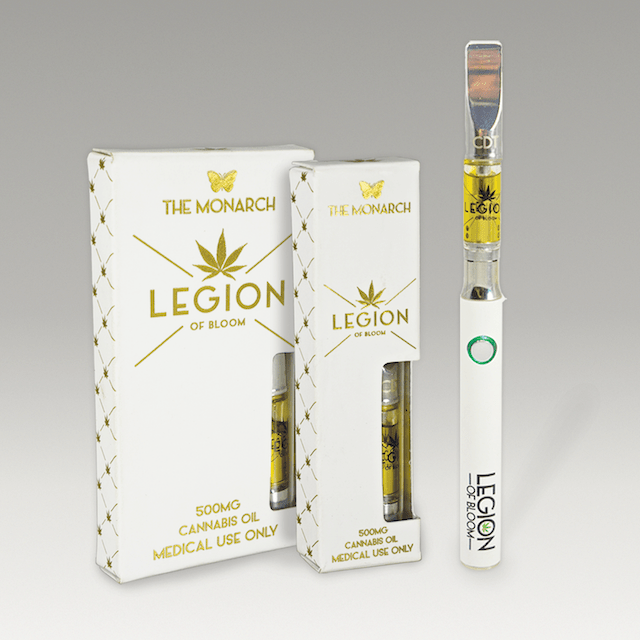 The Monarch
These strain-specific pens are not only solvent-less, but also propylene glycol- and glycerin-free. The sleek, clean, and potent Monarch vape pen has a pull that is smooth and easy. (Holy Grail is a particularly fitting strain to concentrate into an oil for The Monarch. Its award-winning genetics come from the OG and Kosher Kush strains, known for promoting physical and mental calm.) Aesthetically, this is an elevated pen that lives up to its name. The silver mouthpiece, crisp white atomizer, and golden oil do, in fact, evoke royalty. A true pen for the monarchy!
Legion's December 2016 Emerald Cup Awards
First Place
CBD Extracts
Terrapen RE:zen 1:1 Vape Pen
Third Place
CBD Topicals
Zana Ayurvedic + CBD Transdermal Roll-On
Seventh Place
CO

2

Oil
Monarch Florida JuicyFruit
Cannabis-Derived Terpene Cartridge
Seventh Place
Edibles
Fruitslab Grandaddy Grape
Powered by Legion of Bloom Rosin
(See all of Legion of Bloom's current products.)