Jennifer Dresbach leveraged her decades of high-end restaurant experience to help make Monarch Wellness Center Arizona's premier medical shop.
Jennifer Dresbach glides into Monarch Wellness Center like a cool desert breeze, eager to begin a day full of meetings with growers, distributors, producers, and brand ambassadors. As Monarch Wellness Center's operations manager, she "gets to learn something new just about every single day," she said.
After working at a popular wine bar in Phoenix and managing a chef-owned, James-Beard-Award-winning restaurant, Dresbach applied twenty-plus years of retail and restaurant management experience to selling medical cannabis. "Every day brings about different and dynamic opportunities," she said. "There is a ton of vigor and excitement in this industry, and I see new product lines and business opportunities present themselves on a regular basis."
I strive to inspire positive actions from our team by communicating in an accountable way. We pride ourselves on creating an environment in which the people working with us can excel, and if I recognize there's room for improvement, I act on it. —Jennifer Dresbach, operations manager, Monarch Wellness Center
Being Monarch's operations manager means Dresbach gets to interface with all the passionate players that make up Arizona's blossoming medical marijuana community. The excitement and challenge of running one of the state's premiere medical dispensaries, it turned out, was something Dresbach unknowingly had been preparing for her whole life. Managing hectic restaurants taught her to thrive in high-performance, multi-faceted, and challenging environments without letting the stress affect her job performance. Monarch employs only seventeen people, yet the staff sees 170 to 300 patients a day. Dresbach reminds her budtenders to maintain integrity and supportiveness, even when harried.
"Medical marijuana can provide benefits for a wide variety of ailments, so our budtenders' interactions with patients range from upbeat and optimistic to less enthusiastic, palliative care conversations," she said. "Leading in this type of environment requires a strong focus on remaining connected to, and supportive of, your team at every juncture."
She also preaches teamwork, especially when it comes to inventory. Keeping accurate inventory and being compliant requires an enormous amount of teamwork and accuracy, but Dresbach has trained her people well. "We have an amazing team of committed, talented, and intelligent people working here," she said. "At Monarch, every one of them plays a key role in the execution of our inventory control systems.
"I strive to inspire positive actions from our team by communicating in an accountable way," she said. "We pride ourselves in creating an environment in which the people working with us can excel, and if I recognize there's room for improvement, I act on it."
Monarch Wellness Center is renowned for its extensive menu and clean, welcoming design, including its iconic butterfly emblem blithely splashed on the walls, video screens, and desks. Touches of green, orange, and yellow accentuate the white couches and wood floors to give the place a friendly, relaxed, earthy vibe. The shop's bountiful inventory fluctuates between 150 and 200 unique items every month. Fifty percent of sales are derived from flower, 33 percent from vape pens and concentrates, 15 percent from edibles, and the remaining 5 percent comprise topicals, tinctures, and accessories. When it comes to best-sellers, Dresbach has noticed a trend from day one: Huxton's Green Crack. The unique strain, descended from Skunk #1 and a potent Afghani strain, is sweet-smelling, fruity, and invigorating, and primarily bought by patients with depression, fatigue, or stress. "Month after month, year after year, it is always our number-one revenue generator," noted Dresbach.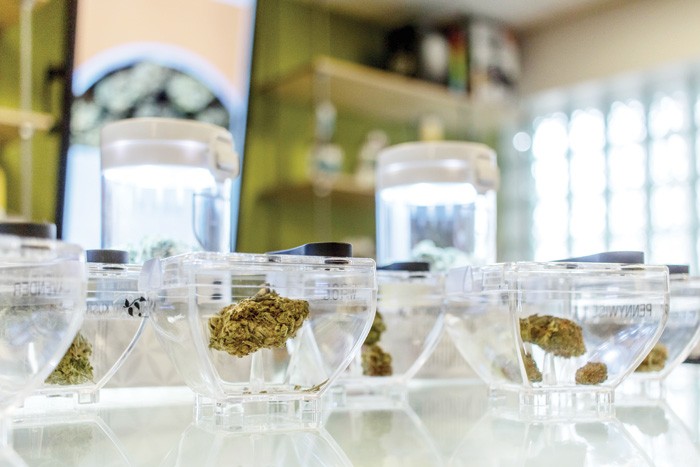 Being the operations manager at the first medical dispensary in Scottsdale, Arizona, Dresbach has had the privilege of growing with the cannabis market. As a result, she's gained a keen eye for trusted and quality products. But things are a lot different now than they were four years ago. A swarm of swank new dispensaries and vendors have brought cutthroat competition tactics, from poaching budtenders to misleading advertising and price undercutting. However, thanks to a flourishing flower market, Dresbach believes there is room for everyone. "There's truly something to fit every patient's needs," she said. She paused and looked around the shop, now buzzing: Nests of patients and budtenders are talking flower, dosing, and concentrates on the floor, while the waiting room is pollinated with new and existing patients.
"From the top down, our team cares about its people and its processes," she said, after surveying the activity in the space. "This organization inspires me to dig deeper and go further every day and in every way. Being a part of a free-thinking movement, encompassed by equally driven and motivating pioneers, gives me a great deal of satisfaction."
In other words, cannabis is just an extension of Dresbach's years in the luxury restaurant business. But she still frets every now and again and has a sleepless night, usually provoked by one persistent dread.
"My inbox!" she said with a laugh.
A Penny Saved is a Penny Earned
HOW DRESBACH SAVES TIME AND MONEY
DISCOUNTING. "We dedicate a good deal of time and energy to self-auditing and analyzing around here, especially when it comes to discounting pricing," Dresback said.
INTEGRATIONS. "We encourage all of Monarch's vendors to integrate themselves into our culture by hosting regular educational and infomative patient-appreciate-type promotions," said Dresbach.
STAFF. "The secret to our success is our team members," Dresbach said. "We have an amazing group of extremely knowledgeable people committed to providing the best possible expedriences for our patients."