Already servicing more than 600 dispensaries with eight brands, Indus is looking forward to a massive escalation in consumer interest when adult use hits California in 2018.
California, open your Golden Gate. Cannabis products distributor Indus Holding Company can't wait for legalization in Cali to be sorted out over 2017. According to Indus founder and chief executive officer Robert Weakley, consumer demand, which had been growing steadily throughout 2016, took off in November.
"Since the election, you can feel the excitement for the adult-use market to start in California," Weakley said. "Business is great.
"We've seen a huge increase in consumers asking where they can buy our products," he continued. "Now that it's 'legal,' we have to explain to them they have to wait until January '18. Also, our dispensary partners are saying they have people showing up every day, calling to purchase product, and excited about trying legal cannabis. We still have a long way to go here as we work toward 2018."
By dispensary partners, Weakley is referring to the 600-some-odd California dispensaries on Indus's client list and to which they represent eight brands: Dixie Brands, Altai Brands, CannaPro, Juju Joints, Flavor, Therabis, Moon, and W Vapes.
"Currently, our Moon Bars and W Vapes are the two brands that lead sales," he commented.
"W Vapes is an amazing vape pen," he continued. "They've got a great product and an amazing team behind it. They spend a lot of time supporting the brand through marketing efforts, as well as educating patients and budtenders on proper use. Quality and consistency—Moon is kind of the leader when it comes to high-dose chocolate edibles right now. It's a quality product offered at a low price for the medicinal user—today's user."
As the legal market opens for recreational use, one trend Weakley said is getting hotter is "micro-dosing"—cannabis products in 5mg to 10mg dosages, to give new consumers a THC-light option.
"'Micro-dosing' is a hot term these days," he explained. "It's taking a small dose to be social, for individuals that don't indulge in the product on a daily basis, per se. The new customers coming in with recreational, they haven't had the strength, so it's just like anything else. If you've never had alcohol before and you have one drink, you feel may feel completely buzzed. As we all know, you can never die from an 'overdose' of cannabis, but you can definitely have a bad experience. You never want someone to have a bad experience with your products."
The new consumer also is label- and ingredient-savvy, so accuracy in labeling and using premium quality ingredients are all-important: Customers are looking for lab-proven THC percentages, words like "vegan" and "organic," and a brand's commitment to eco-friendly practices.
"Products with more natural ingredients—these days, that's kind of a trend," Weakley said. "People want to see what's in their product, so having clear labeling and testing is vital. We're very particular on our testing. When we tell you it's 25mg or 250mg, that's of active THC. We always want to make sure it's about consistency. [We want to make sure] every time you try one of our products, you have the same experience."
Rising consumer interest may be matched by the profusion of product manufacturers popping up, with every imaginable application and concoction you never would've dreamt of before legalization. When adding to their line up, Indus' strategy is pretty simple.
"We're always looking for products that have the potential to be best-in-market in its category," Weakley said. "Doesn't necessarily mean the most expensive, but more the best product for the best price. Giving the patient a quality product for the best price is usually a winning combo."
Manufacturers looking for representation in California are eager to establish themselves for the green rush of 2018. Weakley encourages any prospective vendors to have a solid game plan. Becoming a recognized brand in a big, competitive market takes long-term commitment and resources, on top of funding and not a small amount of old-fashioned hard work.
"It's important for a new team to understand the resources needed to start a brand here in California. Everyone's excited to present a product to the largest cannabis market in the world, but they usually underestimate the financial and human capital needed for launching a brand here into the void," Weakley explained.
"We always ask a brand that's interested in or coming under our umbrella to contact us," he added. "They need to be prepared with product samples, management team bios, and a marketing plan including research as to where their product fits in. We really evaluate the teams behind each brand. It's important who we're doing business with, so the team is very important when it comes to brand building."
Especially for a new product vendor, being represented by a licensed distributor in a large region like California can be key to getting on shelves and spreading brand awareness to dispensaries and, eventually, retail vendors. Indus aims to assist with operational issues including local regulations. "It's our goal to kind of collaborate with the manufacturer, to get the stress of operations off their minds, so they can concentrate on their brand and brand building," Weakley said.
So, how does he see 2017 shaking out in regard to the massive effort required to make the California market a shining example of industry to supporters and opponents alike?
"Where do we start?" Weakley asked, laughing. "2017 is going to be a very interesting and challenging year. There's so much to do here still, with setting up the regulatory market.
"You know, California is not like any other state," he continued. "We've had a cannabis industry here for decades, so it's not just starting out something new. We have to figure out how to transition it and what that transition will look like, with both local and state agencies; working through what that transition looks like. Some areas and cities have set up different ordinances, so how do we align it? The state regulations require a company to operate in compliance with local laws before they can even apply for a state license.
"You've got approximately 4,000 to 5,000 dispensaries in California right now. Who gets licenses? Who doesn't? How do you transition to the license?" he asked, touching only the tip of the hulking regulatory iceberg.
"There are a lot of things still to be worked out. You've got MMRSA and AUMA, which are both medicinal and recreational," he added. "There's overlap, but there's also a lot of differences between the two bills. How do they combine those two so we can have a consistent regulatory system here?"
Indus has worked closely with local state, county, and city governments to remain compliant with any requests and regulations, even as local officials also are trying to understand new standards and formulate policy. Committed to raising community awareness about adult use of cannabis, Indus and Weakley also believe contributing back to local communities eventually will lead to public acceptance.
California always has been a boom-or-bust state. It's the last frontier for outlaws, Easterners, immigrants, get-rich-quick types, and, lately, billionaire barons of tech. What does Weakley think will happen once the feds come out West with their newly confirmed attorney general, Jeff Sessions?
"It is kind of that wait-and-see thing, where we are right now," he said. "It's something we all need to watch closely, but it's also somewhat out of our control. Those in the industry just need to focus on their business and work with the state to hopefully show the industry shines. It can be a very legitimate industry with a positive impact."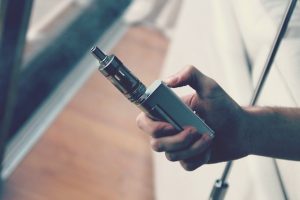 Trends currently of interest at Indus Holding Company, according to founder and CEO Robert Weakley:
"Micro-dosing." Products with active THC at less than 25mg, often 5mg to 10mg doses. For new recreational users, starting with a low dose creates a pleasant social buzz.
Accurate and professional labeling. Today's consumers are label-conscious in terms of THC percentage, ingredients, and branding.
Already a sales leader, the market for vape pens and cartridges is poised for steadily increasing sales as consumer interest in vaping continues to grow.