Hippo packages products with pride, passion, professionalism…and fun.
In February 2015, Kary Radestock was working in a printing plant in Vista, California, when five separate people inquired about vape-cartridge packaging within the same week. Seizing what she saw as an opportunity, Radestock created Hippo Premium Packaging. In two short years, she found herself chief executive officer of a company that employs eight full-time employees, a number of part-time employees, and contractors on retainer.
"Our first client was CalCann Holdings," said Radestock. "We produced a couple of dispensary logos for them: Roseanne's Joint and The Source."
The first project's success attracted more work. Next was packaging for Chong's Choice's POP carton for pre-roll packs. "I had to drive all the way to Coachella to deliver the proofs," she said. "They gave me a pack of their hybrid pre-rolls for my trouble." After that, Speakeasy, Luxuria, Utopia Farms, and Toucan's Toke became clients.
Although she smoked in her younger years while attending college, she married a psychoanalyst who specializes in addiction therapy. For the sake of the relationship Radestock put her love of cannabis on the back burner.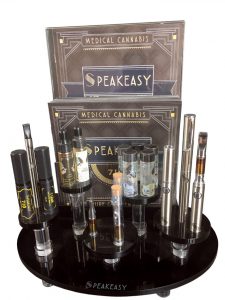 "I've had clients show me another company's logo and say, 'I want to look like that.' While I appreciate using other work as inspiration, we believe it is more important to be authentic." —Kary Radestock, Chief Executive Officer of Hippo Premium Packaging
Turn And Face The Change
The cannabis packaging and branding landscape is changing rapidly. Just a few years ago, very few brands cared about, or even understood, branding. Today, the industry is much more sophisticated, and leading companies are investing in quality branding and packaging. Although the industry still has a way to go, Hippo and others are helping companies create powerful brands with insightful marketing support.
However, obstacles remain. For starters, packaging and labeling regulations vary from state to state. Compliance is the key to success, and there is no room for missteps. In fact, some of the most respected leaders are setting an example by exceeding regulation requirements and closely mirroring mainstream regulations. That creates its own problems, though, according to Radestock: Too many people want to copy, rather than create.
"I've had clients show me another company's logo and say, 'I want to look like that,'" she said. "While I appreciate using other work as inspiration, we believe it is more important to be authentic, and that requires a solid understanding of who you are as a company and as a brand. It's your job to communicate who you are from a brand standpoint—your hopes, your dreams, your vision—and then let go and let us do our job of interpreting that vision and expressing it across the product line."
Classing Up The Joint
Recently, Radestock was asked to participate in The Marijuana Show's Bud Camp where she taught an online branding class. She moderated a branding panel at the High Times Business Summit in January and another for The Cannabis Private Investors Summit West.
"I'm also starting an NCIA blog called Budding Brands," she said.
Hippo Tip No. 1:
Transform Your Brand.
Make trade shows a cost-effective, larger-thanlife event by creating a show-stopping booth.
Make sure you have a show strategy with clearly defined goals.
Strive to drive booth visits using games, drawings, promotional products, and sampling. This is your best opportunity to create and build your customer database.
Set an event goal like gathering 100 new email addresses.
Hippo Tip No. 2:
Good packaging requires good graphic design.
Be solid with who you are as a brand and hire the best artist you can afford. Involve a graphic designer and printer early in the brainstorming process.
Create a board or folder with images, color palettes, typefaces, etc. you love and feel represent your brand.
On the packaging, be clear about the product's usage and benefits.
Make it easy for dispensaries to carry and display your products by providing point-of-purchase collateral.
---