In the past two years, legal edibles sales in Colorado, Oregon, and Washington State have reached more than a half-billion dollars—11 percent of the $4.7 billion spent across all product categories—and are rising with innovation, new states legalizing, strong branding, good old-fashioned culinary zeal and, of course, making the gummy profitable again.
When Director of Dispensary Relations for BDS Analytics Greg Shoenfeld was asked what makes the edibles sector one of the most fascinating to watch, he smiled, looked out his office window at the Colorado mountains sugared with fresh snow, and said: "From the get-go, many of the strongest brands to emerge in cannabis have come out of the edibles segment."
Curious, to say the least, as the edibles sector has had to jump through many different hoops, often varying county by county. In fact, each state has approached the sector differently in terms of laws, regulations, and packaging, which has made navigating and earning a profit in the a extraordinarily difficult. However, from 2014-to-2016 legal edibles sales in Colorado, Oregon, and Washington reached more than a half-billion dollars—11 percent of the $4.7 billion spent across all product categories over that period.
In first quarter of 2014, BDS Analytics identified 76 edibles brands selling at dispensaries and retailers in Colorado, Oregon, and Washington. Fast forward to the first quarter of 2016, and the figure had jumped to 350.
Profit island: Colorado
According to Shoenfeld, 74 percent of edibles sales take place in Colorado, recreational-use sales being the main driver. Washington State's regulations on shapes, colors, and logos that might appeal to children have effectively eliminated the best-selling category—gummies—from the state's shelves. However, 6 percent of all cannabis sales in Washington State still are edibles."This generates roughly $4 million a month in retail sales [in the state]," said Cy Scott, co-founder and chief executive officer for the data company Headset, which raised $2.5 million in January 2017. "Sixty-five percent of edibles sales are going to 100mg package sizes, followed by 10.9 percent of sales going to single-serving 10mg products."
Scott points to the many impressive brands launching in the state, including The Goodship Company, Mr. Moxey's Mints, and Cannabis Quenchers.
Oregon's experiment with edibles is just getting started and Washington's regulations limit some categories, so the result has been Colorado emerging as the number-one state for edibles once again.
Gummies are good for business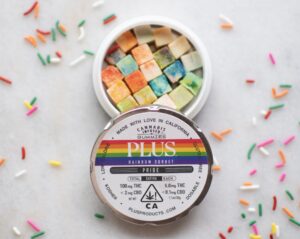 Currently, gummies are the largest overall edibles category. Shoenfeld remains optimistic that gummies will continue to lead, but other sub-categories are on the rise.
Pills are the fastest-growing category within edibles due to discreteness, while chocolates are the second-largest category.
Shoenfeld is also a big believer in tinctures. "There are currently some great products emerging in tinctures," he noted.
Scott is bullish on caramels, chews, and mints. "All of these are best-selling subcategories with very strong growth rates largely driven by new product introductions from leading manufacturers," he said.
The growth continues
In 2016, combined edibles sales in Colorado, Oregon, and Washington reached $270 million—12 percent of total revenue. Across the three states, the category grew 61 percent over 2015's figures. Colorado contributed two-thirds of the sales in 2016; compared to 2015, the category grew 51 percent. In Washington, edibles sales grew 72 percent. Oregon's saw a 127-percent increase and would have grown more significantly if not for new testing requirements that stymied sales in the fourth quarter.
The future will be big and hungry: Cali, Gotham, Bean Town, Sin City, and beyond
Compared to a few years ago, starting an edibles-only business today seems, well, downright mainstream, and things are only getting started. With voters approving recreational use in November, California, the most populous state in the nation (more than 40 million people), offers a huge opportunity for new, compliant edibles companies with a savvy eye for branding.
"California offers the potential for brands to achieve a scale at which they can become far more profitable and powerful," Shoenfeld said.
Scott agreed: "I think having an adult-use market will drive a lot of new companies to the space, much like we saw in Colorado and Washington. California already has some great edibles brands, but I think we're just at the beginning."
Although far smaller in scale, states like Nevada, Massachusetts, Illinois, and New York all have the wind at their backs. Dozens and dozens of new dispensaries are being opened, creating thousands of square feet of new shelf space to be stocked. To be sure, the edibles category will grow, diversify, and become more varied.
"Cannabis and food go hand-in-hand, and American's like to eat," Shoenfeld said. "With those two truths in mind, we can confidently say edibles sales have a very long runway. Over 80 percent of edibles sales are from sweets, and while there is plenty of room for expansion within those segments, we anticipate a future with more edibles brands and categories. The future will be big."
---